Pa. House panel hosts climate change doubter, draws rebuke from scientists
Geologist Gregory Wrightstone was tapped to testify by state Rep. Daryl Metcalfe, a conservative House member and chair of the Environmental Resources panel.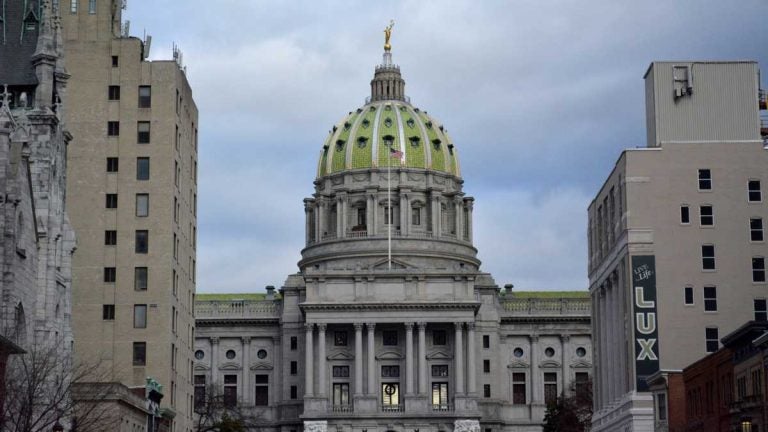 An early-morning Pennsylvania House committee meeting Wednesday drew an unusual number of protesters to the state Capitol in Harrisburg — many of them unusually outfitted.
The reason for their discontent was the meeting's featured testifier, a geologist who rejects mainstream climate science, and who has spent most of his career working and consulting for natural gas companies.
The demonstrators from the Better Path Coalition and other groups came dressed as mythical creatures — including unicorns and leprechauns — in an effort, they said, to show that while the creatures are imaginary, climate change is real.
The geologist, Gregory Wrightstone, was tapped to testify by state Rep. Daryl Metcalfe, one of the most conservative members of the House and chair of the Environmental Resources and Energy Committee, who said he invited Wrightstone to debunk "myths."
Wrightstone doesn't deny the Earth is warming or that carbon dioxide has increased rapidly since industrialization. But he told assembled lawmakers that, based on his study of geologic records, he believes warming started significantly before industrialization, in the 17th century.
He said the warming trend since then is natural, and he argued that it's actually a positive thing.
He referenced the Little Ice Age — a period of unusual cold that scientists believe peaked sometime in the mid-1600s
"This cold period was marked by crop failure, famine, and mass-depopulation because of naturally occurring global cooling," he said. "Earth and humanity have benefited greatly from what's been called the long, slow thaw."
Most scientists acknowledge there was some natural warming after the cold snap of the 17th century.
But Wrightstone's broader conclusion, that current warming trends are natural and untethered to CO2 emissions, is directly contrary to the scientific consensus.
Richard Alley, a geosciences professor at Penn State who specializes in ice core testing, said he doesn't believe there is any natural explanation for the rapid warming that has been measured since the 20th century.
"We see the warming," he said. "And then we ask, well is it the sun? No, the sun, if anything is going the other way. Is it the oceans? Well, heat's going into the oceans, it's not coming out. Well, is it anything else we can find? No, it isn't. The CO2 explains what's happening and nothing else does."
Michael Mann, an atmospheric science and geoscience professor, also of Penn State, agreed.
"While climate does change naturally, we are warming the planet at an unprecedented rate, putting carbon into the atmosphere a million times faster than the natural geological increases in carbon dioxide that were responsible for e.g. the warmth of the early Cretaceous period," he wrote in an email.
Citing information gathered by the National Research Council, NASA estimates the Earth has warmed by approximately 0.7 percent over the last century, which it says represents a rate of warming roughly 10 times faster than the average rate of ice-age recovery.
Climate change is already harming both human and natural systems.
Wrightstone, who has a master's degree in geology, told the committee that while he has published papers on paleo-climatology, he hasn't written any on contemporary climate science.
He has self-published a book on his theories.
Wrightstone spent most of his career in the natural gas industry.
After his testimony, he confirmed he worked as a geologist for the Pittsburgh-based gas company Texas Keystonefor 20-odd years, but he said the experience doesn't influence his current work.
"If I was still receiving payment or being influenced by them, yes," he said, his gas industry work might be a factor. "But that has no influence on me. That was in a past life."
However, Wrightstone remains involved, in various capacities, with the industry.
After working for Texas Keystone, Wrightstone started his own business, Wrightstone Energy Consulting. He has frequently written and been quoted as a natural gas consultant in articles and videos for Hart Energy, a Houston-based energy industry publisher, and in ones written for or aggregated by similar industry publishers.
Asked when he had stopped consulting for gas companies, Wrightstone said he still does "a little bit when I can, but I've been so busy I turn down almost all my work."
"I've got to make some money," he added.
He is also on the advisory board at conservative think tank The Heartland Institute — a position for which he said he accepts no money. The organization has been known to accept considerable funding from the oil and gas industry and has worked to sow doubt in climate science.
WHYY is your source for fact-based, in-depth journalism and information. As a nonprofit organization, we rely on financial support from readers like you. Please give today.