Outside groups shower cash on Pa., N.J. races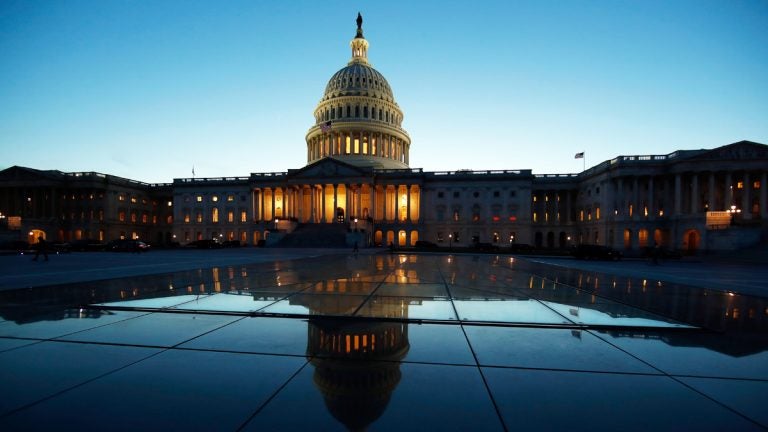 Independent groups that are free from any limits on contributions or spending have pumped more than $100 million into competitive congressional races in our region, an analysis of federal campaign data shows. In some cases evening what looked like a big advantage for Democratic candidates.
While candidates themselves must raise money within strict contribution limits, Super PAC's and other groups are permitted under the U.S. Supreme Court's Citizens United decision to raise and spend unlimited sums, as long as they don't coordinate with candidates they favor.
Much of their spending goes to buy television and internet ads and mailings attacking the opponents of their favored candidates.
Focus on Bucks County
The biggest recipient of outside help is in local U.S. House races is Bucks County Republican Rep. Brian Fitzpatrick.
Fitzpatrick's campaign has been dramatically outspent by his independently wealthy opponent, Democrat Scott Wallace, who has put more than $8 million into his own race.
But national Republican Super PAC's have come to Fitzpatrick's rescue, spending more than $5 million on advertising and other activities to attack Wallace and promote Fitzpatrick's candidacy.
There's also heavy spending for New Jersey Republican U.S. Rep. Tom MacArthur ($3.1 million) and for his Democratic challenger Andy Kim ($3.5 million).
Big spenders
The biggest outside spenders in the region are national party Super PACs groups dedicated to ensuring control of the House of Representatives.
On the Republican side, it's the National Republican Congressional Committee, which has spent more than $3.5 million, and the Congressional Leadership Fund, the Super PAC associated with House Speaker Paul Ryan, which has spent $6.6 million in the region.
The Democratic heavy-hitters are the Democratic Congressional Campaign Committee, which has spent $2 million, and the House Majority PAC which has spent $4 million.
While the two Republican party groups outspent the Democratic party groups, other outside groups came in to assist Democratic candidates, giving them an overall edge in independent spending.
One group, Patients for Affordable Drugs Action, has spent $3.2 million attacking New Jersey U.S. Senate candidate Bub Hugin, formerly the chief executive of the pharmaceutical giant Celgene Corp.
The group was founded by David Mitchell, a blood cancer patient who said he spends $300,000 on drugs, and has joined with others to push for reforms to bring prices under control.
He said he spent five and a half years taking a drug manufactured by Hugin's company.
"During that time, I watched the price of the drug go up and up, and I got angrier and angrier," Mitchell said in an interview. Mitchell said the group is spending in nine Congressional races across the country this year, supporting both Democrats and Republicans.
Asked for comment, Hugin campaign Communications Director Megan Piwowar called Patients for Affordable Drugs "a partisan front group," saying it is effect supporting "a corrupt politician" in Hugin's opponent, Sen. Bob Mendenez.
Menendez's trial on bribery charges last year ended in a hung jury, and prosecutors decided to drop the case instead of going for another trial.
Tracking the cash
You can see the totals of outside spending and candidate spending in the closely-watched races in our region in the chart below.
One important caveat: the independent groups must report their spending within 48 hours, so the data in federal records is constantly changing. The information here represents independent spending through Oct. 18th. The candidate spending is through Sept. 30th, their most recent reporting period.
Outside spending and candidate spending in area Congressional races*
US House candidates
| | | | | |
| --- | --- | --- | --- | --- |
| District | Candidate | Spending by Independent Groups | Candidate Spending | Total Spending |
| PA-01 | Brian Fitzpatrick-R | $5,650,933 | $2,019,455 | $7,670,388 |
| PA-01 | Scott Wallace-D | $286,866 | $8,396,971 | $8,683,837 |
| PA-04 | Madeline Dean-D | $265,459 | $803,218 | $1,068,677 |
| PA-04 | Dan David-R | $25,000 | $363,457 | $388,457 |
| PA-05 | Mary Gay Scanlon-D | $11,005 | $1,147,736 | $1,158,741 |
| PA-05 | Pearl Kim-R | $0 | $303,255 | $303,255 |
| PA-06 | Chrissy Houlahan-D | $221,675 | $1,147,736 | $1,369,411 |
| PA-06 | Greg McCauley-R | $0 | $110,065 | $110,065 |
| PA-07 | Susan Wild-D | $1,425,158 | $1,563,221 | $2,988,379 |
| PA-07 | Marty Nothstein-R | $0 | $567,484 | $567,484 |
| NJ-02 | Jeff Van Drew-D | $243,720 | $683,479 | $927,199 |
| NJ-02 | Seth Grossman-R | $0 | $70,904 | $70,904 |
| NJ-03 | Andy Kim-D | $3,580,131 | $3,347,524 | $6,927,655 |
| NJ-03 | Tom MacArthur-R | $3,155,134 | $2,819,299 | $5,974,433 |
| NJ-07 | Leonard Lance-R | $4,123,237 | $1,317,706 | $5,440,943 |
| NJ-07 | Tom Malinowski-D | $2,559,696 | $3,673,046 | $6,232,742 |
U.S. Senate candidates
| | | | | |
| --- | --- | --- | --- | --- |
| State | Candidate | Spending by Independent Groups | Candidate Spending | Total Spending |
| PA | Bob Casey-D | $876,848 | $14,116,615 | $14,993,463 |
| PA | Lou Barletta-R | $15,681 | $5,338,248 | $5,353,929 |
| NJ | Bob Hugin-R | $3,667,516 | $22,717,853 | $26,385,369 |
| NJ | Bob Menendez-D | $4,486,624 | $7,578,967 | $12,065,591 |
*Chart shows spending in support of candidates by outside groups and the candidates' campaigns and totals for the two. Source: Federal Election Commission data: Independent spending is as of Oct. 18; candidate spending through Sept. 30th