OperaDelaware presents ambitious Puccini trilogy
Puccini's "Il Trittico," staged over the next two weekends by OperaDelaware, is a rarity in the repertoire: a series of three one-act operas with nary a connection to one another save for the composer's notion of what would work for an evening.
There are two tragedies: "Il Tabarro," a dark tale of adultery and murder; "Suor Angelica," a somber story set in a convent and steeped in religious mysticism and "Gianni Schicchi," a black-comic farce set in 13th century Florence.
"There's a lightening of music as it moves through," said OperaDelaware Music Director Anthony Barrese who will conduct the performances. "'Suor Angelica' is a palette cleanser for 'Tabarro' and 'Gianni Schicchi' is a palette cleanser for 'Suor Angelica.'"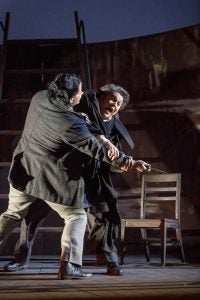 Throughout his career, Giacomo Puccini had long wanted to compose a triple-bill of short operas. But his publisher, Giulio Ricordi, had advised against it, warning that a triptych would be a box-office killer.
Then fate intervened. Ricordi died in 1912 and the composer discovered a play—Didier Gold's "La Houppelande"—that would inspire "Il Tabarro." "Suor Angelica" came two years later followed by "Gianni Schicchi." "Il Trittico" premiered at the Metropolitan Opera in New York in December 1918.
But in the end, Ricordi may have been right. The three operas rarely appear on the same bill. The reasons appear to be more pragmatic than artistic. First, it's too long an evening for the modern opera house. Each piece runs about an hour. Adding in two intermissions makes for an evening of nearly four hours. They also require an extensive cast of top-notch performers with very little opportunity for cross-casting. Three radically different sets are also required, so the bills mount up.
Fortunately, OperaDelaware has found a way around the set issue. "Our set designer has worked hard to make sure that there are some shared elements," said OperaDelaware General Director Brendan Cooke. "I think this is one of the more impressive physical structures we've had on our stage."
Although the trilogy is a rarity in the annals of opera, Puccini did not establish any musical relationships among the three single-act operas. Each is capable of holding its own and has often been singled out and coupled with other works, resulting at times in some very odd pairings.
"It can get just plain silly," Barrese said. "The Chicago Lyric Opera in the early days paired 'Gianni Schicchi' and 'Salome.' That was a common pairing. 'Suor Angelica' and 'Cavalleria Rusticana.' You can do a lot of stuff but to do all three together is extremely expensive."
Barrese notes that while there are many "Puccini sounds" in these three operas, the works are definitely the product of a much more mature and harmonically adventurous composer. "I hear Debussy and even Stravinsky and some Schonberg," Barrese said. "There are just some chords that in the (dramatic) context are phenomenal. He's really being very experimental. It feels very, very contemporary."
Still, the down-to-earth characters, plausible storylines and the music of the world's most popular opera composer, make these works very accessible. "Maestro Barrese and I were talking just the other day about the immediacy of the music," Cooke said. "I think this is something that makes Puccini so special. I don't think you need a degree in music history to find meaning in it."
Michael Ching, whose sequel "Buoso's Ghost" extends the tryptich, agrees. "For me, Puccini is the first musical storyteller in opera who is truly modern, who has created characters we can continue to relate to," he said. "It's a little harder with Verdi and Mozart operas. You can get there but it requires more effort."
"Buoso's Ghost" is a continuation of the "Schicchi" saga. Ching got the idea to do a sequel—in this case a "Schi-quel"—after chatting with some friends at breakfast. "After some auditions in Chicago, we were just shooting the breeze about what happened to some of our favorite opera characters after the curtain went down."
Ching put together a score that contains lots of familiar refrains. "I quote Puccini all over the place in the sequel," he said. "There's all sorts of 'Schicchi;' there's 'Butterfly' quotes and quotes from other kinds of operas."
Everyone, it seems, has expressed a preference for one of the three over the other two. It is said that Puccini favored "Suor Angelica." "Gianni Schicchi" has always been popular. So what do our three impresarios stand?
"Honestly I don't know 'Tabarro' very well, so I'm very excited about getting the chance to be around it," said Ching. "I studied 'Schicchi' very completely in order to make the sequel and I love the wit in 'Schicchi.' I think 'Schicchi' is a genuine comedy, a funny comedy and you can laugh at all those greedy relatives."
"I think 'Tabarro' has the most direct punch," Barrese said. "'Suor Angelica' is my favorite. It's just unbelievably deep and personal and I think 'Schicchi' is a true masterpiece. It's just a gem of Western culture."
"I hate to be wishy-washy, but it changes," said Cooke. "'Tabarro' is one I'd sort of champion because it's neglected a little bit. I didn't always love 'Suor Angelica' because you hear a lot of young kids trying to sing the music and it doesn't deliver the punch it should. My short answer is whichever one is being rehearsed that night I'm sitting at the back of the theater in absolute ecstasy for different reasons."
OperaDelaware's 2018 Festival: Celebrating the 100th anniversary of Puccini's Il Trittico will be presented this weekend and next weekend at the Grand Opera House in Wilmington. "Il Tabarro" will be performed April 28 at 7:30 p.m. "Suor Angelica" can be seen May 6 at 2 p.m. "Gianni Schicchi" will be performed on April 29 at 2 p.m. and "Buoso's Ghost" can be seen May 5 at 7:30 p.m. Lectures take place one hour prior to performance times. Seating is on a first come, first served basis. For more information and to purchase tickets, visit www.operade.org or call 302-442-7807.