It's okay to say 'you're beautiful' to your kids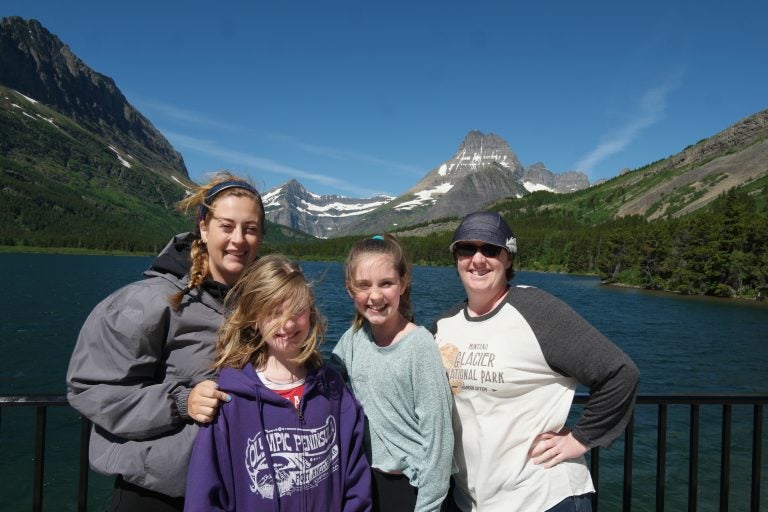 The mid-week trip to Tampa was offered to me with relatively little notice. Of course I said yes.
Freelancers always says yes.
In a twist of fortuitous fate, that particular Wednesday happened to be my niece's 20th birthday and she was doing nothing much more than chilling out on her downtown Tampa campus during spring break.
Since she's a huge Philly sports fan and 'tis the season for spring training baseball, I picked her up on that sunny, 68 degree day and drove us into Clearwater, missing only the top of the 1st by the time we battled traffic and paid $10 to park. We spent the afternoon plopped down on the surprisingly damp outfield berm, watching the Phillies beat the Red Sox 2-1.
Somehow our conversation shifted away from roommates and art history class, and landed on the concept of beauty. My niece clued me in to a Christmastime conversation she had with my teenager about that very subject. Seems the now 20-year-old told the then 13-year-old how beautiful she is, adding that she's even prettier thanks to the traits that truly define her: wisdom beyond her years, unending kindness, enviable patience, and a quick wit. The teen squirmed at the generous compliments — proving that she's totally my kid.
As the crack of wooden bats and staccato cheers from the crowd dotted our right field chat, it occurred to me that I cannot recall the last time I told my daughters, either of them, that they are pretty or beautiful or, really, used any adjective that described their physical appearance (aside from the time they both painted their faces up with costume makeup while filming a zombie movie in the backyard — I couldn't help but tell them that they looked delightfully hideous!)
Pretty and beautiful are loaded words for a 21st century dad to levy on his daughters.
Dads like me, modern fellas who try our best to weigh the impact of our words and non-verbal tells, and consider deeply the ongoing importance of our role in raising girls and boys alike, might fear being heard as framing a young girl's worth and/or our love for her around her looks first and foremost. That's a terrifying thought.
Women deal with enough of that kind of superficial, body image bullshit already from the wider American society and a vapid mass media/social media landscape; women of any age, let alone children, certainly do not need to get that sexist vibe at home from dad.
The thing is, in being so careful to impress upon my daughters just how kind, smart, hilarious, strong, and capable they are over the past 14 years, I fear I let the pendulum swing too far in the opposite direction. Now I wonder, could my inclination to steer clear of complimenting their outward appearance do more harm than good as they grow up and head out into a world that stands diametrically opposed to the environment my wife and I created within our home? Do my daughters, do all daughters and sons too, need to know that they are beautiful outside as well as in?
Thanks to my niece I learned, over the course of a few
innings, that "you're beautiful," while possibly too generic, needn't be a terrifying thing for a modern dad to say to his kids.
As we talked beauty, my niece, who for as long as I've known her has shunned eyeliner, lipstick, and the like, told me about her recent deep dive into the world of makeup. Her renaissance woman roommate (who seriously sounds like the coolest person in the world) paints her face up like a piece of art and taught my niece about how to apply it exactly that way, as an artist in front of a canvas, not as an insecure woman looking to make herself pretty for the benefit of others. That latter scenario is how I have always perceived makeup but I wasn't about to mansplain anything — women deal with enough of that bullshit too — instead I listened and learned. Ain't modernity something?
That wise roommate's considered thoughts, as relayed to me out in the damp berm of Spectrum Field, have changed my views on makeup and beauty, and interpersonal communication too.
My niece is a beautiful young woman, inside and out, with or without makeup. Same goes for my two daughters, my wife, and all women. Validation from any guy, even dad, isn't required but it's high time I say yes to adding those powerful words, "you're beautiful," said especially at times when they may think they're not — like waking up with comically exaggerated bedhead — to my roster of compliments because when complimenting phrases like,  "you're brilliant," "you're capable of accomplishing anything in this world," and "you're the most thoughtful person I know," I'm now pretty certain that I'll be painting the full picture of who they are as young women.
WHYY is your source for fact-based, in-depth journalism and information. As a nonprofit organization, we rely on financial support from readers like you. Please give today.