October 12: Tracking Drexel's commitments | 'Urbanism sells' | The View II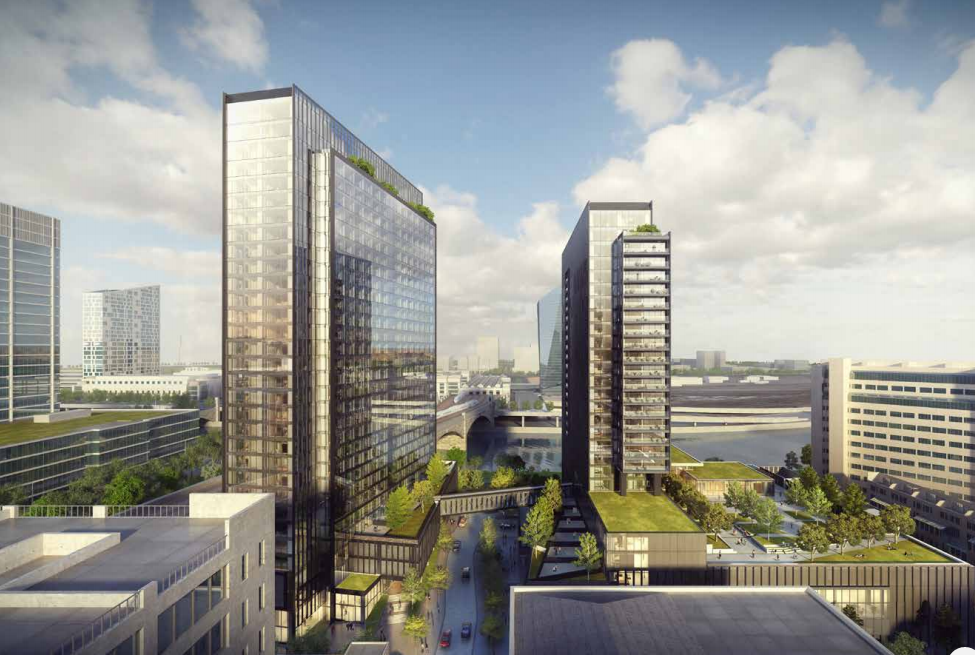 Quite a bit on university construction and their role in communities in today's news:
The Goldenberg Group has begun construction on the View II student housing project near Temple's campus, the Philadelphia Business Journal's Natalie Kostelni reports. At Civic Design Review in March, community members raised many questions about the proposed parking at View II.
Meanwhile on Temple's campus, Stadium Stompers protested the university's board of trustees meeting Tuesday, WHYY News' Emily Scott reports. The Stadium Stompers mocked several trustees by using placards with their photos in an effort to "publicize [their] alleged ties to corporations and conflicts of interest."
Meanwhile, across the Schuylkill, Drexel made the commitment apply its "place-based economic power and human capital" to invest in, hire, and purchase locally. The Democracy Collaborative's latest report tracks Drexel and five other universities' progress and in advancing their responsible anchor institution mission and efforts to "address historic inequalities" using place-based engagement. Oscar Perry Abello provides a very quick rundown of the report.
"Urbanism sells," writes Inga Saffron, yet PMC's Property Group seemed to miss the memo that city dwellers now prefer a pleasant pedestrian experience. At Civic Design Review last week, PMC presented the designs for their massive double apartment towers at 23rd and Arch streets, including a wall of parking garages that committee member Cecil Baker called "a bitter pill to swallow." Saffron suggests a few ways to "open up the crucial Cherry Street corner" and throws out the Rivers Edge tower next door for inspiration.
The Historic Lansdowne Theater Corporation (HLTC) is embarking on an $11 million capital campaign to bring the 1927 "exotic" Lansdowne Theater back to life. Ben Leech, contributing to Hidden City Philadelphia, takes us on a photo journey through the Moorish Revival style theater's "sumptuous interior," which is decked out with tile-clad fountains and 270-lamp chandelier. HLTC wants to reopen the former movie palace as a live music venue and community space.
PBS News Hour highlights Monument Lab: Jeffrey Brown interviews Mural Arts' Jane Golden and artists Karyn Olivier, Hank Willis Thomas, Mel Chin, and Sharon Hayes.