NJ Transit cuts wound Philly, too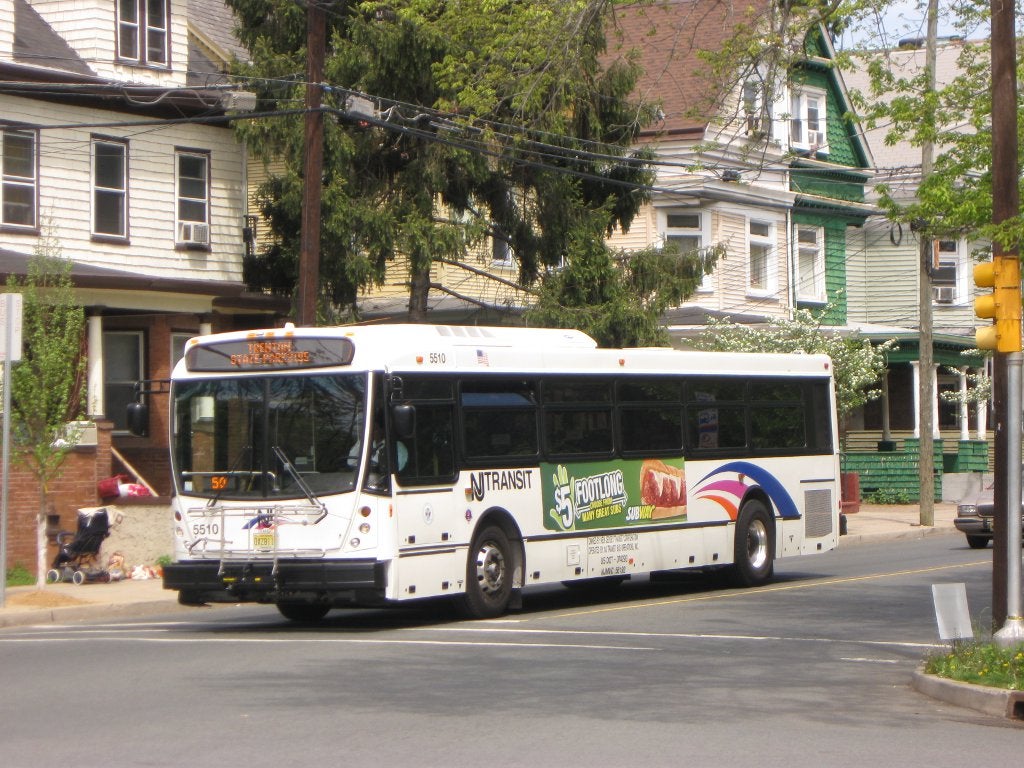 When NJ Transit announced service cuts and fare hikes, many, if not most, Philadelphians reacted with either indifference or schadenfreude. At most, it might have merited a mocking tweet aimed at New Jersey's governor, Chris Christie.
But you only need to spend a few minutes on East Market Street to see the impact NJ Transit can have on Philadelphia. Dozens of aging buses from the Garden State belch sooty clouds while using the thoroughfare like an open-air bus terminal. Over 2,240 riders board 14 different routes from Philly every day.
While only one Philadelphia line is being cut – the 318 bus that runs weekends-only from Philadelphia to Six Flags Great Adventure in Jackson, NJ, with a stop in Camden – the cuts still hit many Philadelphia residents and workers who rely on NJ Transit to make it to PATCO or SEPTA stations.
Take John Boyle's commute. Or don't, because it's about to get more complicated.
Boyle, a policy director at the Bicycle Coalition of Greater Philadelphia, lives in Burlington, New Jersey. Most days, Boyle rides his bike to the River Line light rail about a mile from his home, then transfers to PATCO and gets off a short walk from the Bike Coalition's Center City offices. It's the same thing in reverse the way back – unless he's working late. The River Line stops running at 9 p.m.
Until the cuts, Boyle would just take the 419. But now the 419's last three stops are being cut: Delanco, Beverly, and Boyle's Burlington City stop. For Boyle, that means a four-mile bike ride along a sometimes shoulder-less road, or taking SEPTA to Croydon and then trying to get an Uber, which aren't as plentiful in the suburbs as in the city.
Buying another car is a huge expense even before you consider the twenty-five dollars a day Boyle would spend on parking and tolls. And why not move? Selling his house and uprooting his two kids from a school they like just isn't worth it.
Boyle notes that the South Jersey area contains a quarter of Jersey residents but is seeing two-thirds of the NJ Transit service cuts. In total, six routes are seeing cuts, ranging from shorter routes like with the 419, to fewer hours as on the 463 bus that links Woodbury and Sicklerville, to complete elimination like the 318 to Six Flags.
In addition to the cuts, there are service hikes. Single zone fares are going from $1.50 to $1.60. Ten cents doesn't sound like much, but NJ Transit riders rarely go just a single zone. For commuters who rely on the buses because they can't afford a used-car, the dimes add up.
The service cuts and fare hikes come in response to a $120 million hole in NJ Transit's $2.1 billion budget. The ticket price increases and reduced services will cover about half the hole, with the other $60 million coming from other internal cuts.
This is just the latest round of fare hikes for NJ Transit; there have been five since 2000. State funding for transit has been down significantly ever since Christie took office.
In Pennsylvania, public transportation agencies enjoy two relatively stable funding sources. Act 89 allocates a portion of state gas taxes to public transportation agencies like SEPTA for capital costs: new buses, upgraded rail lines, bridge repairs and the like. SEPTA and its peers also get funds from Act 44, which dedicates a slice of state sales taxes for operational expenses.
New Jersey doesn't do that. Rather, every year the public transportation budget is included in the regular budget allocation process. That can create some dramatic swings: when Christie first took office, the state gave NJ Transit $320 million. This year, it's getting just $33 million.
While NJ Transit does get federal funding, almost all of that must be spent on capital expenses, not operations.
At hearings called in advance of the cuts and fare hikes, numerous New Jerseyans expressed their displeasure with their sitting politicians, placing more blame on them than the transportation agency for the hikes and cuts.
While Jersey residents can back their complaints with votes, Philadelphians who rely on NJ Transit to reverse commute to jobs in New Jersey can do little else but complain, then grin and bear it.
SO CLOSE YET SO FAR
The political boundary that separates Pennsylvania and New Jersey appears at first glance to be as natural as can be: the Delaware River.
As Philadelphia developed in the late 17th and early 18th century, a wide body of water like the Delaware created an imposing barrier. Ferries were the only path across the Delaware until the Delaware River Bridge, better known today as the Ben Franklin Bridge, opened in 1926.
But more than just water and state lines, that bridge, and the others that soon followed, bridged two loosely connected economies into essentially one. Railroads and turnpikes long ago brought the Southeastern Pennsylvania suburbs under the aegis of Greater Philadelphia; now, South Jersey joined them.
But even though we share an economy and a culture – you can find scrapple, wudder ice and the worst fans in football as easily in Pennsauken as Pennsport – we don't share governments. Decisions made in Trenton can harm Philadelphians more than decisions made in Harrisburg, and visa versa. According to data compiled by Pew, 61,082 workers commute to Philly from Burlington, Camden and Gloucester counties and another 18,932 Philadelphians commute to the same.
In South Jersey, NJ Transit operates in conjunction with SEPTA and PATCO – its riders very often rely on those two transit agencies as well, chaining trips across multiple agencies. In North Jersey, NJ Transit delivers commuters to, and returns them from, New York City, where the MTA subway often completes trips. It's an awkward split that makes regional conflict almost unavoidable when funds are scarce. And, says Greg Krykewycz, manager of transit, bicycle and pedestrian planning at the Delaware Valley Regional Planning Commission, "Most of [NJ Transit's] ridership is oriented to the New York market."
NJ Transit is in the unenviable position of having to run a public transportation network that runs the gamut from dense urban cities to the suburbs to rural expanses, says Krykewycz. It's hard enough running just an urban system like New York City's MTA or a system linking suburbs to city like SEPTA's regional rail.
TOUGH TO BUS WITHOUT HUSTLE AND BUSTLE
The uncomfortably overlapping political and economic borders that bind South Jersey to Philadelphia exacerbate a more fundamental public transportation problem in Gloucester, Camden and Burlington counties: It's incredibly difficult to operate good transit in the suburbs.
"Suburban travel markets are some of the hardest to serve," said Krykewycz. "Going from one low-density suburb to another low-density suburb, it's hard to design a route that can service those areas in a cost effective way."
That's essentially what routes like the 419 and 463 do. Most people won't walk further than a half mile to catch a bus or train, and even fewer will bike a few miles. Detached, single-family housing means only so many people live close enough to realistically use the train. Those farther away only do so because, for them, better options simply don't exist.
And in the suburbs, accessing a bus stop can often require crossing a busy highway, like Route 130 – that's what many 419 riders in Burlington will need to do if they switch to the Route 409 bus. Difficult-to-cross roads like this create artificial barriers, making the bus stops feel farther away than they really are.