N.J. Republicans bristle at proposal to 'wind down' flood insurance program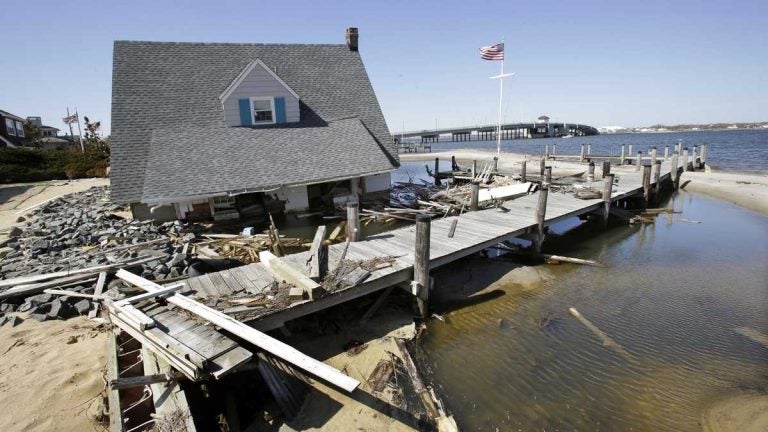 Even before Hurricanes Harvey and Irma, the nation's flood insurance program was mired in about $24 billion of debt. That's why the Republican chair of the committee charged with overseeing and rewriting the program wants to overhaul it — to the consternation of New Jersey GOP congressmen.
Saying taxpayers foot the bill for residents in flood zones, Texas Republican U.S. Rep. Jeb Hensarling wants to wind the program down.
"We know for a fact that the program is in debt. We know for a fact that the program is running an actual annual deficit. And so [that] begs the question, should there be a taxpayer subsidy?" said Hensarling. "I say no. It cannot be, not when we sit here looking at a national debt clog continue to run out of control before us."
The flood insurance program was saddled with all the debt in the aftermath of Hurricane Katrina and Superstorm Sandy. Now, the expected cost of restoring Harvey-ravaged Houston is in the billions of dollars, sparking more talk of overhauling the program.
But South Jersey Republican U.S. Rep. Tom MacArthur hasn't liked some of the talk in congressional hallways.
"I'm hearing a lot of people saying, in the wake of Harvey, that the flood program is somehow to blame for people continuing to build in flood area," he said. "That is a total misnomer."
The federal flood program is essential because it mandates strong building standards in flood-prone areas, MacArthur said, while also forcing people to pay premiums up front instead of merely getting FEMA grants to rebuild after flooding.
He conceded the program needs changes. Still, MacArthur said, people should bear in mind that 80 percent of homeowners in the flood program already pay premiums according to the damage of a worst-case scenario.
"It's about 20 percent that are either in grandfathered rates where the map changed later, or they are in what's called 'prefirm,' they're in the areas where they were built before the flood maps," MacArthur said. "It's that 20 percent where rates will have to rise a little bit more over time to make the program work."
And there are positive aspects of the current proposal to change how the flood program works — such as spending money on prevention and protection efforts, he said.
"I think there has to be more investment up front. This was a proposal that's in the bill. We need to spend more money on mitigation efforts up front," MacArthur said. "If we can help homeowners finance lifting their home before an event, we just avoid many future losses."
The federal flood insurance program must be reauthorized by the end of September, and MacArthur said Congress may have to delay efforts to reform it for now.
"Actually, what I'm hearing is that there may be an extension of the current program. I'm OK with that, but we do need to actually get a permanent reauthorization," he said.
Changes on payout limits, rising premiums
Republican U.S. Rep. Frank LoBiondo, also from South Jersey, opposes the current flood insurance bill.
"The bill that's been presented to us, while they made some improvements, it falls short," he said. "If what happened in Sandy and what may happen with Irma and some of the other ones, [I won't] say that this is the best we can do."
LoBiondo opposes provisions in the new effort that would limit payouts to the owners of more expensive residences as well as changes to a program to make flood insurance affordable for low-income residents.
"Our coalition of homebuilders and real estate owners and mortgage bankers, who are on the ground and know how it works, they've signed off of what we want to do," he said. "And they are crucial because they provide the real-world perspective of what we need to do, so they are on board with the provision that we want to put in there, they are really not on board how with the formal bill looks right now."
For example, residents in Atlantic City, which is in LoBiondo's district, are worried that rising flood insurance premiums will prove too expensive for some longtime homeowners. That comes on top of pressure from rising property taxes in the financially troubled city.
As for the wreckage in Houston, LoBiondo said it's causing him to have some flashbacks to Sandy — which has solidified his position.
"Yes, it's all coming back very vividly," LoBiondo said.
After Sandy, New Jersey made a significant push to buy out properties that are flooded frequently. Environmentalists say buyouts should be integrated into the flood insurance program to encourage people to move if they own property with chronic floods. Lawmakers don't seem to be discussing that as they debate reauthorizing the flood insurance program.