Night Market will return to West Oak Lane on June 19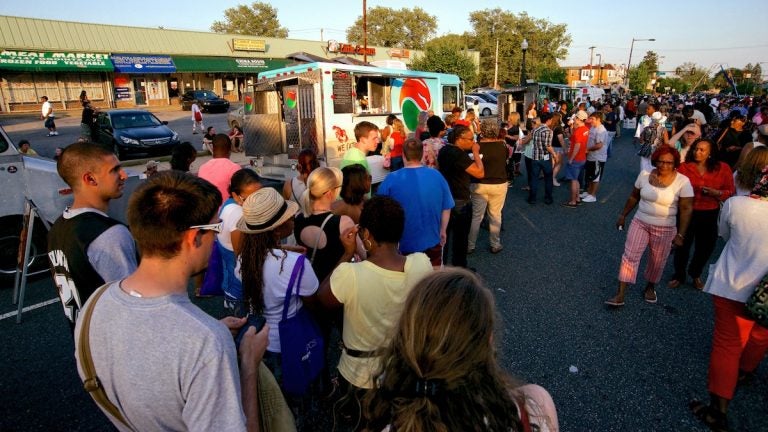 The Night Market is coming back to West Oak Lane.
For the second consecutive year, The Food Trust will bring "Philadelphia's favorite street-food festival" to the Northwest Philadelphia neighborhood, again in partnership with the Ogontz Avenue Revitalization Corp.
Meghan Walsh, Food Trust's Night Market project coordinator, cited several reasons for the return, not the least of which was how well it was received last year and how Ogontz Avenue's physical set-up provides ample space for food trucks and attendees.
"With the Night Markets, we're interested in having partners we can hand it off to eventually," Walsh said, citing Mt. Airy's ability to adapt the Night Market into its own Street Fare in Sept. 2013. "West Oak Lane has expressed a desire in doing that, and we have a great working relationship with them."
Walsh was referring to a local push by OARC to couple the Night Market with jazz concerts at the Keswick Theater to reclaim the vibe of the defunct West Oak Lane Jazz Festival.
To that end, OARC's jazz show is scheduled for Saturday, June 21 at the Glenside venue. The Temptations are headlining and tickets will be available for sale in the near future, according to OARC.
WOL reaction
Among those looking forward to the June 19 event is state Rep. Dwight Evans (D-203rd), whose district office sits smack in the middle of the Ogontz Avenue blocks on which dozens of food trucks will park and serve.
He said he sees it as a way to promote the community to people from outside of it.
"I'm obviously very excited about the news, and we're happy to be again working with the Food Trust, OARC and the community, to tell the West Oak Lane story to more people," Evans said Friday. "It was very successful last year, and it will be even greater this year."
Echoing Evans' excitement was OARC CEO Jack Kitchen.
"We're excited. The vendors are excited," he said. "It's good for the community, and it's good for business."
Other stops and local history
On Thursday, the Food Trust — a "nationally recognized nonprofit dedicated to ensuring that everyone has access to affordable, nutritious food and information to make healthy decisions" — announced its four-stop Night Market lineup.
West Oak Lane's June 19 edition is the second of the quartet which includes Old City (May 15), Lancaster Avenue at 35th St. (Aug. 21) and Chinatown (Oct. 2).
The roving food event showcases the city's best ethnic and regional restaurants, and food trucks, according to Food Trust.
West Oak Lane's first-ever Night Market drew huge crowds on Ogontz Avenue in June 2013 as the commercial corridor transformed into a celebration of food and music.
In 2014, the Night Market series is entering its fifth year.
WHYY is your source for fact-based, in-depth journalism and information. As a nonprofit organization, we rely on financial support from readers like you. Please give today.