NewsWorks' 2015 Labor Day Shore Guide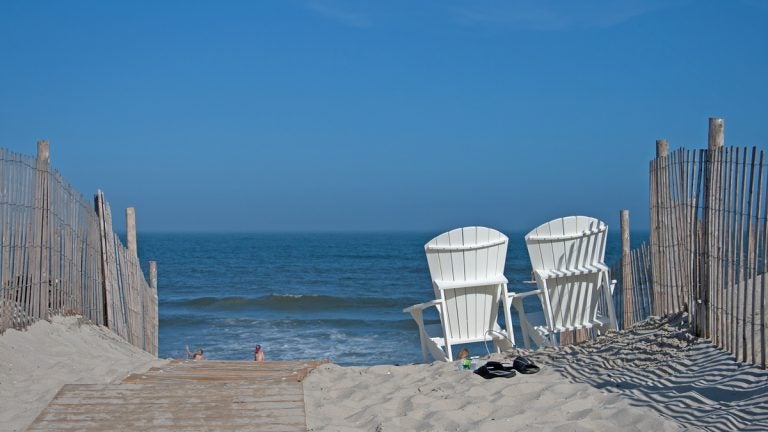 A "secret celebrity" who introduced a dance craze in Wildwood, NJ., 55 years ago will return for the Labor Day weekend to help bid farewell to Summer 2015.

The "secret celebrity" will also be the special guest Sunday at an all day block party and concert from noon till 9 p.m. in Fox Park (Burk & Ocean Avenues).

There will be plenty of crafts, festival food, sweet treats, rides, games and continuous live entertainment from the Jeremiah Hunter Band, Purple Reign, Tonna Sacca and Denise Clemente, Joe Montello, The Comets, Georgie Young and the "mystery man".

On Monday, this "secret celebrity" will be honored by the unveiling of wall mural at 11 a.m. at Romeo's Pizzeria (corner of Garfield and Pacific Aves.).
Atlantic City
The ubiquitous Dutch DJ, Tiësto headlines Labor Day weekend at the new Borgata Festival Park on Sunday, Sept. 6, at 3 p.m. His latest studio album, 2014's "A Town Called Paradise" has seen its singles, "Red Lights" and "Wasted" topping the Billboard Dance charts. Tickets range from $75 to $125.

Also on Sunday, take a trip back to the 1970s with co-headliners Chicago and Earth Wind and Fire as their Heart and Soul tour comes to the Borgata at 7:30 p.m. Together, the bands will open and close the concert with each performing solo sets as well. Tickets start at $80.

Country music star and actor, Trace Adkins, best known for his hits "Ladies Love Country Boys and "Honky Tonk Badonkadonk", will bring his nationwide summer tour to Taj Mahal's Etess Arena on Friday, Sept. 4, at 9 p.m.. Tickets run between $22 and $43.

Those looking for end of summer fireworks can catch the second to last display at the Tropicana on Saturday at 10 p.m. The 10-minute show is put on by Grucci, a sixth-generation family owned pyrotechnic company.
Ocean City
Ocean City welcomes autumn again with its annual King and Queen of Plop coronation on Friday, Sept. 4., 11 a.m. at the 9th Street Beach. Contestants in the quirky competition vie for the crown by falling dramatically to the sand in slow motion. Registration begins at 10:30 a.m. and is free.

On Sunday, at 7:30 p.m., catch the Ocean City Pops' musical "The World Goes 'Round" over at the Music Pier. The story is set to theater standards like "Cabaret", "New York, New York" and "Mr. Cellophane". Tickets range from $25 to $30.

The annual Labor Day Race 5-mile beach run and 1-mile fun run and walk takes place on Monday. Registration cost $25 for adults and $10 for kids 14 and under.
Stone Harbor
Stone Harbor's Ocean Galleries (9618 Third Ave.) will host a special Labor Day weekend exhibition of paintings by Alexandre Renoir, great-grandson of the master Impressionist painter, Pierre-Auguste Renoir. "Renoir: Modern Day Impressionism" will run from Friday, Sept. 4 through Monday, Sept. 7. The show is free and open to the public, as is a chance to meet the artist during receptions from 7 p.m. to 10 p.m. on Saturday and Sunday.
Cape May
AirFest returns for its 19th year at the Naval Air Station Wildwood Aviation Museum at Cape May Airport.

The four-day event features walk-through tours of WWII bombers, B-24 Liberator, B-17 Flying Fortress and P-51 Mustang.

Attendees can tour the bombers and other flying machines on display, including an L-9, L-16, T-51 and NASW's 26 historic aircraft. WWII veteran, Nick Cooney will also be on hand Sunday and Monday to talk about his experiences as a gunner on a TBM Avenger torpedo bomber.

Other festival highlights include live music, a beer garden and the following food trucks: Crespella Gourmet Crepes, JerZey EatZ, 1 Potato Two, The Steak Shack, Lunchbox Philly and Spot Italian Ice.

Inside the Hangar 1, visitors will find activities for children, a magician, interactive exhibits and vendors. Tickets cost $14 for adults and $10 for kids.

One of summer's best fruits, the Jersey Tomato is being celebrated Saturday, Sept. 5, from 9 a.m. to 5 p.m. in West Cape May's Wilbraham Park. The annual West Cape May Tomato Festival will feature plenty of vendors selling tomato products like salsa, pies, crepes and salads. Fresh, local tomatoes are also available for purchase. The free event benefits the West Cape May Shade Tree Commission which seeks to improve the town's tree canopy. Rain date is Sunday, Sept. 6
This post is part of our South Jersey Events Listing