New Jersey hit with major lawsuit arguing it must end school segregation
Listen
4:45
The New Jersey law that requires most children to attend public school within their communities has led to some of the worst school segregation in the nation, prompting a coalition to sue the state to overturn that law and potentially reshape the state's system into one that is very different, and integrated.
To judge the magnitude of the legal action, it's headed by former associate justice of the state Supreme Court Gary Stein, chair of the New Jersey Coalition for Diverse and Inclusive Schools, which coordinated the suit. Stein has been joined by other notable activists and social organizations.
Filed in Mercer County Superior Court on Thursday, the lawsuit was brought by the Latino Action Network and the NAACP New Jersey State Conference — among others seeks to strike down that portion of the state's charter-school law that requires these small publicly funded schools to prioritize enrollment from within the borders of the municipality where they are located.
Could Murphy administration settle?
A lawsuit alleging the public-school enrollment residency requirement is unconstitutional would be expected to take years to wind through the courts before a final decision from the state Supreme Court. But there are indications that the Murphy administration might be willing to settle and make efforts to desegregate schools.
"As the head of one of the most diverse states in the nation and on the anniversary of the landmark Brown v. Board of Education decision, Gov. Murphy believes strongly that we must combat the deeply rooted problem of segregation," said Dan Bryan, his spokesman. "Although we can't comment on pending litigation, the governor is deeply committed to boosting diversity in our schools."
Because New Jersey is among the most residentially segregated states, the suit argues that students should not automatically go to school where they live. Instead, it suggests students be allowed to choose where to attend classes from a host of options that include magnet schools centered on an educational theme; an interdistrict system allowing them to cross town borders; or a controlled-choice scheme that could place them involuntarily in a school to ensure racially diversity.
Worse than the South
"New Jersey's public school segregation results from a longstanding failure of state educational policy that's legally and morally indefensible," said Stein. He called the segregation of New Jersey schools — deemed in a study to be sixth worst in the nation for blacks and seventh for Hispanics — "extreme," adding it's "worse than any state in the South."
Another study, co-authored by Paul Tractenberg, who is a member of the coalition, found that about a quarter of public school students attend schools that are almost all white or at least 90 percent nonwhite. About 270,000 black and Hispanic students, or almost half of all those in New Jersey, attend class in schools that are more than 90 percent nonwhite, and almost two-thirds go to schools that are more than 75 percent nonwhite.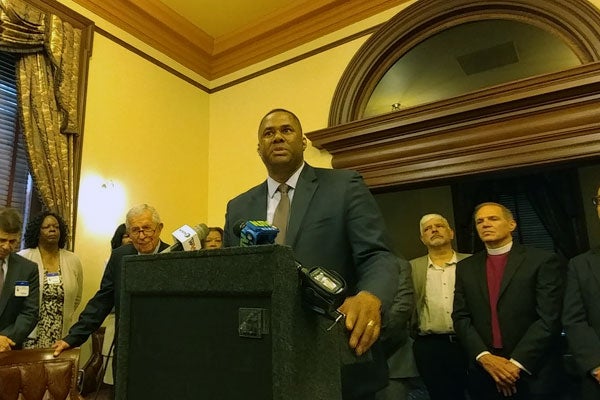 "The numbers here are staggering," said Ryan Haygood, president and CEO of the New Jersey Institute for Social Justice and a member of the coalition. He shared another data point to prove the problem, saying that in the 20 years his wife has taught in three different schools in Newark, she has never once had a white student. "New Jersey has been complicit … No amount of good will can accomplish what is needed."
A significant anniversary
The groups filed the suit yesterday on the 64th anniversary of the U.S. Supreme Court's landmark Brown v Board of Education decision, which ruled school segregation unconstitutional. They argue that New Jersey's segregated school system violates the state constitution and ask the court to stop the further assignment of students solely on the basis of residency. They also ask that the Legislature and education commissioner be ordered to devise a different system for placing students in schools. It is the first lawsuit challenging statewide school segregation filed anywhere in the nation in more than a half century.
"It is truly unacceptable and contemptible that there is more segregation now," said Adrienne Sanders, first vice president of the NJ NAACP. "New Jersey continues to provide separate and unequal schools. We did not support or accept separate and unequal education then, and we will not accept separate and unequal education now."
Segregation harms students of all races and those living in poverty in several ways, according to the lawsuit and other experts.
Richard Rothstein, distinguished fellow of the Economic Policy Institute and author of a book about housing segregation in the state, spoke at a forum on Wednesday about segregation and said that when students attend segregated urban schools, it is hard for them to succeed. Students are coming in sleepy or losing class days because they have asthma, or they may have lead poisoning, or they may be stressed because of violence, or because their parents are unhappy. When all the students in a school suffer from one or more of these conditions, "the achievement gap becomes impossible to overcome."
The lawsuit asserts that "powerful social science research published since the late 1980s demonstrates that low-income black and Latino students who attend racially and socioeconomically diverse schools are more likely to achieve higher test scores and grades, graduate from high school, and attend and graduate from college, as compared with their otherwise comparable peers who attend schools with high percentages of low income and/or disadvantages black and Latino youth."
Segregation hurts everyone
Similarly, segregation hurts white students because it deprives them of "an educational experience that prepares them to function as adults in a racially and socioeconomically diverse society," the suit adds. Haygood said that by not allowing white students to learn with and compete against black and Latino students, segregated schools "instill in them a false sense of superiority."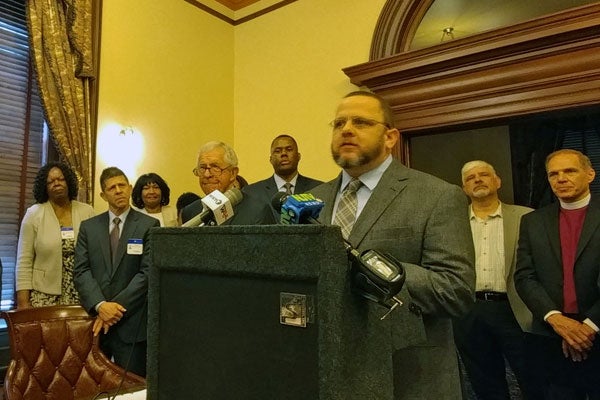 Christian Estevez, president of the Latino Action Network, said he has seen firsthand the harm segregation can do. The son of immigrants, Estevez went to school in Plainfield where he was living and "didn't understand why the people I saw on TV did not look like the people I saw in class." His mother eventually moved their family into a small apartment in nearby Westfield, where nearly all his classmates were white.
"I started to see differences in opportunities, differences in what was expected of us, and of what we expected of ourselves," he said. "My friends from Plainfield were dropping out of high school, some were in the juvenile justice system."
He credited his education in Westfield with enabling him to go to college. He decided to become an activist to try to bring about change.
"We can't wait any longer, that's why we are filing this lawsuit," he said. "We have to force change. It has to happen. It should have happened long ago."
Stein said the plaintiffs have a good chance of winning their case, given the state Supreme Court has found even de facto segregation, judged to have happened not intentionally, to be unconstitutional.
The suit avers that New Jersey education officials knew the schools were segregated because they collect and publish school enrollment data by race and because the state-controlled schools in Newark, Paterson, and Camden had fewer than 1 percent of whites enrolled.
Critical of charter schools
It is also highly critical of the state oversight of charter schools, alleging that segregation in these schools occurs not only because they are predominantly located in communities with large minority populations, but also "results from the failure of the State Commissioner of Education to perform his statutory and regulatory duties."
The suit cites several provisions of state law and code that require the commissioner to consider racial factors and segregation in assessing whether to grant charters to new schools and renew those of existing schools.
"The charter school statute specifically directs the commissioner to patrol segregation," Stein said. "These charter schools are segregated and that is wrong."
Desegregation is doable, Tractenberg said, pointing to the success of the Morris School District, which was created in 1971 by order of the Supreme Court to deal with the de facto segregation of the formerly separate Morristown and Morris Township districts. The town had a large black population, while the township that surrounds it was overwhelmingly white. Although the merger was controversial, the Morris School District today is about half white, a third Hispanic, and 10 percent black. Roughly a third of students are economically disadvantaged.
Potential solutions
Stein was among those who founded the coalition two years ago and has been studying potential solutions, should the courts find the charter-school and regular public-school residency requirements unconstitutional.
New Jersey already has some statutes that allow for different student placement methods, including school choice, said Stein. And the state's highly competitive vocational academies could change their admissions policies to foster integration.
But he has also spent time in Hartford, where a 1996 desegregation lawsuit resulted in a system of themed magnet schools, split almost evenly between the city and its ring suburbs, which has resulted in almost half of the urban students being educated in diverse public schools. For instance, some students spend 45 minutes on a bus from the suburbs to attend an arts magnet school in downtown Hartford. And young students are bused to a suburban elementary school.
"It's thrilling to see children of all races, ethnicities, and economic backgrounds sitting around a table together without any consciousness of the differences in their backgrounds," Stein said.
Interdistrict school choice, which allows students to cross town boundary lines to attend classes in other communities that open their schools to outsiders, with districts given financial incentives for participating, is another option. A final, and the least-preferred method, would be an involuntary desegregation system that would assign students to schools to achieve greater integration.
To tackle the problem of trying to integrate schools in the Northwest, which have the greatest concentration of nearly all-white schools, Tractenberg suggested virtual integration efforts, citing the "holodeck" classrooms" at Rutgers University's law schools in Newark and Camden that allow students and faculty in the two locations to see and talk to one another almost as if they were in the same place.
"This problem will require persistence, patience and imagination," Stein said.
That's something of an understatement, given the state's long history of home rule and the typical community's love for neighborhood schools — when schools implement redistricting plans without racial overtones, simply to balance out enrollments in buildings, it often causes an uproar among parents.
And any plan that moves students into or out of cities and suburbs is going to at least cost money for busing. Moving some charter schools into the suburbs, another proposal, could cost substantial amounts for construction, as well.
Stein said he has no idea how much the changes may cost but acknowledged they will be "significant" and said they should be borne by the state, yet-another obstacle, given New Jersey's continuing budget difficulties.
New Jersey battled for decades in the courts with the Education Law Center in the Abbott v Burke case before agreeing to adopt a funding formula to meet the Supreme Court order that the state ensure that even students in the poorest districts receive the "thorough and efficient" education guaranteed by the constitution. Still, the state is not fully funding the formula by a net $1.5 billion, according to a recent estimate from the Office of Legislative Services.
David Sciarra, ELC's executive director and another coalition board member, said the center fully supports the lawsuit as a logical next step in trying to ensure all students' constitutional rights are fulfilled.
"The New Jersey Supreme Court has interpreted the constitutional guarantee of a thorough and efficient education to require the State to both provide adequate funding and resources for all schools — including high poverty, racially isolated schools — and remedy racial imbalance in our public schools," Sciarra said. "These are twin and complementary constitutional obligations necessary to ensure every child receives an education in schools that are not only sufficiently funded, but also diverse and inclusive … This lawsuit will complement and advance the progress made through the Abbott remedies to give all children the opportunity to attend schools that are not only well resourced, but more racially and socio-economically diverse."
Supported by teachers union
The state's largest teachers union, the New Jersey Education Association, also backs the effort.
"We support efforts to create strong, diverse, and inclusive public schools for all New Jersey students," said spokesman Steve Baker. "That work is ongoing in New Jersey, and we are eager to work with all public education advocates to carry it forward."
Attorney Lawrence Lustberg, one of the two attorneys who filed the suit, said there is a chance it could be resolved without a lengthy court process, saying he has been encouraged by discussions with the state attorney general's office and noting that the Murphy administration is a progressive one. Stein made it clear that the suit is not meant to be "hostile" to the current administration.
"We are trying to finally get New Jersey to address its longstanding historical public school segregation," Stein said. "The remedies may take several years to implement. The time to start correcting them is now."
WHYY is your source for fact-based, in-depth journalism and information. As a nonprofit organization, we rely on financial support from readers like you. Please give today.