N.J., Del. govs look for 'speedy resolution' on Delaware Memorial Bridge toll hike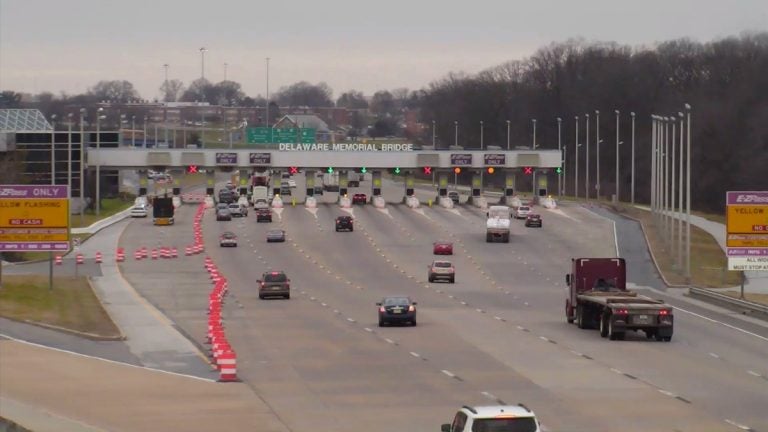 Last month the government body that operates the Delaware Memorial Bridge approved a toll increase, the first in eight years.
The new prices — $5 for passenger vehicles and $7 per axle for commercial ones – were set to take effect March 1. Currently, motorists pay $4 for passenger vehicles and $5 per axle for commercial ones.
Instead, New Jersey Gov. Phil Murphy has torpedoed those plans for the twin-span connecting Delaware and New Jersey.
The Delaware River and Bay Authority is run by 12 commissioners — six gubernatorial appointees from Delaware and six from New Jersey.
Members voted unanimously on Dec. 18 to approved raising tolls for the bridges, used by some 90,000 vehicles a day.
But Murphy, a Democrat who took office in January 2018, vetoed the meeting minutes, effectively nullifying the toll increases. In his veto message, Murphy said he would only support an increase to pay for critical bridge safety work.
Delaware Gov. John Carney would not agree to an interview about the veto, but issued a short statement Thursday.
"The higher toll rate would help fund important infrastructure investments, so this latest setback is concerning," Carney's statement said. "But I remain optimistic. My hope is that we can work with the DRBA, Gov. Murphy and his team to come up with a solution."
An hour later, about 4:15 p.m. Thursday, Carney spokesman Jonathan Starkey issued a statement saying Carney and Murphy  "had a productive phone conversation … The two governors agreed to convene a meeting with their teams and officials at the Delaware River and Bay Authority to find a speedy resolution."
A Murphy spokesman issued an almost identical statement about 5:30 p.m.
Jim Salmon, the bi-state authority's spokesman, said Murphy's move is unprecedented.
"We were disappointed by the governor's veto,'' Salmon said. "The toll increase is a necessary step to fund a $440 million five-year strategic plan related to our capital improvement plan.
"Many of the infrastructure investment projects, including some at the bridge, will be delayed or postponed indefinitely until resources to fund them are available."
Of the $440 million in projects, $300 million was to be spent on the bridges, built in 1951 and 1968. The agency also owns the Cape May-Lewes Ferry and five small airports, four of them in Jersey.
Salmon said officials would continue discussions to persuade Murphy to approve the toll hike.
The projects and projected costs include bridge paint removal and recoating, $48.2 million; suspension rope replacement, $24.5 million; bridge steelwork repairs, $40.5 million; ship collision protection system, $45.2 million; and bridge deck repair, $21.5 million.
Until the impasse ends, Salmon said, the agency will focus on the steelwork repairs and painting.
Samuel Lathem, an authority commissioner from Delaware, said he is stunned and disappointed by Murphy's move and worried about the safety of the bridges and other facilities.
"I don't know what to make of it," Lathem said. "I can't believe that the governor and his people don't really know that there's a need. I think it's really irresponsible to make a decision from Trenton without coming to take a look and see what they are saying no to."