New Delaware law aims to reduce feral cat population
The law encourages spaying, neutering and vaccinating feral cats by removing penalties for their caretakers.
Several cats and a kitten joined Delaware Gov. John Carney as he signed legislation to protect feral felines at Faithful Friends Animal Society in Wilmington Monday afternoon. That group of cats included Hawkeye, a  kitten that survived an attack by a hawk.
Animal advocates and representatives of other shelter groups cheered as Carney signed HB 235 that encourages spaying, neutering and vaccinating feral cats by removing penalties for their caretakers.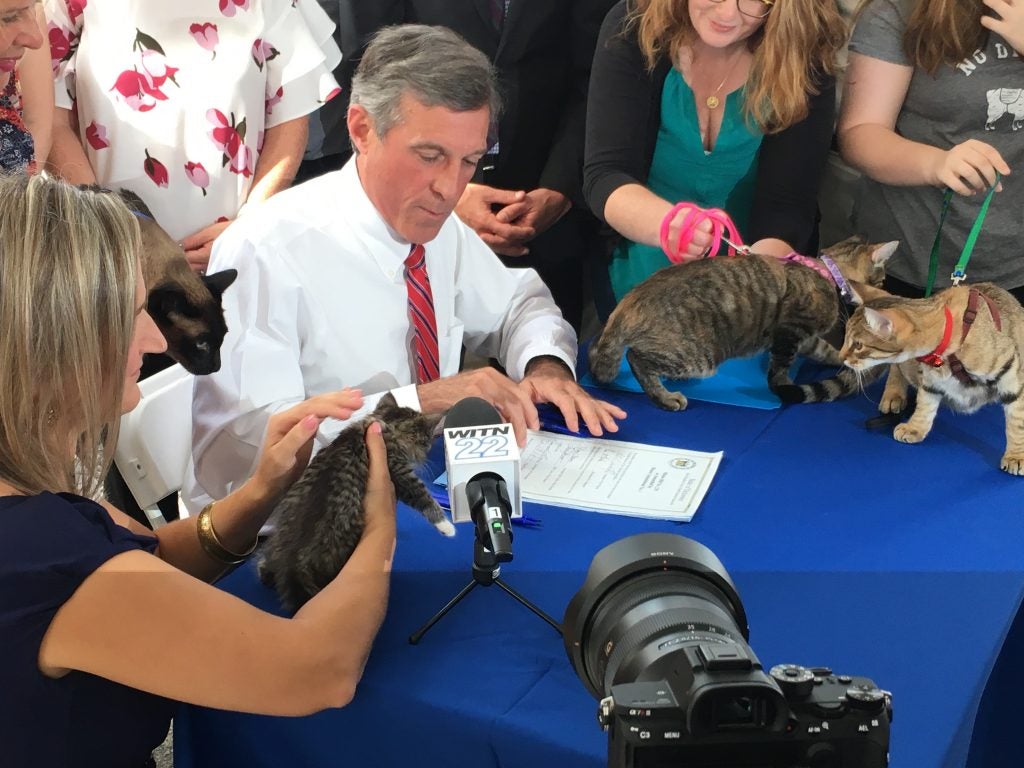 Under the new law, formerly domestic cats that have been abandoned as well as wild felines that cannot be socialized are considered feral. The expanded definition allows more abandoned cats to be spayed, neutered and vaccinated at Delaware animal shelters.
It also eliminates the term "keeper" from the state code and replaces it with the phrase "free-roaming cat caretaker." The change makes it clear that caretakers who provide food and medical care to free-roaming cats are not considered owners of those animals under state law.
The law takes effect as shelters are experiencing a steep increase in the number of calls about feral cat colonies. "This summer has been really busy," said Patrick Carroll of the Delaware Humane Association. "It's just been busier than ever, so our work continues."
It's estimated that tens of thousands of cats freely wander New Castle County. In 2016, the Forgotten Cats shelter estimated 10,000 feral cats were living just in the northern Delaware communities of New Castle, Newark and Bear.
State Rep. Michael Mulrooney said he's been working for four years to get the legislation approved.
"How many cats were born over that period of time, probably half a million is probably a conservative estimate, while we were trying to get everybody to the table — the birding community, private property rights," he said. "And the problem multiplied and multiplied."
The birding community successfully fought for an amendment that prohibits relocating any free-roaming or feral cats in a coastal area that's been recognized as a migratory bird flyway, according to Mulrooney. Those areas include Fort DuPont near Delaware City, as well as Prime Hook National Wildlife Refuge and Bombay Hook National Wildlife Refuge.
He acknowledged it will take some time before the state's burgeoning feral cat population is brought under control.
"It's going to take a while, but it can be done. They're out there day and night, they're very passionate people and dedicated," Mulrooney said of the cat lovers who provide food and care for free-roaming cats.
---
Editor's note: An earlier version of this story did not properly attribute a quote about the birding community's opposition.
WHYY is your source for fact-based, in-depth journalism and information. As a nonprofit organization, we rely on financial support from readers like you. Please give today.