Navy Yard unveils updated master plan, celebrates 10K jobs milestone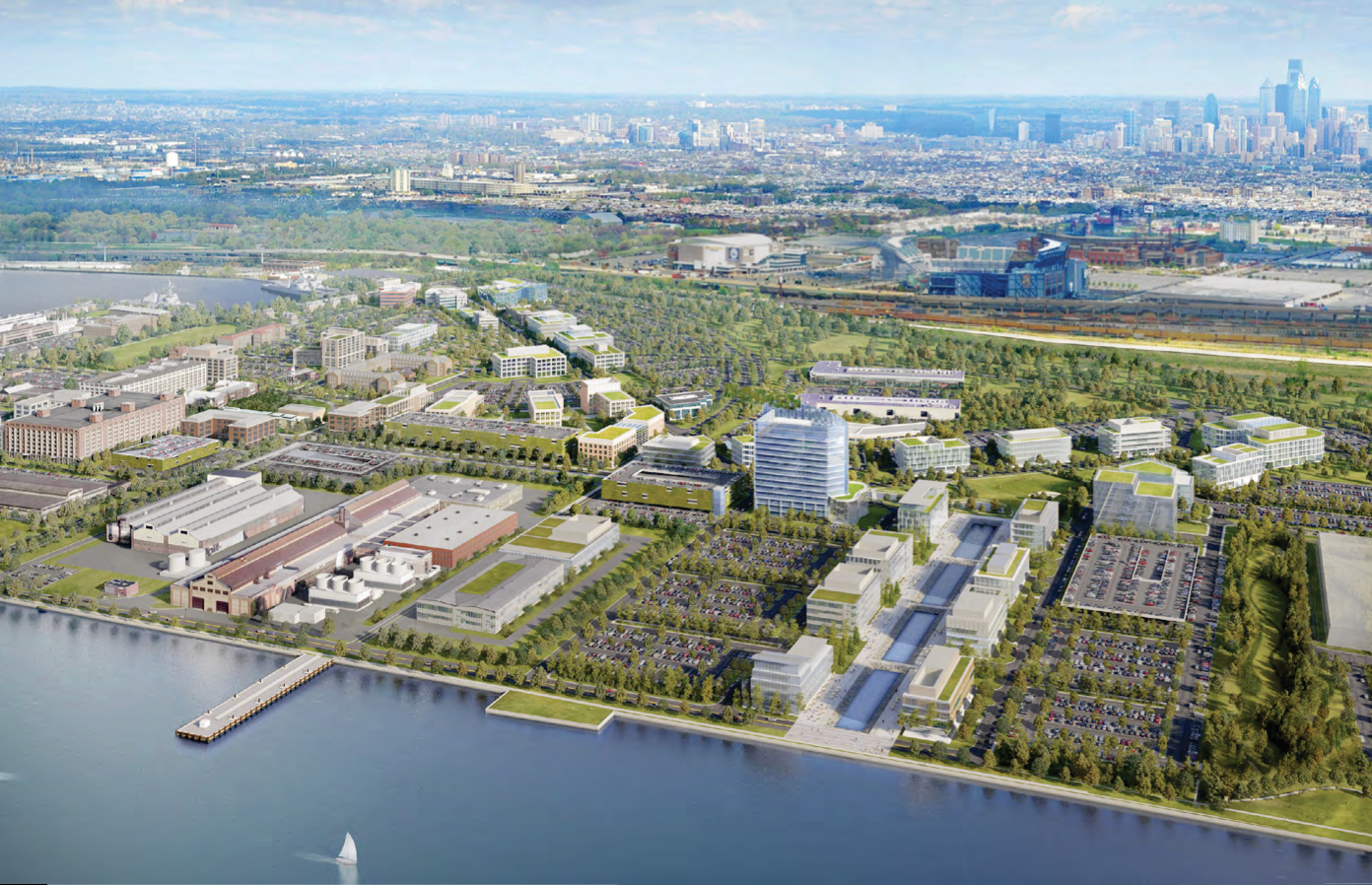 Ten or 15 years from now, if all goes according to an updated master plan, the number of people working at the Philadelphia Navy Yard will double to 20,000, and could reach 30,000.
The employees will work in a mix of manufacturing, energy, technology and research jobs, among other types, in companies located within neighborhood-like districts. There will be a mix of re-purposed historic buildings and environmentally conscious new ones, all linked to each other and the river with a series of parks, trails and bodies of water. The new plan, created for the Navy Yard by Robert A.M. Stern Architects, Michael Van Valkenburgh Associates and Pennoni Associates, also calls for 1,018 residential units, retail space, and for mass transit to reach right into the heart of the 1,200-acre campus.
The Master Plan 2013 Update was unveiled Friday at an event that also celebrated the 10,000 jobs milestone that the Navy Yard will hit when GlaxoSmithKline employees are all moved in to their new building on Crescent Drive later this month. This is as many jobs as the Navy Yard housed before the Navy closed nearly all its operations at the yard in the 1990s. Read more about the milestone and Navy Yard history in this earlier PlanPhilly story, or watch presentations from the event in the full-length video below.
While GlaxoSmithKline put the numbers over the top, Navy Yard workers are employed at 130 different employers, including the Navy, other pharmaceutical companies, a shipbuilder, a commercial baker, energy research facilities, and the fashion company that was frequently thanked for being an early believer in the Navy Yard, Urban Outfitters. Nearly 70 percent of Navy Yard companies are either brand new enterprises or new to Philadelphia, said Mayor Michael Nutter.
"The Philadelphia Navy Yard today represents the greatest turn around of any closed Naval Base in the United States of America," he said.
The Navy turned control of the yard over to the city in 2000, and the Philadelphia Industrial Development Corporation – a non-profit, joint venture between the city and the chamber of commerce – was given planning and development responsibilities. PIDC hired Liberty Property Trust to help with those duties for one section of the Navy Yard, formerly called the Corporate Center, now the Central Green. Since 2000, there has been more than $130 million in publicly funded infrastructure improvements at the Navy Yard, and more than $700 million in new private investment, said PIDC President John Grady, who served as master of ceremonies.
Nutter and Stern both said mass transit that better links the Navy Yard with Center City is an integral part of the future.
"We must invest in corporate mass transit, either rail or (rapid bus transit), to and on this campus. We need it right here and right now," Nutter said.
Stern said he hopes to see the Broad Street subway line extend into the Central Green.
"In my wildest dreams, it could even connect to New Jersey, and then who knows what could happen," he said. Stern had already noted that he, like all architects, must be an optimist.
The Navy Yard currently operates shuttle service from Market East to the Navy Yard, and Grady made an announcement that hinted at a more transit-friendly future. A contest is going to be held in which artists will be asked to design bus shelters, he said. The shelters will be a permanent marker of the 10,000-job milestone, and also a reflection of the city's committment to public art, he said. Grady said contest details will be forthcoming this spring.
Stern gave an overview of the updated plan, which he said is more evolution than change, and sticks to the same principles of creating an urban alternative to the suburban office park, with a mix of re-used old buildings and well-designed new ones.
While doing the work, he said, "We began to think of the Navy Yard as a series of communities within a community, of neighborhoods within a city."
-The Central Green District. This is where GSK's new building is, and the site of a hotel under-construction. The plan says it will support up to 1.4 million square feet of recently developed and new high performance office buildings, and a large dose of public green space.
-The Historic Core. This area, which includes, as the name implies, many of the historic buildings, has been expanded. The plan calls for it to support up to 4.5 million square feet of space, including a potential expansion of Navy research facilities. This is also where the residences would be located.
More residences were called for in the last version of the master plan, in an area that is now being used for port expansion.
The residences segment likely won't happen until the end of the implementation of the master plan update, and perhaps slightly outside those years, said Will Agate, vice president of Navy Yard management and development for PIDC. The city and the Navy are now in discussions about allowing residential use.
-The Canal District, along the Delaware River, which features a new body of water that looks like a 100-foot-wide, 1,000-foot-long canal to anchor green space to be lined with up to 948,000 square feet of future commercial and mixed-use development. It looks like a canal, but it's actually a retention pond designed to help manage storm water run-off, Stern said. Parking lots and other surfaces will all be sloped toward the canal, he said.
-The Mustin Park District, southeast of the Central Green District. This area, named after an admiral, is new to the master plan update. Its centerpiece is to be a 7-acre park, around which 700,000 square feet of new office space and nearly 175,000 square feet of flex, research, and light manufacturing space, would be built.
-The new Port Expansion Area. Located at the eastern end of the site, this portion is to be developed by the Philadelphia Regional Port Authority and including the PRPA's proposed Southport marine terminal, and an additional 1 million square feet of related warehouse and distribution facilities.
Stern partner Meghan McDermott said after the presentation that each neighborhood would have it's own distinct features and amenities, while still relating strongly to each other. With its neighborhoods, walkability and bikeability, connection to the river and sense of history, the plan creates "a sense of urbanity, place and identity," she said.
Rendering of canal district at Navy Yard

Bird's-eye rendering of the Navy Yard
WHYY is your source for fact-based, in-depth journalism and information. As a nonprofit organization, we rely on financial support from readers like you. Please give today.