Nature scavenger hunt, anyone? The Franklin Institute starts with spotted lanternfly eggs
Rachel Valletta, an environmental scientist at the Franklin Institute who also goes by "Dr. Don," is crouching next to a red maple tree in the woods by Lemon Hill Mansion in Fairmount Park.
She's scraping off a light gray patch the size of a thumb from over the tree's trunk with an old credit card, removing parts of it and showing them to a smartphone camera.
"If you can see here, I have individual layers, they look almost like little tiny black seeds. Now, those are the individual eggs inside there. They're stuck to the tree and they're being held safely in by that egg casing," she said. "Until we come along, that is."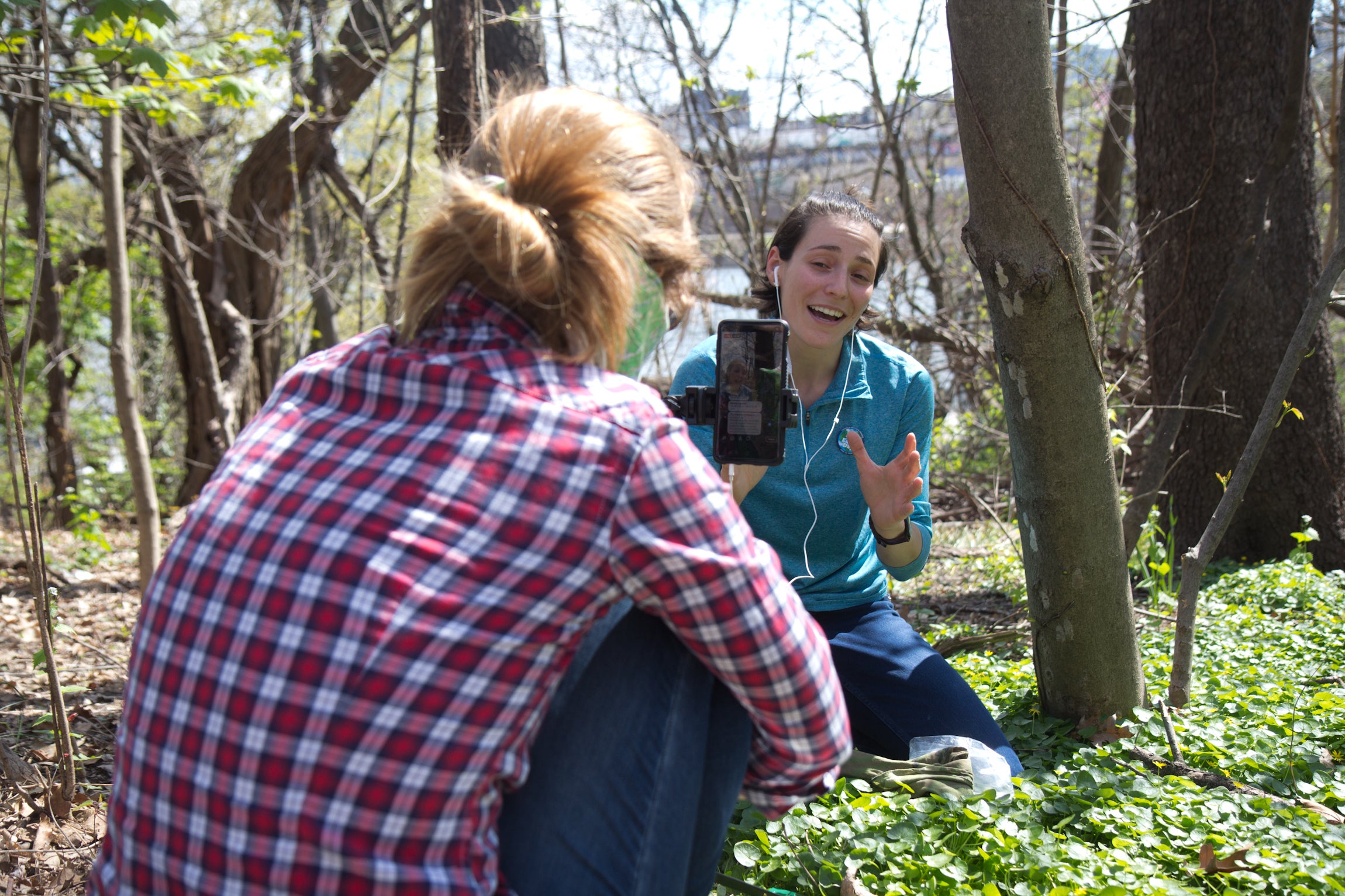 They're spotted lanternfly eggs. And the gray patches are egg masses, containing between 30 to 50 eggs each.
The infamous invasive insect that has spread out to 26 counties in Pennsylvania, including Philadelphia, lays down its eggs in masses on the bark of trees or other smooth surfaces in September. Tiny black spotted nymphs start hatching right at this time. By July, they'll become the 1-inch, beautiful but destructive grayish insect that everyone was asked to kill last year.
Which is why Valletta is teaching children and their parents how to hunt egg masses and destroy the eggs using nothing but an old credit card and a plastic bag with a lining of hand sanitizer. It's the perfect time to kill many of them at one time, she says.
"So get out your plastic cards and get ready to scrape these suckers," Valletta said, while hosting a Facebook Live session with about 150 viewers watching from home.
Valletta scrapes the bark with the card, squeezing the eggs and throws them into a plastic bag with hand sanitizer, which finishes them.
"I'm going to run that card right up that egg mass…You can hear them crackling.. It gets a little bit wet and juicy," she said. "It's a pretty gross job, isn't it? The life of the environmental scientist is never boring."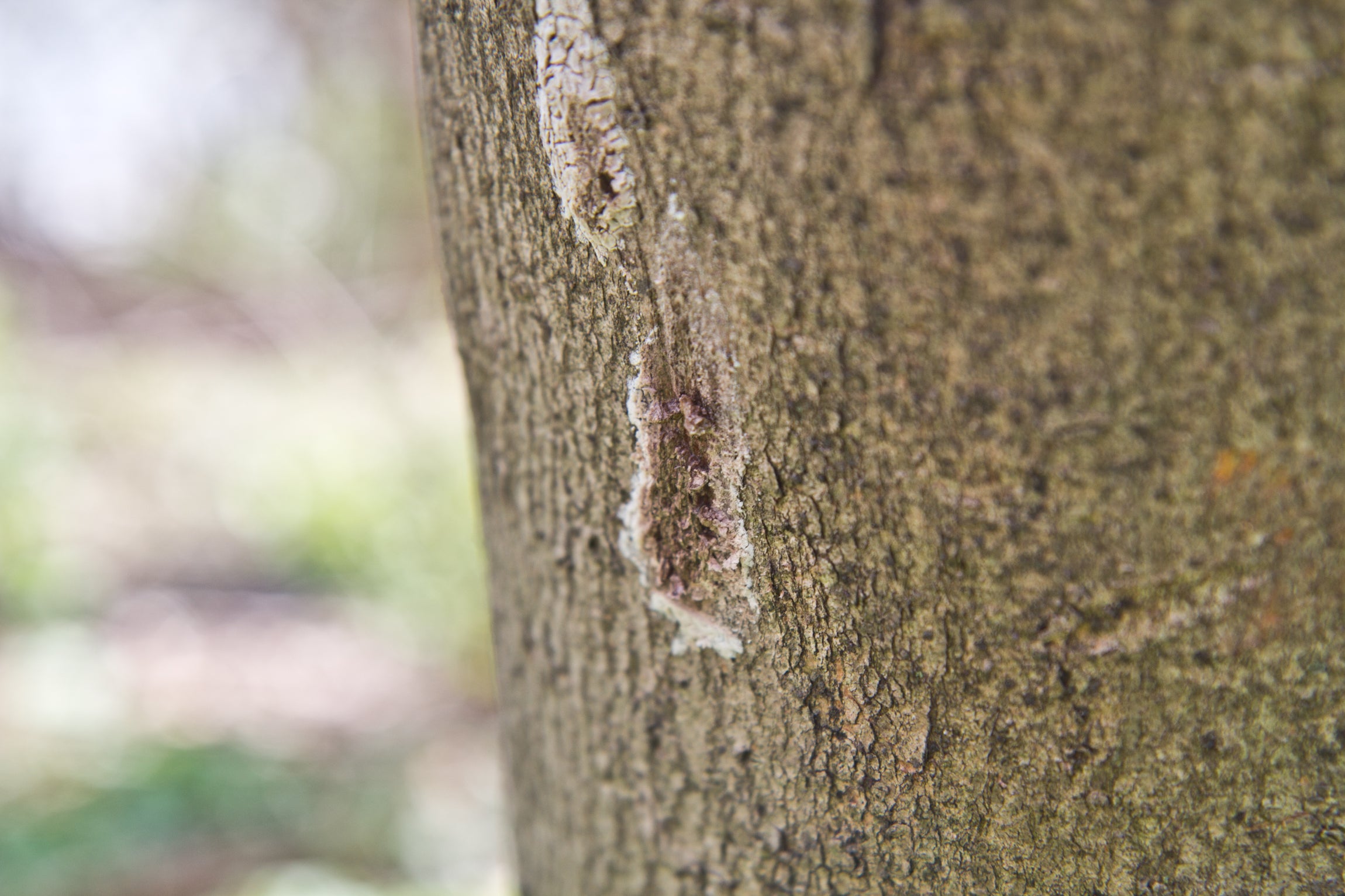 The spotted lanternfly egg massacre is part of Franklin Institute's nature scavenger hunt and Valletta's way around the museum's programs being cancelled and weeks of staying at home.
"Families are cooped up," she said. "Going outdoors is a perfect opportunity for us to relieve some anxiety, lower those stress levels and blow out some steam. And we want to make sure, of course, that we're doing it safely."
So why not do something useful while at it?
Since Monday and until Earth Day on April 22, the Franklin Institute is posting one or two photos per day of species that people can easily identify in parks near their homes, playgrounds or even their own backyards: cherry blossoms, bumblebees, robins or daffodils.
The idea is for families to go on a hunt — while wearing face masks and keeping a distance from other people. If you take a photo of the nature element that day, you can share your findings by tagging #FranklinOutside on social media.
Time to play "find the cat." #franklinoutside #daffodils #hiddenkitty @TheFranklin pic.twitter.com/Qii4K3hP2n

— cedarleaf (@cedarleaf) April 8, 2020
The goal is to encourage children and adults to look at nature closely and learn from the experience, and to give families something specific to look for while outdoors.
"Taking the scientific observation is an opportunity to really concert your energy toward an individual action. And that type of quiet focus is something that we always advocate for in environmental education," she said. "It's an opportunity for ourselves to calm down and to cultivate an appreciation and a love for the natural environment."
After the egg killing is done, people send questions. "Are spotted lanternflies edible? If so are they tasty?" asks one. "What do they look like when they hatch? How long before they can fly?" another wonders.
Valletta answers questions and ends the session reminding people to take observations of the world around them.
"The best way to really decompress is to take a scientific observation," she said. "As always, as everywhere, nature persists. Right now it is persisting, and if we can tap into anything right now it's that energy of endurance that nature can show us."