Mount Moriah cemetery could become nature sanctuary
Founded in 1855, the cemetery is the resting place of  Civil War soldiers, a former Philadelphia mayor, and many other city notables of a previous era.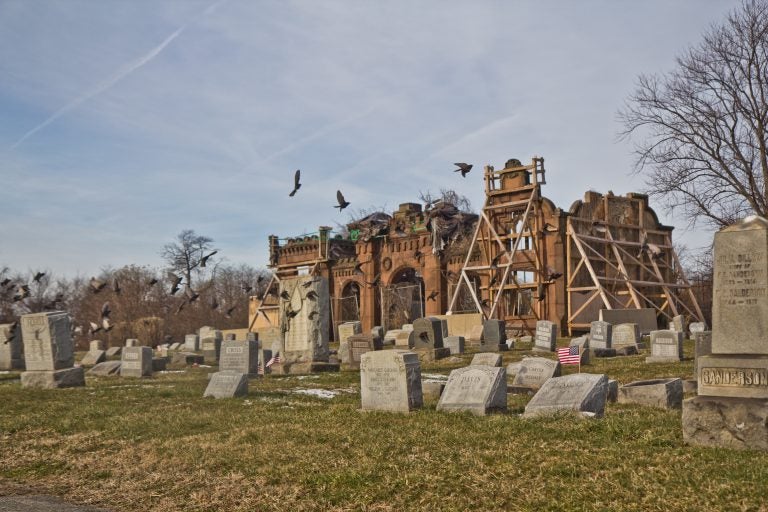 On the edge of Philadelphia, Mount Moriah cemetery sprawls over 380 acres, spreading into Delaware County and sheltering 80,000 thousand graves.
But when Paulette Rhone goes there to visit her husband's grave, she sees something more than a closed, historic burial ground. She sees a link in a belt of green parks across Southwest Philadelphia, a destination for all of its Southwest Philadelphia neighbors.
"It's not just about Mount Moriah, it's about that underserved, forgotten Southwest Philadelphia," said Rhone, who is president of the Friends of Mount Moriah Cemetery, a group founded after the cemetery closed in 2011 following years of mismanagement and neglect.
On Tuesday afternoon, Rhone presented a new strategic plan for the cemetery to the Philadelphia City Planning Commission, laying out her dreams for a well-maintained public amenity with rolling, oft-mowed meadows and wooded areas cleared of vines and invasive species.
"My hope is that – with Mount Moriah, with Bartram's Garden, and the Heinz Wildlife Refuge – we can create a green corridor and a green destination to bring people into that part of the city," she said.
If the vision Rhone presented is to be achieved, it will be an impressive comeback from the nadir of Mount Moriah's fortunes eight years ago.
Founded in 1855, the cemetery at Kingsessing Avenue and 62nd Street is the resting place of  Civil War soldiers, a former Philadelphia mayor, and many other city notables of a previous era. It holds more Medal of Honor winners than any other private cemetery, Rhone believes, as veterans continued to be buried there through the Korean War.
But most of its inhabitants were of more humble origins. Unlike more exclusive graveyards, such as The Woodlands two miles to its northeast, Mount Moriah welcomed African-Americans, Jews, and people of modest incomes.
A turning point
By the mid-20th century, Mount Moriah faced trying times. When Rhone got involved in 2011, the cemetery was ending its business. Weeds choked the gravesites, creeping vines wreathed many of the statues, and the historic structures on the sprawling grounds were deteriorating rapidly. Doubt shadowed the cemetery's future.
With support from City Hall, Rhone and other volunteers created Friends of Mount Moriah and the Mount Moriah Cemetery Preservation Corporation to steward the land, establishing the nonprofits one month before the cemetery closed up shop.
"The city was very happy to have a partner because they were getting calls," said Rhone. "The rumor mill was saying that it was sold, it would be developed, they are going to dig up all the graves."
Such extreme fears were unwarranted, but the graveyard's out-of-control vegetation had attracted unscrupulous neighbors and business owners who were using it as a dumping site. It had become a neighborhood liability.
Over the ensuing years, Rhone and other volunteers have worked with city officials – including the city's new managing director Brian Abernathy –  to clear brush and weeds, save the endangered historic buildings, and discourage dumping.
Rhone believes that volunteer-led model cannot last.  She isn't the only one. The new master plan was created by consultants at Fairmount Ventures, with KSK Architects studying the historic preservation elements, and Studio Bryan Hanes mapping the landscaping.
Envisioning cemetery's future
"Ten years from now, Mount Moriah will no longer be counted among historic Philadelphia's hidden treasures. Mount Moriah Historic Cemetery and Nature Sanctuary will be widely known," states the plan.
The ambitious visioning document calls for converting 20 percent of Mount Moriah's landscape into meadows, which would require clearing woody vegetation and planting fields of native wildflowers that would be allowed to grow higher and wilder than tended lawns there now.
These wildflower patches would take over about 40 percent of the cemetery, while another 40 percent would remain landscaped lawns.
Rhone estimated that will cost about $200,000, factoring in some amount of continued maintenance.
The plan considers the resurrection of the historic brownstone gatehouse, designed by architect Stephen Decatur Button, who also designed the Freedom Theater in North Philadelphia and famed Congress Hall in Cape May.
The Friends of Mount Moriah worked with preservationists to shore up the crumbling building two years ago, staving off further deterioration. The plan proposes repurposing the structure for public use. Rhone said that a full restoration isn't currently in the cards because of its prohibitive cost, which could run into the millions.
Another cemetery building constructed in the 20th century requires a new roof and a mold purge. It's more likely that the building will be brought back into full-time use sometime in the near future.
But most notable is the plan's call for an institutional backer.  Rhone dreams of an organization such as Mural Arts, the nonprofit backed by the City of Philadelphia.
But that idea hasn't yet caught on in City Hall.  In the past, officials have argued that they don't have the money to care for the sprawling burial ground. This week, officials declined to comment on the feasibility of taking over the cemetery's care.
"We haven't had a conversation yet about creating a municipally backed nonprofit," said Martine Decamp, a senior planner with the Philadelphia Planning Commission.
Another possible model is the Woodland Cemetery, which is run by a nonprofit that supports its maintenance through educational services and events. But that site is far smaller and much closer to dense populations of students and professionals at the University of Pennsylvania.
But no matter what happens, something needs to change, Rhone said.
"There will never be a private owner because there is no money-making opportunity there," said Rhone. ""The city will have to step up in some capacity. We are all volunteers, and we are getting older, so this is not sustainable. And once the volunteers peter out, we are back to square one."
WHYY is your source for fact-based, in-depth journalism and information. As a nonprofit organization, we rely on financial support from readers like you. Please give today.