More city money for anti-eviction efforts brings expanded access to legal services for tenants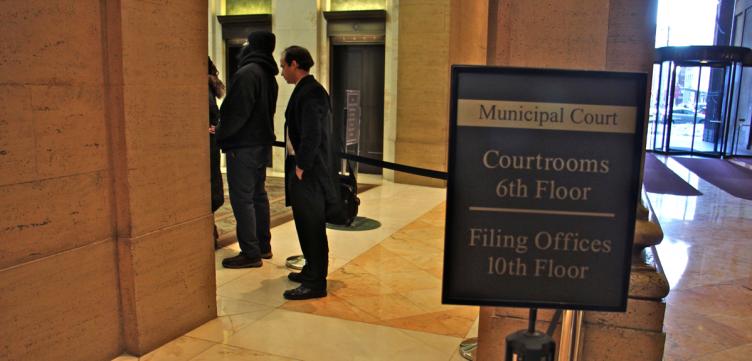 During city budget negotiations in the spring, it looked as if a line item to help tenants facing eviction might be in peril. But in the final deal, funding for landlord-tenant court reforms actually was boosted to $850,000, from $500,000.
"We wanted to see the work expand, and this will allow us to build out what we had started earlier this year," said City Councilwoman Helen Gym, one of the leading voices for eviction court reform in Philadelphia politics.
It was Gym who secured the original $500,000 for anti-eviction funding in the 2017-2018 budget. Her effort, and the Eviction Task Force set up by the city soon after, was seen as a part of a larger national effort to address inequities in rent-related legal issues.
In eviction cases, research has found, the vast majority of tenants do not have access to lawyers, while the vast majority of landlords do.
That makes sense: Tenants typically are being evicted because they can't afford to pay their rent, while the very term "landlord" implies that a person owns property. And because landlord-tenant matters are civil-court cases, no right to a lawyer exists as it does in criminal cases.
In Philadelphia, landlords win most such cases or succeed in pressuring unrepresented tenants to settle for unfavorable terms in "judgment by agreements."
"You have people going through a very traumatic experience on the verge of losing their home," said Rasheedah Phillips, managing attorney of Community Legal Services' housing unit. "When a person is not armed with the correct knowledge or information about their rights and what they are allowed or able to do in that environment, it makes for an even worse situation."
Many observers believe that uneven balance of power in court contributes directly to the dramatic increases in evictions in American cities, especially as wages have stagnated and housing prices have increased.
New York City is currently embarking on a program to ensure that everyone who winds up in rent court there will get a lawyer. But that commitment ultimately will cost $155 million a year, the kind of financial outlay no other American city has considered thus far.
Philadelphia is starting smaller. The original $500,000 infusion Gym secured was spent to hire another lawyer at Community Legal Services, as well as additional staffing at other legal-aid services. Phillips estimated that there are now the equivalent of eight full-time lawyers working on the tenant side in rent court cases. Before the infusion of municipal dollars, there were five.
That has resulted in increased rates of tenant representation this year. After the new services rolled out, between 10 and 12.6 percent of tenants had legal representation in Philadelphia. That's a couple points higher than the totals for 2017 and, the data show, substantially higher than in the years immediately after the Great Recession, when only 3 to 5 percent of renters had lawyers.
Money from the city also bolstered the operations of the Landlord-Tenant Help Center, extending its service from part time to full time. Previously open 10 hours a week, the center now operates 36 to 40 hours a week.
The tenant legal-aid hotline (267-443-2500), which previously had been automated, is now staffed by the Tenant Union Representative Network between 11 a.m. and 7 p.m. Phillips said that stems from "the recognition that tenants cannot come between the hours of 9 to 5 to receive legal services, so this allows us to extend beyond normal working hours, and allows us to return emergency calls on the weekend."
Other initiatives include the creation of a free tenant-resource guidebook and advance outreach to those who are facing eviction court dates, in an attempt to increase the numbers of tenants who actually attend their hearings. A pilot program testing different ways of contacting tenants about their court dates — using eye-catching red envelopes, for example — has produced a small bump in the number who show up in court.
The Legal Clinic for the Disabled and the Senior Law Center have set up a lawyer-for-a-day program two days a week in the mornings, offering on-call assistance to a lucky few of those who come to court without legal help. Phillips said the additional funding will be used to expand the lawyer-for-a-day program to five days a week and to move the help desk into the actual courtroom, as opposed to its current location in administrative offices four floors above.
Despite increased access to services and outreach, most tenants still go to eviction court without lawyers and with little knowledge of their rights.
In early July, a renter named Dianna Durbin contacted PlanPhilly about earlier coverage of landlord-tenant court. She had been unaware of the new services available, she said, and had instead tried to educate herself based on articles found online.
"I'm going through a case… in which my landlord is a slumlord, and it was very reassuring that I came across your article," Durbin wrote. "I couldn't get representation no earlier than my court hearing, however it was very reassuring to read the article and see a glimpse of inside the courtroom… Stressed out of my mind [because] I don't want to lose everything over a slumlord because he didn't have [a] license to rent my apartment."
In a follow-up email, Durbin said that her landlord had not shown up for the hearing, and that the judge had dismissed the case.
WHYY is your source for fact-based, in-depth journalism and information. As a nonprofit organization, we rely on financial support from readers like you. Please give today.