Meet Peter Hoekstra, epitome of the Trump regime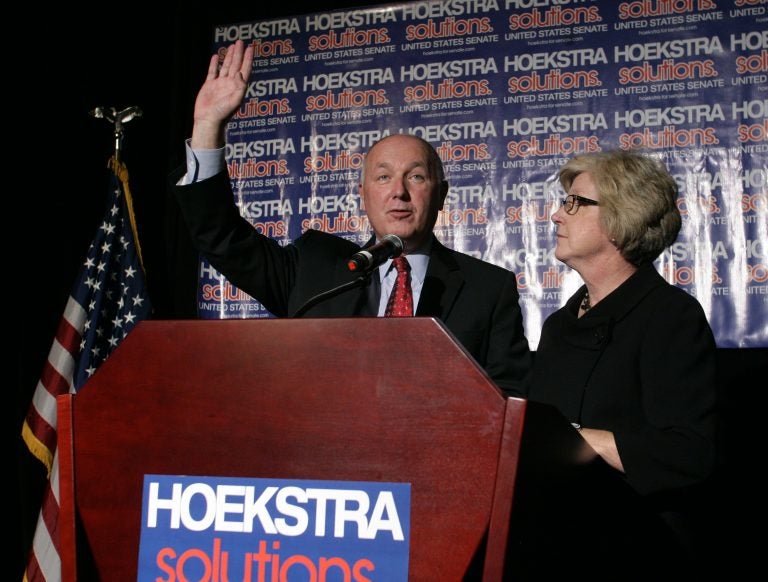 There's ample time this week to assess the first long year of the Trump occupation, but perhaps one December incident — featuring Trump factotum Peter Hoekstra — tells us all we need to know about the assault on truth.
Hoekstra, a Republican ex-congressman, won the cushy job of U.S. ambassador to the Netherlands after serving as Trump's campaign co-chair in Michigan. He worked his way into Trump's good graces by publicly praising Dear Leader as someone "who learns very quickly," which tells us something about his character judgment. Hoekstra is arguably most infamous for his dramatic 2006 announcement that "We have found weapons of mass of mass destruction in Iraq!" — thus extending the Bush administration's string of lies into a fourth year.
Anyway, Hoekstra was quizzed earlier this month by Wouter Zwart, a Dutch reporter for "Nieuwsuur" (News Hour), and suffice it to say that Uncle Sam's credibility in the Netherlands took a big hit. Which is not a surprise, of course, given the Trump regime's repeated determination to sully America in the eyes of our western allies.
Zwart's manner was very low key. (The Dutch tend to be very low key.) He wanted to know why Hoekstra has described Holland as a nation of "no-go zones" controlled by Islamic militants. He asked the question, because in truth no such zones actually exist.
His question to Hoekstra: "At one point you mentioned in a debate that there are no-go zones in the Netherlands, and that cars and politicians are being set on fire — "
Hoekstra interrupted: "I didn't say that. That is actually an incorrect statement. We would call it fake news."
Zwart: "It's what you really said."
Hoekstra, getting steamed: "No, it's not what I said."
Cue video footage of Hoekstra! There he was, speaking on a panel in 2015: "Chaos in the Netherlands. There are cars being burned. There are politicians that are being burned. And yes, there are no-go zones in the Netherlands."
The Dutch program ran that video, then cut back to the interview.
Zwart: "You call it fake news?"
Hoekstra: "I didn't call that fake news. I didn't use those words today."
Zwart (politely perplexed): "No?"
Hoekstra: "No. I don't think I did."
Well. As the playwright Sir Walter Scott wrote in 1808, "Oh what a tangled web we weave when we first practice to deceive." As Hoekstra so ably demonstrated, being a Trump apparatchik is hard work with high risk of humiliation. His first instinct was to attack the press by introducing the fake news trope to Dutch viewers. Then, after he was swiftly exposed as a liar (because he had indeed uttered, on video, the "no-go zone" lie that he denied ever having said), he proceeded to lie about his lie, insisting that he'd never used the term "fake news," even though this usage had been captured on video seconds earlier.
This little incident shows us the Trump brand in action, the knee-jerk impulse to slime free and independent journalism — not just at home, but in western nations that have long sought to model America's freedoms. We freed the Dutch from Nazism so that it could practice those freedoms, including a free press. To insult the Dutch with lies is a betrayal of American values and another black mark on our worsening image abroad. But that's standard practice for the occupying forces in Washington.
One upside is that Hoekstra humbled himself in a weekend tweet: "I made certain remarks in 2015 and regret the exchange during the 'Nieuwsuur' interview. Please accept my apology." Problem is, the Dutch are not American Trumpkins; they tend not to sucker themselves by pulling the wool over their own eyes.
One guy in Rotterdam saw Hoekstra's apology and promptly tweeted, "Can we get a new ambassador please? This one seems to be broken. So much for 'the best people'" — mocking a Trump promise. Another guy addressed Hoekstra directly: "Your video not only made the news here, but it also made the last 3 remaining Trump supporters in Netherlands give up. Now they're laughing too."
This is how we look to our allies. This is where we are as a nation, 11 months into the occupation. Who among us is laughing?