Mayfair residents are split over the blue light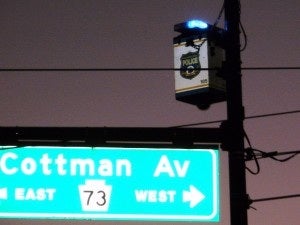 At the intersection of Cottman and Frankford avenues, high atop the street pole is a well-defined white police box that records daily activity.
Originally put up for safety reasons during the Phillies' World Series before-and-after parties, the surveillance camera was used to aid the police in monitoring any suspicious or harmful conduct that the fans might have tried during the games.
To warn participants that they are being filmed, a constant, flashing blue strobe light pulses just above the white box.
Surprising news came to many Mayfair residents after the baseball season ended and they were told at their town watch meeting that the camera wasn't coming down. This fact angered more than a few members.
"I was prepared to hear them say, it's coming down in a week or a month, but not indefinitely," Mayfair resident Donny Smith said. Smith, 44, who was born and raised in Mayfair, is one of the main opponents of the flashing light. He blogs about it with other irked neighbors on PhiladelphiaSpeaks.com, a citywide forum. Under the user name "Mayfair," Smith's signature reads, "Leave the camera — Lose the light."
Forum posters have likened the blue flashing light as a sign that the neighborhood is starting to run down. They feel that not only will the light deter crime, but also it could deter businesses, future residents and neighbors from coming into the neighborhood.
In the video below, Mayfair resident Edward Figueroa explains why he thinks the light should stay.
"The community is split on this issue, it's all across the board," Joseph DeFelice said.
DeFelice, who has been with the Mayfair Civic Association for more than five years as legal counsel and now serves as the president of the association, explains his role as one who listens to the neighbors' concerns.
"A lot of it has been more writing on the blogs. I've had one or two phone conversations. I can understand both sides of the issue," DeFelice says.
The questions seem to be, does the camera work and is the blue light necessary?
"One thousand percent! It has deterred speeding alone. I see people that used to never stop at that light anyway…people are slowing down now. It is absolutely working," said John Vearling, president of the Mayfair Town Watch.
Smith noted at a recent Town Watch meeting a crime was committed right in that area. "How did the blue light deter that crime?" Smith asks.
Vearling, who works closely with the 15th Police District, says that the organization is looking into perhaps finding a toned down light, but the major setback is finding the funds to pay for the project.
Maria Konidaris is a Temple University journalism student working with Philadelphia Neighborhoods, a class devoted to covering under-reported areas of Philadelphia. You can also view this story, along with others from around the city, here.