Mayfair keeps up hope for a new playground
Mayfair Memorial Playground – chained shut, empty and littered – doesn't appear to be anything more than the reputation it has in Mayfair – a place for teenagers to get into trouble.
The Mayfair Civic Association hopes to transform the small park, dedicated to fallen firefighter John Redmond, into a family playground. One major obstacle — the $50,000 price tag for new equipment — stands in the association's way.
"Right now we're at $2,500," said Joe DeFelice, president of the civic association. "We need to get to $50,000. You'd be surprised how much playground equipment costs."
The old equipment was torn out by the Philadelphia School District, which owns the land the playground sits on. (The park sits east of the now-shuttered old Lincoln High School.) DeFelice and Mayfair residents said there were liability issues with the park, which led to it being shut down.
"There were issues with matting. Some of the equipment seemed to still be in good shape, but they decided to tear it out, I guess, rather than result in a liability," DeFelice said.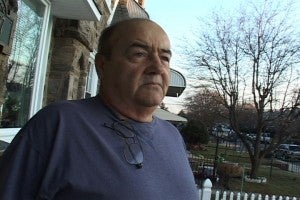 "If they run it correctly, I think it'd be a good thing," said Leo Casey, a 63-year-old Mayfair resident. "It's going to give the kids an activity to go to."
There's no shortage of demand for children's activities in Mayfair, where students pack SEPTA buses each weekday afternoon. The park is a potential outlet, but the process of bringing back the playground is an issue in itself.
The land is owned by the school district, but the civic association has agreed to raise the money for the equipment. The school district has agreed to maintain and accept liability for the new playground.
The latter piece of the deal is particularly relevant, as the playground's downfall – liability issues – was brought to the district's attention after a young girl fell and hurt herself, DeFelice and others said.
The future may be brighter for Mayfair Memorial Playground, especially if the civic association can snag several crucial grants. DeFelice has been in talks with Home Depot about a possible $5,000 grant for store credit. Another possible source of funding is KaBOOM!, a playground funding and advocacy organization, which has several grants for neighborhood associations trying to rebuild their public spaces.
Barring those grants, though, the park's rebirth depends on the contributions of residents and businesses in Mayfair, where the benefit of a playground is facing a daunting price tag.
Stephen Zook is a Temple University journalism student working with Philadelphia Neighborhoods, a class devoted to covering under-reported areas of Philadelphia. You can also view this story, along with others from around the city, here. A former intern also covered this story when the fundraising process began.