Mastery Charter student: 'Proud to stand' with strong youth to push for better gun laws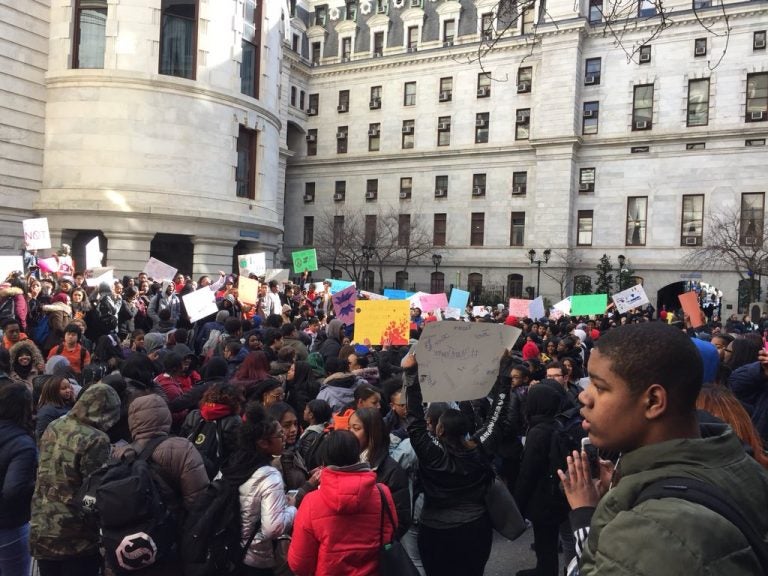 BANG! BANG! A roaring noise rings out through the city. A rush of adrenaline takes over. The only thought is to run and scream in fear. It's a gunshot, something that many civilians rarely hear but can easily detect.
Sadly, my generation is all too familiar with the sound of a gun going off. It has created more fear — especially in children — who are now being targeted. Since Columbine in 1999, 21 fatal mass school shootings have occurred in the United States, all perpetrated with a weapon that was supposed to be used for protection but instead was used to create terror.
On March 14, students at Mastery Charter High School Thomas Campus in South Philadelphia participated in a nationwide walkout to protest gun violence in schools across the United States. Students around the school spent 17 minutes to remember and honor the lives of the 17 students and staff who were gunned down in the school shooting in Florida one month before. However, 17 minutes is not enough to voice our concerns and highlight the fear that we hold within ourselves every day.
Students from different racial backgrounds, cultures, religious denominations, and ages came together to stand up and voice their opinions. They held signs stating "#Enough" and listing the names of the students whose lives were taken by the hatred one person held in his hand. As the students rallied, they angrily chanted, "Enough is enough!" A motorist passing by honked with approval.
At that moment, I was proud to stand with such strong youth who are not afraid to protest America's ineffective gun laws. I have never felt so empowered and impressed by my school. Even though this was a protest, students kept it peaceful while showing their disapproval of injustice. Although we were unable to join other schools at City Hall for the full protest, Mastery's mini protest was still a great way to declare our message and to unite everyone in these tragic times.
My opinion is that gun ownership needs to be more tightly controlled — to protect not only young people but everyone. The government forces the schools to take responsibility to protect students from threats that are out of their control, when politicians could instead alter the law to prevent more violence. Guns are no doubt a weapon of protection, but it is highly important to make obtaining a gun harder. School security needs to be upgraded to eliminate the chance for a shooter to enter a school and to increase the time students and teachers have to protect themselves. Students need privacy and protection.
The rush of fear and the instinct to run is a normal reaction to hearing a gunshot, however, when my uncle experienced that extreme fear, he didn't have the ability to run for his life. He was just an innocent bystander, outside with his friends talking, when all of sudden — BANG! BANG! He was down to the ground, screaming in agony, with a bullet piercing his shoulder. He was rushed to the ER, but they couldn't do anything to take the bullet out without a high risk of death. All they could do was clean up his shoulder and let the wound heal. He is unable to work using his arms, because the bullet is still lodged in his shoulder to this day.
As a student who has a personal connection to gun violence, I believe that students who take action, such as myself and the many students from the Mastery protest, have a huge impact on the community and the government, because the nationwide walkout spreads the message better and more strongly. It helps gather more support and inspires more people, from adults to teens, to make their voices heard.
Gun laws must be improved, and schools should be required to protect students from any threat. What I want for my school is bulletproof windows and doors — as well as practice for external and internal shooting drills. My hope for the future is that there will be fewer shootings in general, but my fear is that we won't get the kind of laws we need fast enough to protect teens and younger students right now.
Guns should be used for protection, but in reality, in the wrong hands, they could be pointed toward us.
—
Sanya Sek is a student at Mastery Charter High School Thomas Campus in South Philadelphia.
WHYY is your source for fact-based, in-depth journalism and information. As a nonprofit organization, we rely on financial support from readers like you. Please give today.