Marple residents keep up the fight against proposed PECO gas reliability station
The zoning board rejected the utility's plan, but PECO is appealing in court and with the PUC. Opponents recently took to the streets in protest.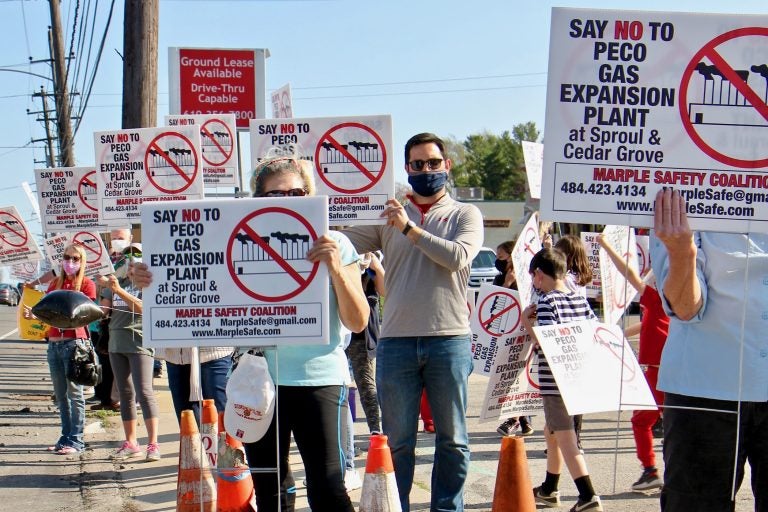 To light a fire in the dead of winter, you'll need several matches, along with all the twigs, logs, leaves, and branches you can get your hands on.
You'll also need the intangibles: persistence and diligence. And even when you create a blaze, all the hard work can be lost if you don't fan the flames and sustain the fire.
For the organizers behind the Marple Safety Coalition, that's what it's like to create a grassroots movement with the goal of blocking PECO from constructing a natural gas reliability station at the corner of Sproul and Cedar Grove roads in an area zoned for neighborhood businesses.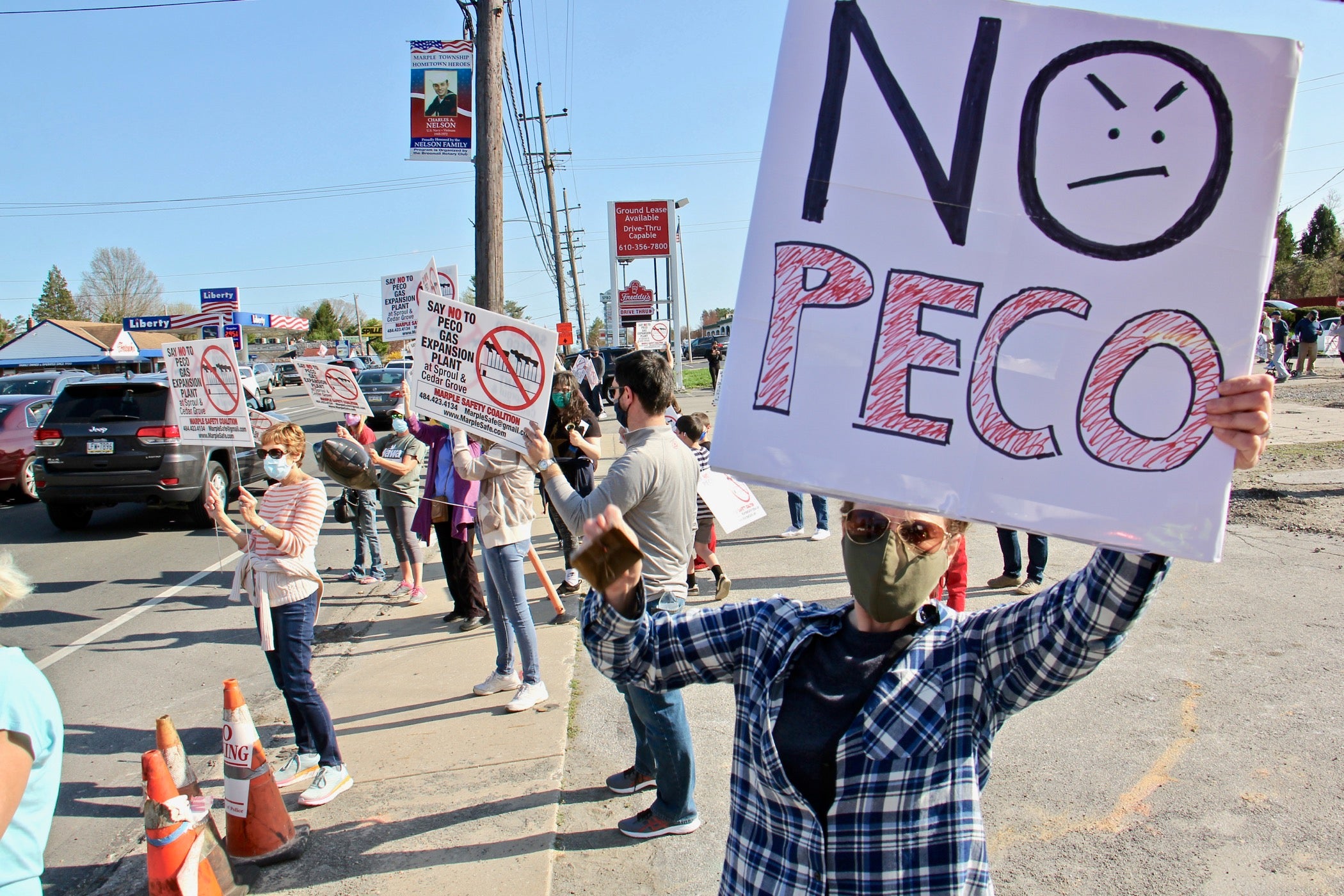 "What's happening now in this community is beautiful. People are really stepping up. All of our local and regional elected officials are supporting us," said Julie Baker, a member of the safety coalition.
The proposed station is one part of PECO's larger Natural Gas Reliability Project in Delaware County, which has been installing 11 miles of new gas lines. According to PECO, the station itself will act as a "receiving point" from a natural gas plant in West Conshohocken.
PECO first notified residents of its plans last June. Although the Marple Township Zoning Board unanimously denied the utility's request for a special exception in November, the company filed an appeal with Delaware County Court the following month. In February, PECO also filed a petition for relief with the Pennsylvania Public Utility Commission.
"Today's protest is all about showing the opposition of this project to PECO, to the PUC, to the Delaware [County] Court of Common Pleas. We're really holding them all responsible for a beneficial outcome for the community," said Greg Fat, a member of the community coalition.
Fat lives about 1,000 feet away from the proposed station site, and as a member of the group, he's been actively opposing it. Many homes are relatively close, as are businesses and a school. A nearby restaurant, Freddy's Steakburgers, has joined the cause and is helping the coalition raise funds.
Elected officials have not been shy about voicing their opposition to the plant. State Rep. Jennifer O'Mara and State Sen. Tim Kearney sent a letter to the PUC outlining their reasons.
Included among them are the potential for traffic hazards at the intersection of Sproul and Cedar Grove and environmental and pollution concerns such as increased greenhouse gas emissions — all of which pose a risk to community members, the lawmakers' letter said.
"Furthermore, the efforts to move forward with constructing this facility in this location is in direct opposition to Marple Township and its residents," the officials wrote.
The letter concludes by criticizing PECO's conduct during the process. As a result, the elected leaders had one ask for the PUC: "As such, we are respectfully requesting a public hearing on this docket so that all affected stakeholders have the opportunity to hear this case," they wrote.
"I think that our government officials realize that if this project is allowed to proceed, that this sets a precedent for future projects for PECO to steamroll over zoning committees, over township committees for their own benefit, as opposed to looking at what's best for the community," the safety coalition's Fat said.
In a statement to WHYY News, PECO defended its decision to pursue legal options. The company also cited its safety record as a reason why Marple Township residents should trust it.
"Because this natural gas reliability station is too important to the continued dependable gas service that our customers need and expect, and because it is our intent to meet those needs and expectations, we are moving forward with our legal options," a spokesperson for the utility said in the statement.
The company said it will keep engaging with county residents and leaders — though some local  residents don't feel as if that has happened at all.
In fact, they said they feel as if the door has been shut in their faces and transparency has been thrown out the window.
"We've really tried to cover all of the angles and all the agencies about researching everything we can about the project, down to the details of equipment to be used and permits to be obtained, etc., and PECO has really stonewalled on this. They cite the Energy Infrastructure Information Act passed after 9/11," said the safety coalition's Baker.
According to PECO, the utility runs more than 30 similar stations in the region and this proposed facility is far from "experimental." When asked by WHYY News to disclose the locations of such facilities, the company declined.
"It's against PECO's policy, and industry standards, for utilities to share the locations of their facilities," the spokesperson said.
The company said that the Marple station would be monitored 24/7 and could be shut down remotely in case of an emergency.
Although it's unclear when a decision will be made on PECO's proposal, one deadline is quickly approaching.
"Monday is the deadline for people to file their protests with the PUC in official capacity," Fat said.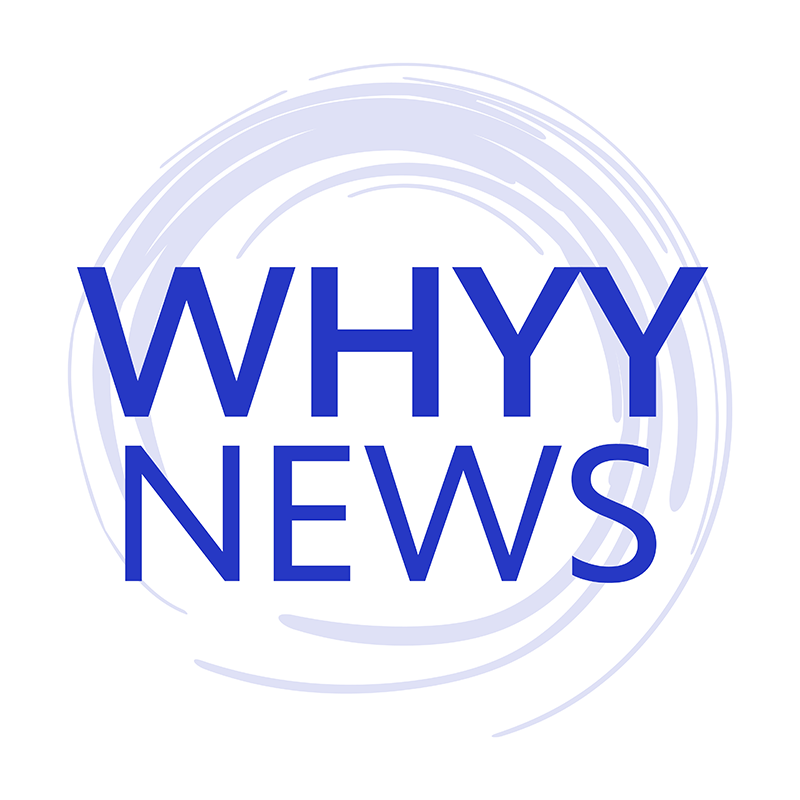 Get daily updates from WHYY News!
WHYY is your source for fact-based, in-depth journalism and information. As a nonprofit organization, we rely on financial support from readers like you. Please give today.