Market East will be a proving ground for a new kind of Center City street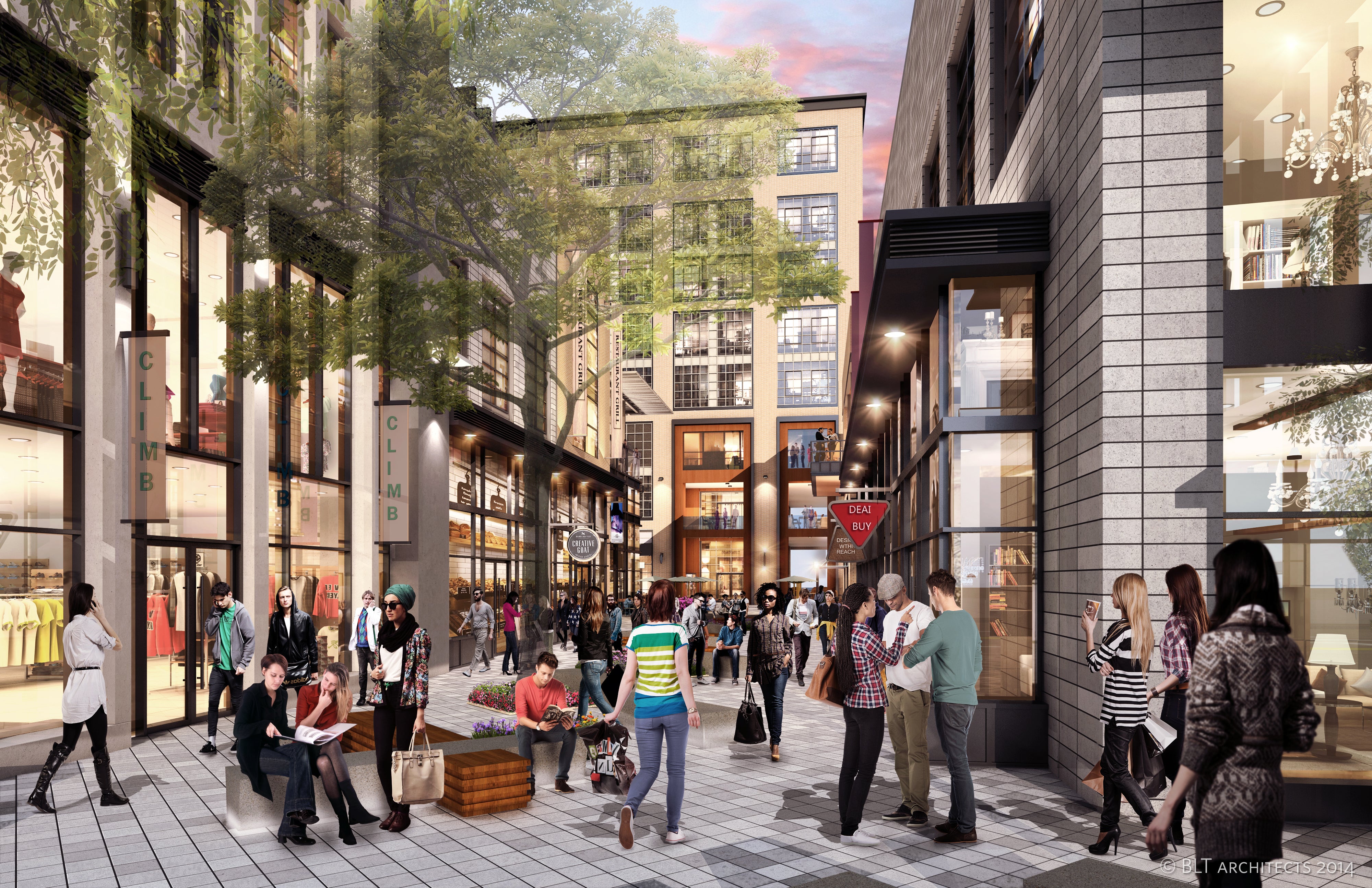 The digital billboards planned for the large mixed-use development at 1100 East Market Street have captured the most public attention, but the more interesting feature of that project is arguably its new retail-fronted pedestrian street.
Currently the 1100 block of Market St. is a solid wall, unbroken by any smaller through streets, but National Real Estate Development's plan is to build two distinct buildings on the site, separated by Chestnut Walk – a pedestrian passageway that eventually will stretch from Chestnut to Market, flanked on both sides by retail. The project will also reactivate private Ludlow and Clover Streets as pedestrian-centered, multi-modal streets running east and west.
What the National Real Estate Development team is envisioning is an organic extension of the highly successful mixed-use Gayborhood/Midtown Village corridors up to Market Street.
Ludlow Street, stricken from the city's street map and used mainly by Family Court and the parking garage on Chestnut Street for private parking and loading purposes, will be the first street to be reactivated, with Clover Street coming on in Phase 2. Interestingly, both will remain privately owned even as they function most of the time as public streets. The property owners will retain the right to close them to traffic for events.
Ludlow's reinvention is only possible, National Real Estate Development's Dan Killinger told PlanPhilly, because the first phase of the project will "put all of that [parking and loading ] in the basement, with an access off of 12th St, so that Ludlow can be reopened with a single lane for cars, and active retail on both sides."
"The next move," he said, "is to create a pedestrian path that bisects that. So instead of having heavy traffic around the four edges [of Market, Chestnut, 11th, and 12th] you'll have slow vehicular traffic through the middle and also pedestrian traffic."
Here's what Ludlow looks like now:
(National Real Estate Development)

(National Real Estate Development )
And here's what it'll look like when the development is complete, according to the project renderings:
(BLT Architects)

(BLT Architects)

(BLT Architects)

(BLT Architects)
BLTa's Michael Prifti, who worked on the public space component of the project, says the goal was to create a pedestrian experience that felt like an extension of the comparatively lower-density areas to the south, and avoid replicating the monotonous experience of walking past buildings like "Commerce Square or Liberty Place, where you have this homogeneous appearance that takes up the entirety of a city block and is just consistent end-to-end, corner to corner."
To that end, the firm spent time "benchmarking" pedestrian retail corridors in other U.S. and international cities to get a sense of what works and what doesn't. And they believe that the secret to creating a successful mixed-use urban place on east Market involves, among other things, setting the right height for the facades, the right width for the streets, and employing the right materials.
"We're looking at a 30-36 foot width of the pedestrian area walkways," says Prifti, "This is wider than Liberties Walk and is more akin to places like Bethesda Row in Maryland. We looked at places in the District where we believed the width was appropriate but they did not furnish it or activate it properly. In other places we looked at, the width was ideal, but the building was 100 feet tall, instead of 50 feet tall, so you feel like you're in a canyon. It's all about crafting the space for your enjoyment."
Bethesda Row

Liberties Walk
Liberties Walk, adjacent to The Piazza at Schmidt's in Northern Liberties, is of course the first such pedestrian-only retail strip in the city, and despite some grousing about its cheap construction and design, its commercial spaces are mostly occupied and the development is generally considered a successful experiment.
The significance of 1100 East Market is that it will prove whether the pedestrian-oriented retail street works in the heart of Center City as well as a smaller neighborhood commercial corridor. Many Philadelphians have long memories and invoke the failure of Ed Bacon's Chestnut Street Transitway concept in the 1970's to insist on universal access for cars to all streets. There is a popular and durable belief that easy curb parking right next to shops is a key ingredient for successful retail, even as newer younger arrivals are foreswearing car ownership at surprising rates.
In this case, cars won't be snubbed completely. Motorists will still have access to Ludlow Street (and later Clover Street), but curb parking will be scarce, speeds will be slow, and car traffic will be sublimated to pedestrian and bike traffic in ways both subtle and overt. Levels of service will be set at failing levels, on purpose.
"On Ludlow, the road bed will be made of unit pavers so that it's a rougher surface," explained Prifti, "The noise will be a slight rumble, and it will slow the cars down. It's important to have cars because we want taxi service to the residential tower, and restaurants and retail. And it all helps in the efficiency and ease of use of the parking garage."
Cars won't be allowed on Chestnut Walk though, and the success or failure of that street's retail offerings will be closely watched as a proof of concept by livability advocates who have been eyeing other narrow older streets in Center City like Sansom, Drury, Chancellor, and Juniper for restricted car access or full pedestrianization.
On my recent European trip, I witnessed first-hand some successful lively pedestrian-only retail streets that offered a glimpse of how an older city like Philadelphia might carve out more space for people. Here are a few photo sets for your enjoyment. The first set comes from Seville, in the south of Spain. The second set comes from Amsterdam, and the third comes from Lisbon.
(Jon Geeting)

(Jon Geeting)

(Jon Geeting)

seville 2
(Jon Geeting)

(Jon Geeting)

(Jon Geeting)

(Jon Geeting)

(Jon Geeting)
Lisbon

(Jon Geeting)

(Jon Geeting)

Filtered permeability: a retractable bollard allows for restricted car access when desired. (Jon Geeting)
WHYY is your source for fact-based, in-depth journalism and information. As a nonprofit organization, we rely on financial support from readers like you. Please give today.