AG Shapiro files lawsuit against OxyContin manufacturer
Pennsylvania's state attorney general filed a lawsuit Tuesday accusing the company that makes OxyContin of fueling the opioid epidemic.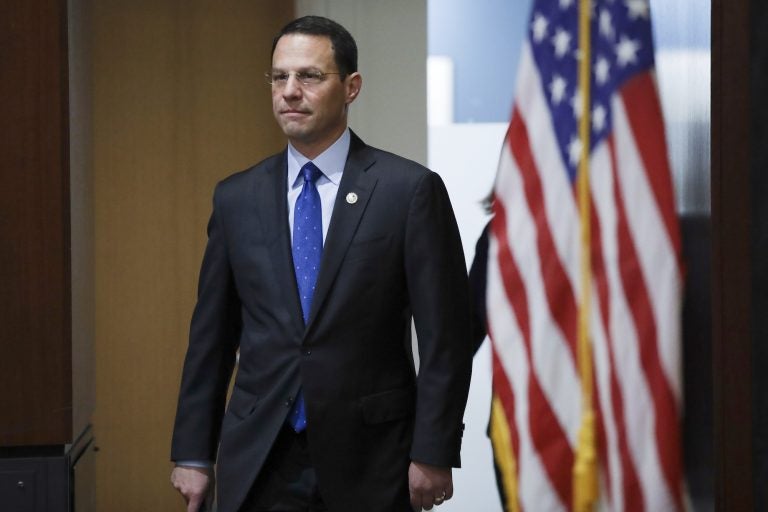 Updated 4:09 p.m.
—
Pennsylvania Attorney General Josh Shapiro filed a lawsuit Tuesday accusing the company that makes OxyContin of fueling the opioid epidemic, making it at least the 39th state to make such a claim against Purdue Pharma.
During an afternoon press conference in Center City Philadelphia, Shapiro said Purdue sales representatives pressured doctors to prescribe the powerful — and highly addictive — painkiller, sometimes making multiple visits a week.
"Reps would ask doctors actually for lists of specific patients the doctors were scheduled to see and then push them to commit to prescribing opioids ahead of time," he said.
Between 2006 and 2009, a "targeted" doctor's Oxycontin's prescriptions jumped 500%, said Shapiro.
The lawsuit, filed in Commonwealth Court, also alleges Purdue used deceptive marketing to downplay the addictive nature of Oxycontin and went as far as creating a fake medical condition — known as pseudoaddiction — in order to get more prescriptions into the hands of more patients.
"Pseudoaddiction had all the same symptoms of actual opioid addiction – clockwatching, drug-seeking behavior and deception — except the only way to treat it, according to Perdue, was to prescribe more opioids," said Shapiro.
The suit demands Perdue forfeit all profits "derived from their misconduct"; restore to the Commonwealth the money lost as a result of thousands of opioid-related deaths, and pay the state for the costs of its investigation and prosecution tied to the lawsuit.
Shapiro did not put a dollar amount to those damages, though he did provide some clues.
Perdue has netted $35 billion in revenue since OxyContin hit the market in 1996, according to the suit.
Between 2012 and 2016, opioid-related deaths have cost the state $142 billion, according to the Centers for Disease Control and Prevention.
Perdue employees, including sales representatives or CEO Craig Landau, are not named in Tuesday's complaint, but Shapiro more than hinted that more legal actions are likely coming.
"We are not done here. This is merely a first step," said Shapiro. "My office is committed to fighting this epidemic – from every drug dealer to every dirty doctor to every greedy pharmaceutical executive."
Pennsylvania is one of the states hardest hit by addiction to opioids, a class of drugs that includes powerful prescription painkillers such as OxyContin, along with heroin and fentanyl.
Shapiro's office two years ago joined with dozens of other states to investigate companies that make and distribute opioid painkillers. Like other states that have sued, Pennsylvania's claims are rooted in company documents handed over in that investigation.
Elsewhere, Purdue lawyers have asserted that states are cherry-picking portions of them to make the company look worse, usually noting that the company accounts for a small portion of opioids prescribed in the U.S. and that heroin and especially illicit fentanyl, not prescription drugs, are what drove up fatal overdose rates in recent years.
Around 2,000 local governments, including several in Pennsylvania, along with unions, hospitals, and Native American tribes have also sued various industry players including Purdue and other drugmakers, distributors and pharmacies.
About 1,500 of those cases have been consolidated under one federal judge in Cleveland. Though Alabama is the only state involved in that group of cases, the judge has given state attorneys general a role in trying to work out a massive settlement. The first trial in that set of cases is scheduled to start in October.
Purdue, a privately held company based in Stamford, Connecticut, earlier this year publicly threatened bankruptcy as the litigation mounts. Some states have also started suing members of the Sackler family, which includes prominent philanthropists and owns the firm.
In March, the company and the Sacklers settled a case with Oklahoma for $270 million. The company settled with Kentucky in 2015 for $24 million.
Nationally, opioids have been causing more deaths annually than car crashes. For 2017, the U.S. Centers for Disease Control and Prevention tallied a record of nearly 48,000 opioid deaths.
In Pennsylvania, the state Health Department said that more than 4,200 people died of overdoses involving any drug last year, down from nearly 5,600 in 2017.
This is the latest set of criminal charges top prosecutors in the region — from Philadelphia, Chester County, Camden County, and the state of Delaware — have filed against a pharmaceutical company for allegedly fueling the country's opioid crisis.
In March, Shapiro announced charges against 11 people who allegedly participated in a "highly sophisticated" health insurance scam run through Liberation Way, a Bucks County rehabilitation facility.
State authorities allege the for-profit outfit made millions by overbilling for thousands of unnecessary lab tests and creating a revolving door that kept patients in addiction and health insurance companies on the hook for more rounds of treatment.
Prosecutors say Liberation Way managed a network of "sober homes" that intentionally provided substandard treatment. The company also allegedly put patients in "unsavory" and "unsafe" situations designed to drive relapse repeatedly.
WHYY is your source for fact-based, in-depth journalism and information. As a nonprofit organization, we rely on financial support from readers like you. Please give today.