Low-down on dashed high-rise hopes
In the fall of 2007, just before Michael Nutter was elected mayor and the real estate market slumped, PlanPhilly reported on development plans that, if all built as proposed, would have added more than five thousand condominium units to the Central Delaware waterfront. Those plans ranged in scale from ambitious to dreamy, and since that piece was published, no new condos have been built on the waterfront. Only a few of the proposals are even still on the table.
In the meantime, the city completed waterfront visioning and master planning processes that culminated in the passage in June of a zoning overlay for the Central Delaware. That overlay includes a height limit of 100 feet for all waterfront development, with exceptions for projects that provide public amenities. Virtually all of the proposals for waterfront development in 2007 would have built higher than 100 feet, and the guideline is a sore point with some developers still.
The following is a look at what happened to some of those 2007 proposals, as well as a brief description of some current waterfront proposals.
1035 N. FRONT ST
PlanPhilly described this proposal as a 21-story townhouse-and-condo project proposed for one of the many vacant lots on the east side of Front Street between Laurel and Girard streets. At the time, it was reported that the owner, Gianni Pignetti, was possibly looking to sell the project. According to Office of Property Assessment records, though, the parcel hasn't changed hands since 2003, when Pignetti bought it for $55,000. Pignetti has not returned calls from PlanPhilly.
1143 N. DELAWARE AVE.
The vacant property directly south of Penn Treaty Park in Fishtown was once home to Club Maui, and later the site of the proposed Penn Treaty Tower, a 35-story, 168-unit condominium tower. That proposal, which included no active uses on the ground floor and a 6-story parking garage, made it through zoning and won the approval of the Planning Commission, but never got off the ground. The property was foreclosed on in 2010, and is now owned by Third Federal Bank in Newtown, PA. Patrick Green, executive vice president of CBRE Inc., said his group is marketing the property for $6.9 million. According to Green, there are four viable offers for the property, and he expects that the tract will be sold for the asking price before the end of the year.
1143 North Delaware Avenue, adjacent to Penn Treaty Park.

The undeveloped site of the former Penn Treaty Tower proposal
910 SHACKAMAXON, 1000-1052 FRANKFORD AVE.
In 2007, the property at the corner of Delaware Ave. and Shackamaxon St. was apparently the site of a proposed 67-unit condo tower called Penn's Point. There were also plans to replace the Ajax Metal Co. complex with a 20-story mixed-use condo tower. Today, both properties have been bought by Michael Samschick of Core Realty, and may be incorporated into his plan for the Canal St. North project, a multi-parcel entertainment complex including a Live Nation concert venue and a country music bar.
A Core property at Delaware and Shackamaxon, where a previous owner planned Penn's Point

Penn's Point, previously proposed for Delaware and Shackamaxon
PIER 40 NORTH
Louis Cicalese of Ensemble Realty has been proposing some version of a residential tower for this site, at 933 N. Penn St., for more than five years. Cicalese met with the Planning Commission last summer with the most recent iteration of his proposal, a 215-foot apartment complex with 200 residential units, to be built on the land at the foot of the pier. Cicalese says that the pier itself is not safe to build on, and offered to give it to the City in exchange for an exception to the height limit in the new Central Delaware master plan. Planning Commission officials reacted unenthusiastically to the developer's offer of the unusable pier.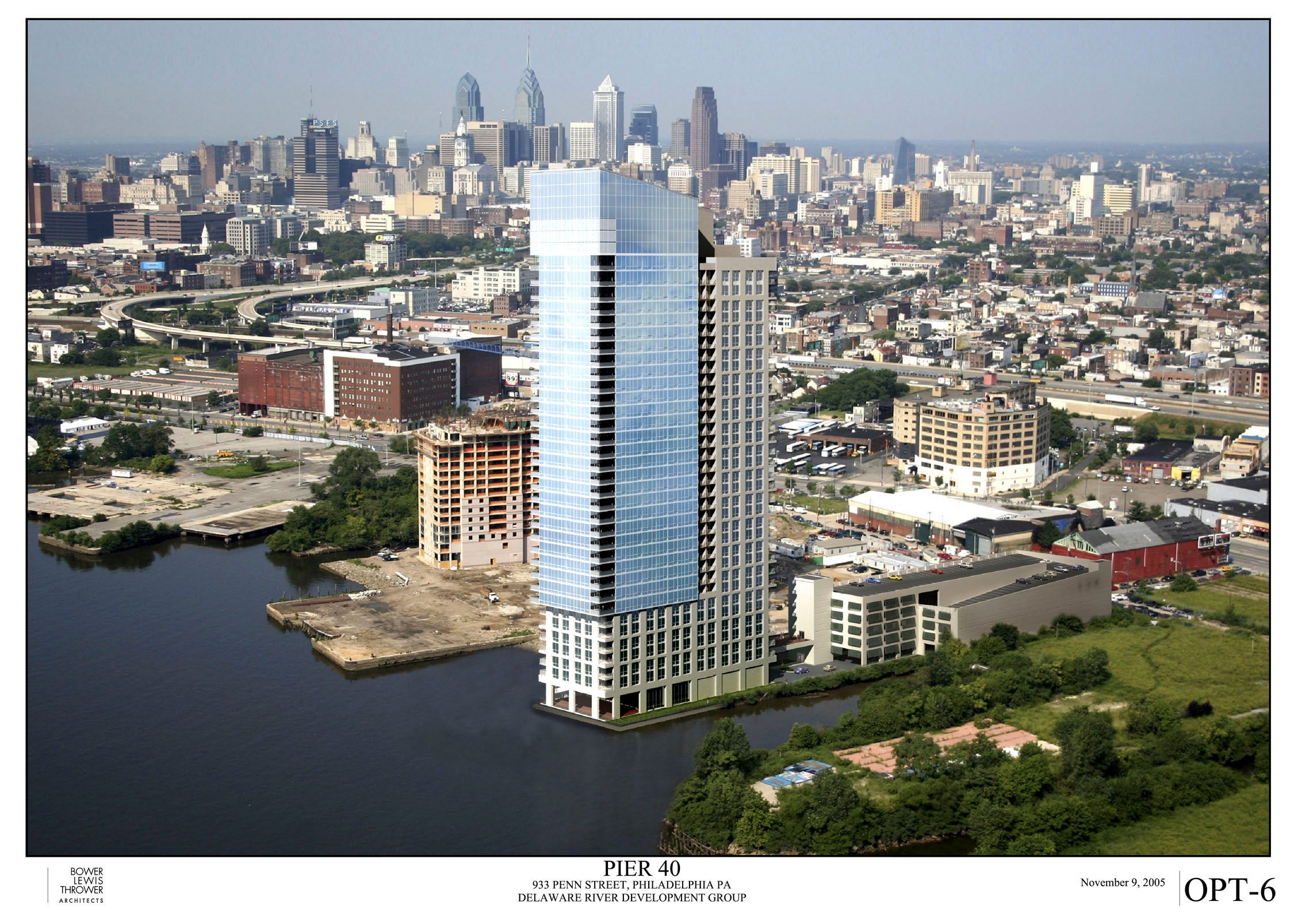 Waterfront Square, 901 N. PENN ST
Originally, Waterfront Square was supposed to be a five-tower development. Today, only three of the buildings have been completed, and the occupancy was so low in 2012 that the project was put into receivership. The occupancy of the troubled Reef Tower has just surpassed 50%, according to a spokeswoman for the project, and while there are no plans to build the remaining two towers, there may be additional construction at a smaller scale sometime in the future.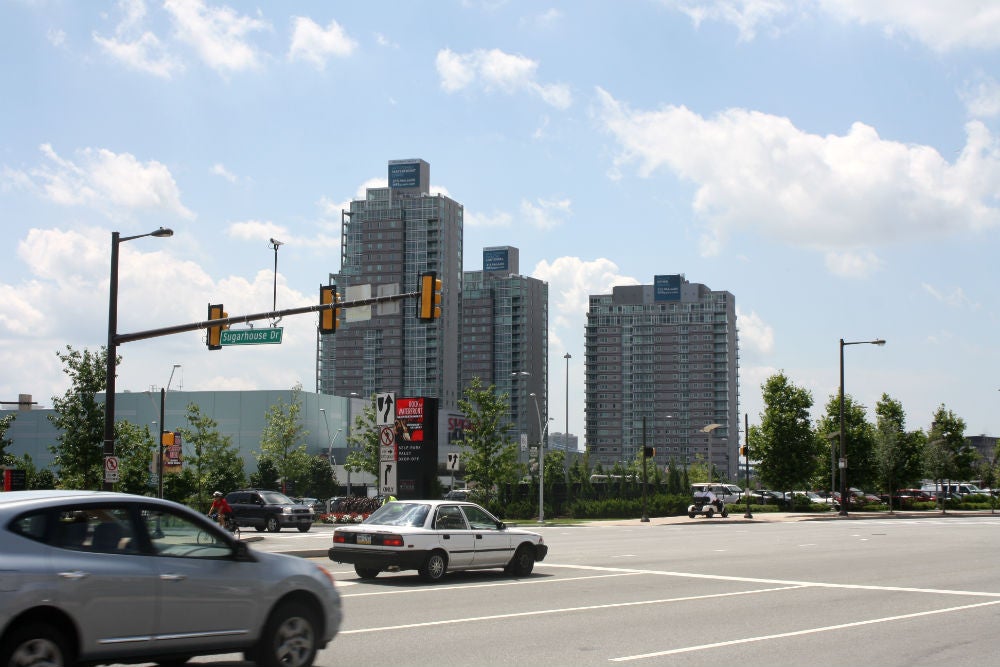 709 N. PENN ST
A Donald Trump affiliate's plan to build a 45-story condo/hotel tower in Philadelphia has crashed and burned. A Trump affiliate bought the 92,000 square foot waterfront parcel in 2006 for $10 million. But earlier this year, the owner declared bankruptcy in order to prevent the property going up for a sheriff's sale. The developers, VTE Philadelphia LP, apparently borrowed $17 million from U.S. Bank for the development, which they never started, and the bank is pursuing collection of that debt even as the group goes through bankruptcy. PlanPhilly has so far been unable to contact representatives of the developer, their attorneys, and attorneys for U.S. Bank.
Once the location of a proposal for Bridgeman's View Tower, a 66-story mixed-use condo tower that would have been the third tallest building in Philadelphia, this property is now another one of Michael Samschick's holdings. He bought the parcel in 2010 for $4, according to OPA records. So far, no new plans have emerged for the site, which is adjacent to the developer's Penn Treaty Pennthouses, currently under construction.
700 N. DELAWARE AVE.
In 2007, developer Daniel Gans of Hoboken Brownstone was planning to build four curvaceous towers at 700 N. Delaware Ave., containing more than 1,000 residential units. The plans fell apart when the real estate market slumped, and last summer the property was sold to VMDT Partnership for $10 million, according to OPA records. That partnership includes Vincent Piazza, owner of a local Honda dealership. No plans have surfaced for the property yet, and PlanPhilly was unable to reach Piazza.
101 SPRING GARDEN ST
This site at Front and Spring Garden streets was supposed to be home to a 21-story luxury condominium building called Sky 101 several years ago, but it's still just an empty lot today. So far, PlanPhilly has been unable to track down the owners.
400 Christopher Columbus Blvd.
Waterfront Renaissance Associates, an affiliate of the Carl Marks real estate group, spent 20 years working on plans for a Philadelphia World Trade Center. That project fell apart during a spat over a 2006 Old City zoning overlay, a spat which also contributed to the disbanding of Old City and River's Edge civic associations, both named in a lawsuit brought by the developer. As of last summer, the group was proposing a residential complex of nearly 1,500 units with one tower rising to more than 400 feet, twice the height allowed under the new overlay even with every height bonus for public amenities. Last month, the development team came back with a new proposal for five buildings, the tallest of which would be 240 feet.
Rendering of former Philadelphia World Trade Center proposal

World Trade Center site / Photo by Neal Santos (World Trade Center site / Photo by Neal Santos)
412 N. FRONT ST
Developers CNO Properties drew up plans for a 33-story condo tower on Front Street between Callowhill and Spring Garden, but weren't able to build the project. The CMX-4 zoned site was sold last year for just $123,000, according to OPA records.
Marina View, 230 N. COLUMBUS BLVD
In 2006, the plan for Marina View Tower, another Louis Cicalese project, was a 30-story tower with just under 200 condominium units. PlanPhilly previously reported that the owner pre-sold 60 of the units, but then stopped the project because the condo market wasn't strong enough. Cicalese came back last year with a new proposal for a 130-foot building with just over 200 apartments and retail space on the ground floor. Attorney Carl Primavera, who represents Ensemble, said that the Marina View project "should still be happening," but he couldn't say when it would get started. Primavera said he believes the condominium market on the waterfront is going to rebound, despite the depths of its crash, and that the site of Marina View "gets better almost monthly."
1301 S. CHRISTOPHER COLUMBUS BLVD.
Liberty Landing, the property that's home to the Local 19 Sheetmetal Workers Union, was once the subject of plans for a 1,100-unit apartment complex with four 30-story towers. Today, nothing has been developed there, but the Delaware River Waterfront Corporation has built a small trail segment that connects to Washington Avenue Green. The property is still owned by Liberty Landing Association. There's also word that Eric Blumenfeld, the would-be savior of the Divine Lorraine Hotel on North Broad Street, has an option on the site as well, though he's had a bit of financial trouble recently. Blumenfeld didn't immediately return a call from PlanPhilly.
Piers 34 and 35
Last fall, Louis Cicalese and Ensemble Real Estate presented the Planning Commission with a proposal for a 209-unit residential complex on Piers 34 and 35, on the Delaware waterfront near Christian Street in South Philly. Residents of Queen Village and other nearby neighborhoods wanted a commitment that the developer would market ground floor space for retail, and the developer promised to try. Although the Planning Commission approved the plan of development, nothing has happened with the property since.
​Architect David Ertz of Cope Linder, who designed the project, said that Ensemble is trying to market the site or look for a joint venture. He said it's "unclear" whether the developer still intends to move forward on the plan he presented to the Planning Commission last fall, and that the project is "in flux."
"The restrictions put on the site made it very difficult for the program to work," Ertz said. "So they've got to find something else to do with it, if anything."
Carl Primavera said that Ensemble hasn't scrapped the plan but likely would wait until the market for condominiums returns, then reorient the project and start it moving again.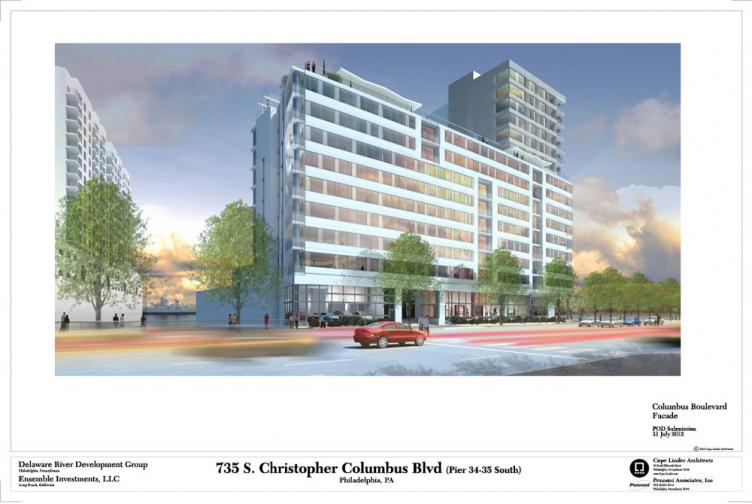 WHYY is your source for fact-based, in-depth journalism and information. As a nonprofit organization, we rely on financial support from readers like you. Please give today.