Liberty Belles win season's second game against New England Nightmare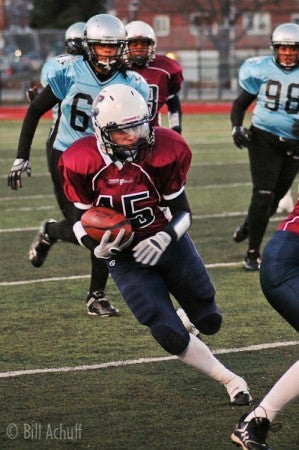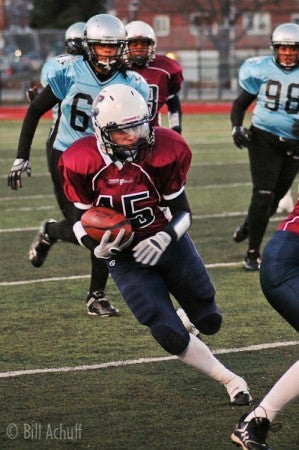 This game recap submitted by the Philadelphia Liberty Belles. Continue reading for photos of the season home opener against the New York Sharks.
What a difference a week makes. Last week the Philadelphia Liberty Belles struggled defensively and had a hard time getting their offense going in a 34-20 set back to the New York Sharks. On Saturday night at Northeast High School's Charlie Martin Memorial Stadium the Liberty Belles(1-1) bounced back in convincing fashion dominating the visiting New England Nightmare (0-2) 52-0.
There were many stories on the night for the Belles but perhaps it was the defense that stole the show after giving up 194 yards rushing to Odessa Jenkins in week 1 had the defense rebounded and the holding the Nightmare to negative 85 yards of total offense and zero first downs to go along with nine sacks and four turnovers. The Belles offense who were without two of their leading rushers from a year ago in Marirose Roach and Diamond Jones rushed for 131 yards led by Danika "D-Train" Hopkins 69 yards effort on 11 carries. The Belles passing game also was on target as QB Mik Austin complete 8 of 12 passes for 134 yards and 3 touchdowns and one interception. Austin also contributed a rushing touchdown has the Belles amassed 265 yards of total offense.
After going three and out on their drive of the games the Belles needed just one play on their second drive to score as Jeanette "Nettie" Hibbs rushed her way in from 16 yards out. Hibbs then added the PAT to make it 7-0. That scored held up after one it was the Belles 7-0
Created with Admarket's flickrSLiDR.
After an interception by Jennifer Rosario ended a Nightmare drive the Belles need just two plays to cap a 17-yard drive that was ended with a 4 yard touchdown plunge by Rosario. Hibbs PAT was no good. On the next Belles drive Austin connected with Tara Purcell for 28 yard score to make it 20-0 Belles. On the following Belles drive Austin gave her arm a break and let her legs do the work punching it from 6 yards. Austin would then connect with Purcell for to make it 28-0. Hibbs would add a 30-yard field goal to make it 31-0 Liberty Belles at the half.
On the Belles' second possession of the second half they added on to their lead with a 14 yard touchdown run by Hibbs. That Belles drive was aided by a big punt return by Sheemea Carr who return the punt to Nightmare 24. On the Belles' next drive Austin and Hibbs connected for 66 yard strike to make it 45-0 Belles at the end of three.
The lone score in the fourth quarter came on the Belles second possession of the quarter when Austin hit Rene Pfender in strive for 24 yard touchdown to seal the 52-0 victory of the Belles.
Next Friday night the Belles will have a table on the concourse of the Philadelphia Soul home opener. Next Saturday the Belles travel down to Landover Maryland for their divisional opener against the DC Divas(2-0) Kickoff is schedule for 7 pm.
For more information on the Belles and game recaps, visit the team's website.
WHYY is your source for fact-based, in-depth journalism and information. As a nonprofit organization, we rely on financial support from readers like you. Please give today.