L&I review board to hear appeal on demolition of historic church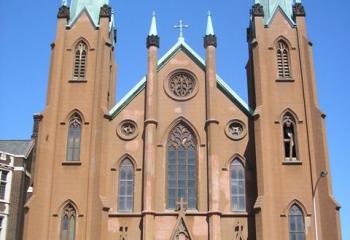 A hearing this week on the fate of the Church of the Assumption before the Board of Licenses & Inspections Review was continued until next month, but not before the owners of the property and the city challenged the standing of the neighborhood group seeking to preserve the historic building.
"The city threw us a curveball," said Andrew Palewski, the author of the nomination that in 2009 earned local historic designation for the distinctive, 19th-century building near 11th and Spring Garden Streets.
Attorneys for the Philadelphia Historical Commission and Siloam, the social service agency that owns the church, argued that the Callowhill Neighborhood Association had no standing in the case. The review board, however, decided that the civic group did have legal standing and said the case warranted a special hearing in January.
The church was built in 1848-49 by prominent ecclesiastical architect Patrick Charles Keely, and has links to two Catholic saints. John Neuman consecrated the church, and Katharine Drexel was baptized there. Neighbors and the preservation community have battled to save what they say is an important landmark and part of the city's historic and religious fabric.
Siloam, which provides services for people living with HIV/AIDS, has said it doesn't have the $5 million required to restore the church, or even the $1.5 million that could stabilize the building. The Historical Commission voted in September to allow Siloam to demolish the church. The Callowhill Neighborhood Association is appealing that decision to the L&I review board.
On Tuesday, the board heard testimony from one witness for the civic group because he would not be able to attend the January hearing. Wayne Spilove, chairman of the Pennsylvania Historical and Museum Commission, testified that $300,000 issued to Siloam by the state Department of Community and Economic Development had never gone through the necessary review process by PHMC.
Spilove, a Rittenhouse Square developer and former president of the Philadelphia Historical Commission, said the state funds are intended for preservation and redevelopment, not demolition.
In an interview after the hearing, Palewski said he was "surprised that the issue of standing would be broached by the city." The civic group's attorney, Sam Stretton, told him that the city generally supports community groups on the issue of legal standing. "Today we saw the complete reversal of that," Palewski said. "But I was also very relieved that the review board unanimously awarded standing to the neighborhood association."
Contact the writer at ajaffe@planphilly.com.
WHYY is your source for fact-based, in-depth journalism and information. As a nonprofit organization, we rely on financial support from readers like you. Please give today.