Korean-American artist transformed by first visit to South Korea
Philadelphia favorite son and Grammy Award-winner Questlove has published "Creative Quest," a collection of inspirational stories and lessons about living one's best creative life. In this spirit, Speak Easy has asked Philadelphia artists to share stories of their own creative quests.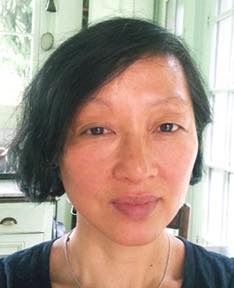 I am a Korean-American artist, living in Philadelphia. I'm adopted, a landmine survivor, and lucky to be alive. One of the earliest memories I have is the day I was taken to an orphanage. It was raining hard, thundering, and lightning.
I was taken to a building where people were hiding under rows and rows of bunk beds for protection. Without questions, I joined them.
I was told my parents stepped on a landmine while searching for scrap metal. Both died. I was an infant strapped to a parent's back, shielded from the explosion. My fingers were fused to my palms, and I was severely burned on my face and legs. I was taken to a M.A.S.H. unit where they took care of me and I received much-needed surgeries. After many more surgeries, in Korea and America, my hands are still deformed but they function.
Not too long ago, I went back to South Korea for the first time since I was adopted. It started with a letter from the Pearl S. Buck House, the agency that handled my adoption. In short, it said a blood relative was looking for me, and would I like to proceed?
 I had no idea I had any family in Korea. With my heart racing, I immediately went to my computer and responded in an email. I waited a long few months when I finally received another letter from the agency. Enclosed was a letter from an older brother with pictures of him and his family. It said that he had been searching for me for more than 30 years and almost gave up.
My first visit to Korea was too short. In a week, I met and stayed with my brother, his wife, son and daughter; went sightseeing in the center of bustling Seoul, where we shopped and took a lot of pictures; and took a trip to our hometown of Uljin.
It's a small coastal town off the Sea of Japan, about a four-hour drive from Seoul. After seeing the house where we were born, my brother took me to our father's grave where we offered food and drink, and bowed down to our knees three times.
Uljin is famous for its seafood, and my cousin prepared a large, traditional feast. Though we didn't speak each other's language, we as a family sat on the floor and shared the meal. That evening, I slept on the floor next to my cousin and aunt. It was a bit awkward at first, but it was the best sleep I had the whole week.
A few cultural clashes and not being able to communicate were a little frustrating, but being in Korea was wonderful and welcoming. Surrounded by people who look like me gave me a sense of belonging; it was the first time I didn't stand out because of my race. I love my new family, and they love me back.
It was an amazing experience that I will always treasure. It has inspired me to learn as much as I could about my heritage and the Korean culture. I look forward to going back.
When I got home, I knew right away what I was going to paint: my new family. One of my paintings was of my Uljin aunt who has since passed. I was lucky to have captured the one and only picture she would allow. She is sitting on the floor, frail and silent, but her stern eyes follow you.
Another painting was of my nephew who in his late 20s, is handsome and charismatic, and a rising K-pop Star. He is sitting relaxed, dressed in a white shirt and tie. His eyes are kind and inviting.
I love painting people; I am drawn to the faces and the eyes, and the hands. When I'm painting, I am in my own world.  I am not hiding my hands, not hiding myself.  I am whole, and I am not alone.