Kevin Boyle on absentee landlords: 'we'll continue to raise hell with them' [VIDEO]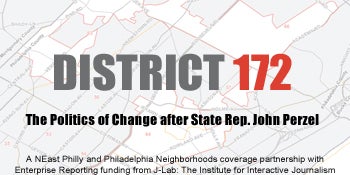 This is part of ongoing coverage in "District 172: The Politics of Change after State Rep. John Perzel," a collaborative effort with Philadelphia Neighborhoods funded by J-Lab. During the election against his 30-year, incumbent challenger, Kevin Boyle says he changed the focus of his campaign. After hearing residents in a variety of the neighborhoods in the 172nd Legislative District he hoped to represent talk about poorly maintained nuisance properties owned by people not living in the community, Boyle made absentee landlords his signature issue. In fact, it's that pivot to absentee landlords that Boyle credits with being a major reason behind his beating the legendary John Perzel, who, though facing corruption charges, had overwhelming name recognition. The topic was the first he publicly addressed after being sworn in as a freshman state House Democrat, alongside his brother, in January. It's a topic he says that has not fallen from being a top priority.
His staff is still helping to collect a list of poorly maintained problem properties owned by non-responsive absentee landlords, something Boyle said he first pushed the Mayor's office to do while Boyle was working for City Councilman Bill Greenlee. Last month, Boyle led a walking tour around Tacony to highlight some of these poorly maintained houses with 15th district Captain Frank Bachmayer.
The list is a good start, but the use of "shadowy corporations" make it hard to know what individual is ultimately responsible for what often follows from absentee landlords, Boyle told NEast Philly earlier this year. Though an issue through the district and the Northeast, Boyle said residents in Tacony and Holmesburg have been hit particularly hard by the blight, which often manifests itself in poorly maintained properties, non-compliant tenants, drugs, violence or other unsavory issues.
Below, watch video of Boyle talking to NEast Philly in February about absentee landlords as his focus.
"Disproportionally, our absentee landlords aren't coming from the suburbs, like they are in other parts of the city," Boyle said. "What happened in the past 10 years during the real estate boom, there were advertisements running in a Chinese-language newspaper in New York City about these great investment opportunities in Philadelphia. Nearly all of them were in [the Northeast]. " The language barriers, in addition to physical distance between property and owner, have helped fuel ignored city ordinances, taxes and mistreated neighbors.
"We'll continue to raise hell with them," Boyle said. Because many of the worst of what comes from properties with distant owners can escalate to the courts, Boyle has also spoken firmly about getting the right people behind bars: focusing on violent offenders.
Below, watch video of Boyle talking about focusing on violent offenders in prisons, noting a move by Philadelphia District Attorney Seth Williams's to lessen the seriousness of marijuana possession and direct attention to violent crimes.