Kensington residents passionately debate supervised injection facility
Philadelphia officials updated the Kensington neighborhood last night on their efforts to bring a supervised injection facility to the city.
Philadelphia officials updated the Kensington neighborhood last night on their efforts to bring a supervised injection facility to the city. The sometimes heated town hall meeting at the Pan American Academy Charter School was the first time a citywide outreach tour to discuss providing a space where users can inject drugs under medical supervision came to Kensington.
Officials said they didn't have a location for a site yet, but want to put it where the most overdose deaths occur.
Health Commissioner Thomas Farley projected a slideshow with a map of the city showing overdoses represented as red dots. "There are red dots everywhere, there's a cluster though — it's around here" Farley noted, pointing to the neighorhood.
The message that Kensington was the prime candidate for a safe injection drew a mixed reaction and plenty of criticism from residents who lined up to ask tough questions for more than an hour.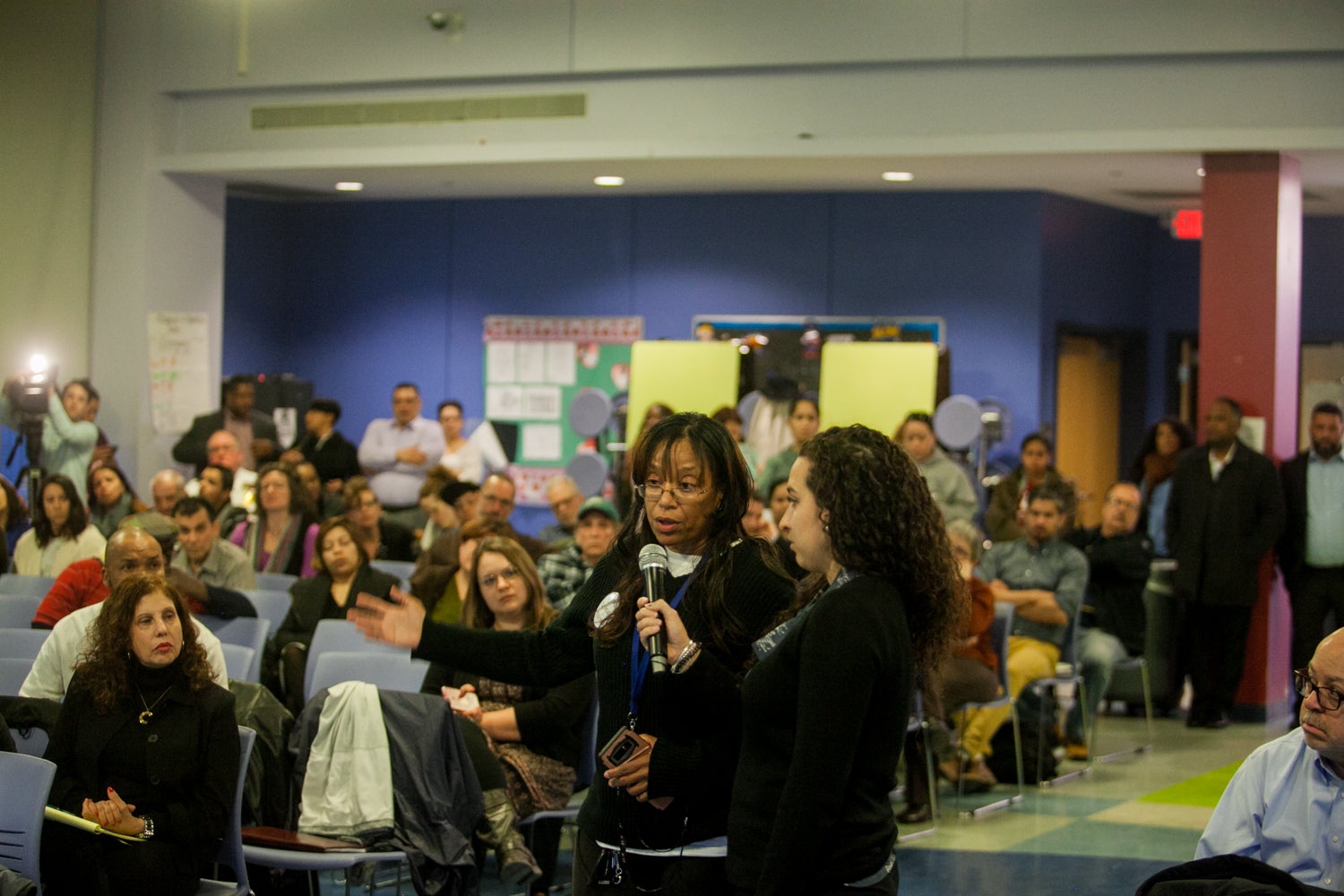 Some fear it could attract more drug users to a neighborhood that's already bearing the brunt of the city's opioid crisis, from crime to public drug injection to sanitation problems near encampments of homeless drug users.
Some who took the microphone on Tuesday also spoke of an apparent racial disparity in how the city is handling this drug crisis compared to the decades-ago crack epidemic that affected many African-Americans. City officials had presented data showing the majority of overdose victims last year were white.
But Farley and other officials argued that, with 1,200 deaths from drug overdose in Philadelphia last year, it was time to try something new, even if it was controversial. They pointed to evidence suggesting that a supervised injection facilities would bring benefits to the community too, by way of reducing drug use in public and the number of discarded needles on the street.
The mostly polite question and answer period gave way at the end of the meeting after local resident Cecilia Ortiz said she opposed a safe injection site.
"We have experienced the same things over and over and it's a cycle in this community," Ortiz said. "And we're tired of our kids being exposed to the same environment over and over again."
In his response, Farley pointed to evidence from the first North American safe injection site in Vancouver, Canada. Fifty-seven percent of the site's users entered treatment in a two year period, and drug users shot up in public half as often, Farley said, eliciting an impassioned rebuttal.  
"This is not Vancouver!" Ortiz shouted, interrupting him, as several others jumped in to back her up.  "Vancouver doesn't have the same socioeconomic issues, the same environment that we have here!" Ortiz continued.
But some who attended voiced their support for the sites, emphasizing the urgency of saving lives.
Brooke Feldman is a community activist who does outreach to drug users in the neighborhood's homeless encampments. She said she had originally planned to bring a drug user named Johnny to the meeting.
"I found out that Johnny died from an overdose yesterday," Feldman told community members. "So it is that real guys, it is that real."
City officials said they would come back to the community again before any final decisions were made about where to put the controversial site. They said they still had other work to do before a supervised injection facility could become a reality, including finding a provider, securing funding, and working out potential legal issues.
WHYY is your source for fact-based, in-depth journalism and information. As a nonprofit organization, we rely on financial support from readers like you. Please give today.