Kenney transportation chief talks complete streets at Chamber forum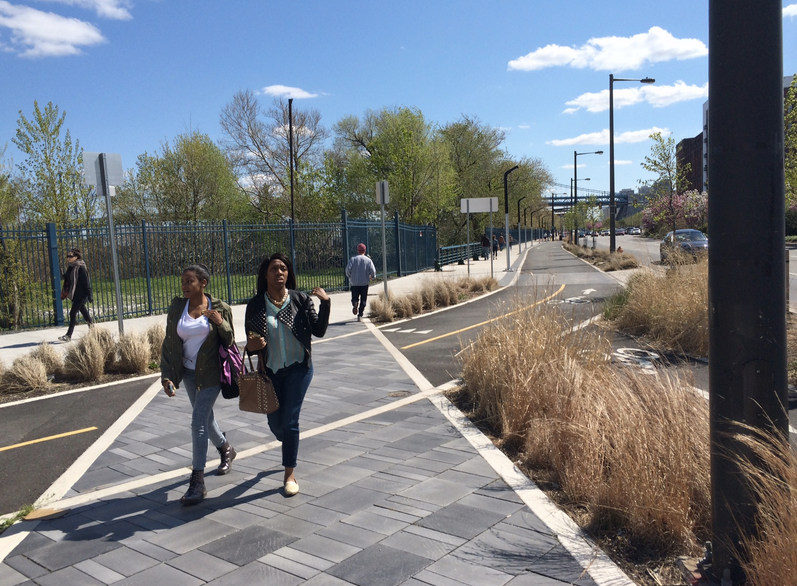 At Tuesday morning's Roadmap for Growth forum on transportation and infrastructure policy, sponsored by the Greater Philadelphia Chamber of Commerce, Deputy Mayor Clarena Tolson delivered remarks that sounded like they could've been written by the Bicycle Coalition.
Speaking before an audience of local business leaders at Temple University, Tolson made the case for a paradigm shift in the city's approach to street design.
"We've traditionally judged our streets based on how many cars they can move, but we now need to judge them on safety too," she said. "When we talk about walking, and biking, and public transit, we have to appreciate how all that spurs our economic development."
Tolson, the former Revenue Commissioner who Jim Kenney tapped to be his Deputy Mayor for Transportation and Infrastructure Systems (OTIS), went on to frame "complete street" design as an economic competitiveness issue, and a way "to use our roads more efficiently" to reduce congestion.
"Twenty percent of our car trips are less than a mile," she said, "Even I can ride my bike for less than a mile to the grocery store. Many of those trips can be replaced by a walking trip or a biking trip."
Specifically, her office is interested in building more pedestrian plazas, bike parking, bus shelters, and loading zones for delivery vehicles. She returned repeatedly to the need for physically separated bike infrastructure.
"Protected bike lanes are critical to our future," she said, "making certain that not just our road warriors can use bikes, but also those who just want to get a little bit of exercise in their day."
Tolson said she would be focused on reducing motor vehicle speeds within the city, because higher speeds are correlated with more serious injuries and fatalities. She cited the statistic that pedestrians have a 5 percent likelihood of being killed when vehicles are traveling 20 miles per hour, vs. an 80 percent likelihood at 40 miles per hour.
"There are those who want to say 'you can't engineer your way out of stupidity,'" she said, "but we've got to figure out a way to help ourselves."
These views are not out of step with progressive city transportation officials nationwide and are not surprising given Philadelphia's recent trajectory. What is, however, notable, is that Tolson picked complete streets and pedestrian safety for her talk before an audience of regional business leaders at a forum called "Building Upon Our Infrastructure Assets.". She could have just as easily talked about airport expansion, the push for a Broad Street Line extension to the Navy Yard or regional rail to King of Prussia, or the machinations around the future of the port.
Instead, it's clear that street safety is soaking up a lot of oxygen at the moment at the Office of Transportation and Infrastructure Systems. Even though the complete streets agenda might not be progressing as quickly as some advocates would prefer.
Following Tolson's remarks, a panel of representatives from James J. Anderson Construction Company, Parsons Brinckerhoff, SEPTA, Apex Companies, and Temple University traded ideas with audience members on ways the region might capitalize on its infrastructure assets.
Craig Hoogstraten, contracts manager at James J. Anderson Construction, focused on the need for greater workforce training in the construction industry, and also warned that supporters of infrastructure funding would need to remain forever vigilant about Act 89 funding being siphoned off for non-transportation spending, like the state police.
Pam McCormick, director of legislative affairs at SEPTA, made the case for a TIGER grant to upgrade the 5th Street El station under Independence Mall. She said the grant would be an opportunity to make needed station repairs at one of the city's most highly-trafficked tourist destinations, improve the streetscape around the Mall, and install an iconic modern headhouse, along with a host of other basic improvements.
From the audience, Rachel Meadows, chief of staff to newly-elected 9th District Councilmember Cherelle Parker, asked Tolson to look into ways to improve sidewalk conditions outside of Center City as part of a complete streets initiative.
"Once you get out into the neighborhoods, the sidewalks are in terrible shape," she said, "and it's made me realize how privileged I am to be an able-bodied individual, and just how difficult it must be for individuals who are disabled. We talked a lot about cars today and bikes, but every single one of us is a pedestrian…and I just wanted to know if there is a plan for what to do about the sidewalks."

Tolson said sidewalk maintenance is a challenge in Philadelphia since the sidewalks are typically private property, with an easement for public passage, and thus the city's main recourse is to fine people whose sidewalks are in especially bad condition. She said she's interested in exploring greater public ownership of sidewalks, or a policy where the city would repair sidewalks and bill the property owner.
Mike Carroll, the acting Streets Commissioner, was in the audience and broke the news that the city recently received a grant from DVRPC to study best practices from cities around the country that take a more hands-on role in sidewalk repairs, as a pretext for possible policy changes.