Kelce won the Super Bowl parade today and no one can stop talking about it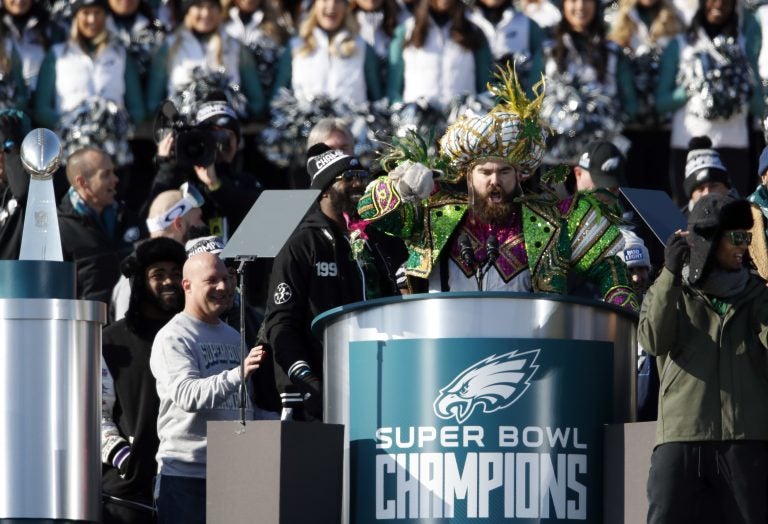 Jason Kelce is the MVP of the Eagles' Super Bowl Parade.
It wasn't long into the celebration at the Art Museum when bearded, sparkly, fired-up King Kelce took the mic. He had us when in his scratching bellow he roared, "Philadelphia!" and the crowd went wild.
JASON KELCE IS FIRED UP!#FlyEaglesFly #EaglesParade pic.twitter.com/5pCkjnDRPV

— NFL GameDay (@NFLGameDay) February 8, 2018
He wore Mummers garb. Threw out stray expletives. "Borrowed" a police bike. Sang that "We're from Philly, F***in' Philly" song with fans. Downed a beer on the parade route.
It's like he was reading the minds of thousands of Philadelphians. He did exactly what every Philadelphian would do, had they been in his place. It was all too good.
Jason Kelce chugs a beer. 🍻 pic.twitter.com/QqOvf2HTyM

— SPORTSRADIO 94WIP (@SportsRadioWIP) February 8, 2018
And then he gave The Speech.
"We're a bunch of underdogs," he shouted. "And you know what underdogs is? It's a hungry dog … Hungry dogs run faster! Everybody who said we can't get it done? F*** you!"
He went on to name all the people who counted the Eagles out this season — Jason Peters was way too old, Carson Wentz didn't go to a Division I school, Nick Foles doesn't have what it takes and the list went on.
Philly, we heard you. #FlyEaglesFly #FlyPhillyFly pic.twitter.com/iN7dHDt08l

— Jane Slusser (@janeslusser) February 8, 2018
"No one wanted us, no one liked this team," he screeched through his fast-fading voice. "No analysts liked this team to win the Super Bowl, and no one likes our fans."
Kelce was the highlight of the day, and you'd better know that we (and the rest of the city) are here for it.
Here are some of his best moments, and some of the best reactions:
Dress for the job you want, not the one you have. #JASONKELCE #WFC #Eagles pic.twitter.com/0YJSPWDDOR

— Elise Brown (@esbrownpr) February 8, 2018
#Eagles parade. Jason Kelce. "Borrowed" a police bike. Watch=>> pic.twitter.com/nqi5KPvZVY

— mark meany (@markmeany) February 8, 2018
Time to get started on my costume if Imma get this finished before Halloween …. #eagles #FlyEagleFly #parade #KELCE @JasonKelce pic.twitter.com/LASY7upuNr

— JPQ (@Bigpawsonapup) February 8, 2018
NO ONE LIKES US WE DON'T CARE @JasonKelce pic.twitter.com/wlxSNWKHhb

— Barstool Sports (@barstoolsports) February 8, 2018
Jason Kelce is my new ring tone pic.twitter.com/lWgyiBNimP

— Dan Roche (@RochesRWinners) February 8, 2018
@mlombardiNFL is curled up in a ball shaking right now. #KelceTheGod #Kelce #ourphilly

— AndrewFactor (@AndrewFactor) February 8, 2018
2018 Jason Kelce to 2008 Chase Utley. #Legend #EaglesParade #PhillyPhilly pic.twitter.com/EYxHvaPxxQ

— MW (@mewheels) February 8, 2018
Pleased to announce that Jason Kelce and I are getting married. Someone let him know thx

— Kelly (@hinx) February 8, 2018
To watch his entire speech, go here. This spicy parts start at 1:08.