Jurors begin deliberations in alleged warlord's trial
Prosecutors and the defense team for Mohammed Jabbateh delivered closing arguments. The jury must now decide if he committed fraud and perjury on U.S. immigration documents.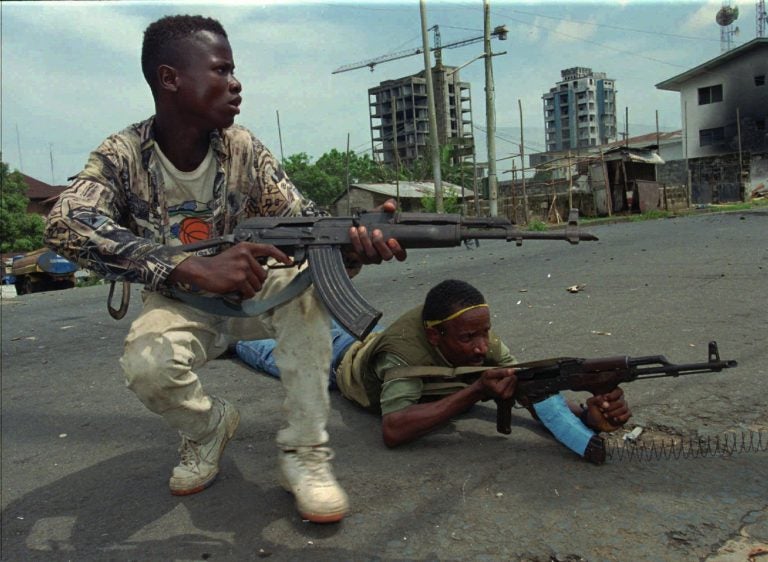 The jury began deliberations in the federal trial of the alleged Liberian warlord known as "Jungle Jabbah," who for two decades has been a Delaware County businessman, but prosecutors allege he covered up his sordid past as a violent rebel commander during Liberia's bloody civil war in order to become a permanent legal resident.
On Tuesday, government lawyers and the defense team for Mohammed Jabbateh delivered closing arguments to the jury, who are now weighing whether Jabbateh, 51, committed fraud and perjury on federal immigration documents by hiding from his former life, or if prosecutors failed to establish a credible connection between the heinous war crimes and Jabbateh.
Over the course of two weeks, jurors heard more than 20 witnesses take the stand, more than a dozen of whom were flown in from Liberia to describe how Jabbateh allegedly oversaw or directed the pillaging of the Western hills of Liberia by overseeing a rebel battalion that engaged in rape, mass murder, and ritual cannibalism of innocent villagers.
"We heard some things here that were unfathomable," Assistant U.S. Attorney Linwood Wright told jurors. "These things happened — as grotesque, heinous, and inappropriate as it were. These things happened."
Wright told the court that U.S. prosecutors do not have the authority to pursue charges against Jabateh for his alleged participation in war crimes in Liberia. Yet lying on federal immigration documents, including by checking a box that he did not cause anyone harm oversees, is not just a paperwork error. It is, in the government's view, fraud and perjury, both crimes under federal law.
"I don't know that eating someone's heart is a crime. It may be," Wright said. "But murder is. And it's certainly a harm."
The trial has galvanized some of the 15,000 Liberians living in the Philadelphia area.
More than 50 supporters of Jabateh, most of them originally from Liberia, packed the federal courthouse at Sixth and Market streets in Center City, with scores of them filling a spillover courtroom to listen to a live audio stream of closing arguments.
When approached by a reporter, a handful of them said they believe Jabbateh is innocent. None would elaborate.
Shortly after the end of Liberia's first civil war in 1998, Jabbateh indicated that he was a Monrovia-based bodyguard with the Special Security Service, the Liberian equivalent of the Secret Service. However, he claimed to U.S. immigration officials that he was later persecuted under the rule of former President Charles Taylor for being a member of the rebel group United Liberation Movement for Democracy in Liberia.
Wright brought up a photo depicting a young Jabbateh sporting short dreadlocks and dark shades, saying this was not a portrait of a government security official.
"Dreadlocks? No," Wright said. "This is like Bob Marley was going to the Nat King Cole trio. This defendant was not in the S.S.S."
Defense lawyer Greg Pagano initiated his closing remarks by arguing that federal prosecutors have conveniently left out a significant detail during the two-week trial.
"There is an elephant in this room," Pagano said. "The government has never asked a single witness about this. How did this case get here from all the way across the Atlantic in front of you Pennsylvania jurors? It's not the Department of Justice that got it here."
Wright claims that the Liberian non-profit Global Justice were the "gatekeepers" of the case, guiding investigators to every witness.
"We don't know its political motives. We don't know where its money is coming from," Pagano said. "They were all enemies or affiliated with mortal enemies of this man," he said, pointing to Jabbateh.
In addition to attacking the credibility of the witnesses, Pagano said prosecutors have not pointed to any forensic evidence, like human remains, to demonstrate that people were killed by, or at the instruction of, Jabbateh.
What's more, Pagano suggested that it is notable that the alleged war crimes Jabbateh perpetrated remained out of the public eye for decades.
"Think about that for a moment," Pagano said. "Fifteen people who said they witnessed murder, who say they were raped, who say they saw unspeakable things, never said one word in 25 years to anybody."
The years-long investigation into Jabbateh, which included five separate fact-finding missions to Liberia, has biased the Philadelphia-based federal prosecutors, Pagano argued.
Regardless of the truth, he said, the government wants to justify its time and resources by securing a conviction.
"These good men have been hoodwinked. These good men are emotionally invested and emotionally attached to this case," he said. "because of the time and money and effort that was put into this investigation."
Pagano said Jabbateh wasn't hiding from anything when he moved to the U.S., and that he's been a successful businessman and father who has never been in legal trouble. Now, prosecutors have concocted a case against him, Pagano claimed.
"It's not the quantity of evidence that should convince you, but the quality. It's not that they presented tall-tale-tellers from Liberia, but it's whether they're believable," he said. "They're trying to convince you of something that happened thousands of miles away on another continent 25 years ago," Pagano said. "Mission impossible."
The civil wars in Liberia roiled the country for 14 years and ended in 2003. The United Nations estimates that around 250,000 died in the internal conflicts. Despite this, Liberian authorities have never held anyone criminally responsible for the many years of bloodshed that took place in the country.
Jabbateh's alleged atrocities described by prosecutors in the charging documents occurred between 1992 and 1995.
WHYY is your source for fact-based, in-depth journalism and information. As a nonprofit organization, we rely on financial support from readers like you. Please give today.