July 20: Train jump severs leg | LGBT affordable housing blow | Mapping Philly's heat stress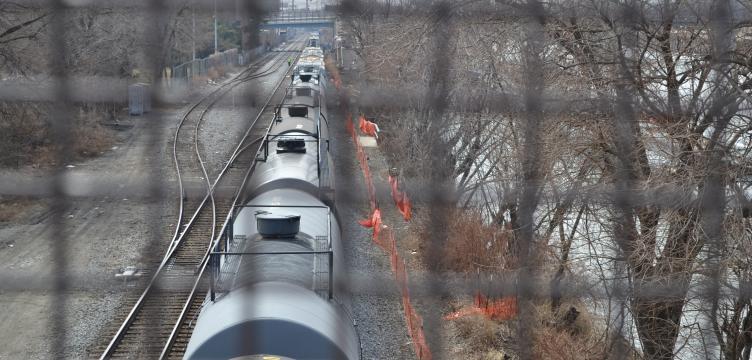 A 13-year-old boy's leg was severed after he tried to jump on a train in Northeast Philadelphia, the AP reports. A police rep says the accident occurred on a CSX line operating on Conrail tracks. The boy is in critical condition.
Researchers have studied Philadelphia's satellite, weather station, and socioeconomic data to develop measurements that pinpoint heat stress in urban environments, Scientific American reports. The study, published in Applied Geography, combined land surface temperature data with factors including income, education level and elderly residents who live alone to map out where Philadelphia's most heat-sensitive populations live. The findings are meant to help policymakers determine where to focus resources during extreme weather.
Affordable housing developer Project Home will now have to compete in an auction against potential bidders for three parcels belonging to the bankrupt North Philadelphia Health System (NPHS), writes the Inquirer's Harold Brubaker. The nonprofit wanted to buy the properties for a $13 million LGBT-friendly affordable housing project and struck a deal with NPHS in June that allowed NPHS to explore higher bids for one month.
La Salle University has demolished a late 19th century Victorian cottage at 2103 W. Clarkson Avenue, according to Hidden City Philadelphia. The administration has razed the majority of the campus's late 19th century homes and has also demolished historically protected structures without demolition permits. The 131-year-old Germantown home formerly served as a campus day care facility.
A group of Roman Catholic nuns is suing the Federal Energy Regulatory Commission for approving the construction of a natural gas pipeline that would run through their property, StateImpact PA's Marie Cusick reports. The sisters at St. Anne's Retirement Community allege that the project violates the Religious Freedom Restoration Act. The Washington Post reports that U.S. appeals courts have ruled inconsistently on whether federal law protects religious groups from eminent domains.