John McCain without tears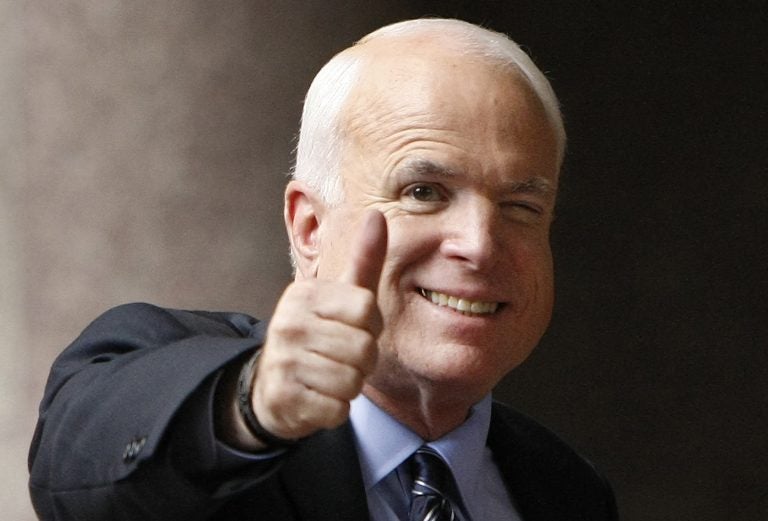 John McCain was a Walt Whitman passage come to life: "I contradict myself, I am large, I contain multitudes."
And that makes him somewhat difficult to assess – more difficult than the weekend's fawning Beltway tributes would lead you to believe. He was a man of honor and principle who often behaved as a petty partisan; he was a petty partisan who often rose to the demands of honor and principle. He could be generous and grand; or, as an old McCain friend once told the press, he could be "angry and small." At times, especially election time in Arizona, he would morph into a right-wing crank; other times, he was the self-styled "maverick" who defied the right. He had fixed conservative beliefs that he wildly contradicted. He could be vain, like any other pol, but he also could be very impolitic about himself, confessing that certain big issues (like health care) flummoxed or bored him. He could fume at people, and then be funny as hell, like when he told us reporters about his Navy dating days, squiring an exotic dancer named Marie the Flame Thrower of Florida.
He was imperfectibly human to the end. I mean that as a compliment.
It would be easy – all too easy – to soil his legacy by listing his endless string of flip-flops. I'll merely highlight a sampling. In 2000, he assailed religious-right zealot Jerry Falwell as an "agent of intolerance," but by 2006 he was speaking at Falwell's university (he explained himself to Jon Stewart: "I love to travel around this country and speak at colleges and universities"). In 1999, despite a solid anti-abortion voting record, he said that Roe v. Wade should remain law of the land because otherwise, "thousands of young American women would be performing illegal and dangerous operations" – but in 2006 he called for Roe's overthrow because "I don't believe the Supreme Court should be legislating in the way they did Roe v. Wade." In the '90s he opposed teaching creationism in the public schools; a decade later, he endorsed it. During the George W. Bush era, he voted against Bush's 2001 tax cuts for the rich in 2001; a year later, he switched sides and extended them.
The Washington press lazily called him a "maverick" because he occasionally strayed from conservative orthodoxy, and because they loved him for being so accessible, but in truth he voted with Bush 95 percent of the time and he voted with Donald Trump 83 percent of the time. In the Bush era he was a key cheerleader for the disastrous war in Iraq that destabilized the region and planted the seeds of ISIS. He led the Bush-era fight for campaign finance reform, which was nice – but then he voted for all the Republican Supreme Court nominees who predictably nixed those reforms. He supported the 2004 cancellation of the federal assault weapons ban, opposed hate crimes legislation, and in 2010 he fought in vain to prevent uncloseted gays from serving in the military, because, in his un-prophetic words, they would "harm the battle effectiveness which is so vital to the survival of our young men and women."
And most notoriously, he chose, as his 2008 running mate, as the person he was willing to place one heartbeat away from the presidency, a tinpot demagogue and font of ignorance who couldn't even name the newspapers she read – in essence, Trump Lite.
But at his best – which was quite often – John McCain was a mensch. That's how he most deserves to be remembered.
On the '08 campaign trail, when a town hall dingbat denounced Barack Obama as "an Arab," McCain cut her off and said, "No, ma'am, he's a decent family man (and) citizen that just I just happen to have disagreements with on fundamental issues, and that's what the campaign's all about." Despite his long wartime imprisonment in Hanoi, McCain as a senator worked tirelessly and successfully to help normalize American relations with communist Vietnam. Despite having originally voted against Obamacare, last year he cast the pivotal vote to save it – not because he suddenly believed in it, but because he didn't like the way Trump and the Trumpist Republicans were violating Senate rules by trying to jam the repeal bill to passage without public hearings. Despite the GOP's anti-science ignorance, he declared as early as 2000  that climate change  was real and that "most of the observed warming over the past 50 years is attributable to human activity – and he buttressed his conviction with a 2003 bipartisan bill, albeit unsuccessful, that sought to cap carbon dioxide emissions.
And best of all, McCain understood Trump for what he was, and didn't hesitate to say it. Last month, when Trump bowed down to his master in Helsinki and betrayed the United States, McCain said this from his sickbed:
"Helsinki was one of the most disgraceful performances by an American president in memory. The damage inflicted by President Trump's naivete, egotism, false equivalence, and sympathy for autocrats is difficult to calculate…It is tempting to describe the press conference as a pathetic rout – as an illustration of the perils of under-preparation and inexperience. But these were not the errant tweets of a novice politician. These were the deliberate choices of a president who seems determined to realize his delusions of a warm relationship with Putin's regime without any regard for the true nature of his rule, his violent disregard for the sovereignty of his neighbors, his complicity in the slaughter of the Syrian people, his violation of international treaties, and his assault on democratic institutions throughout the world.
"Coming close on the heels of President Trump's bombastic and erratic conduct towards our closest friends and allies in Brussels and Britain, today's press conference marks a recent low point in the history of the American presidency. That the president was attended in Helsinki by a team of competent and patriotic advisers makes his blunders and capitulations all the more painful and inexplicable. No prior president has ever abased himself more abjectly before a tyrant. Not only did President Trump fail to speak the truth about an adversary; but speaking for America to the world, our president failed to defend all that makes us who we are — a republic of free people dedicated to the cause of liberty at home and abroad."
Trump's cultists have been cursing McCain ever since (as they've done for years), but he surely took that as a compliment, as should we. It is also a high compliment to McCain that Trump himself has said virtually nothing about McCain in death, apart from a rote two-sentence tweet that may well have been ghostwritten. Which is fine, because this is a time when only qualified people should be speaking of McCain. And he can still speak for himself. Of all the multitudes he contained, these nonpartisan passages from his 2008 convention acceptance speech can still resonate. I yield the floor, one last time, to the senior senator from Arizona:
"I've worked with members of both parties to fix problems that need to be fixed…I will reach out my hand to anyone to help me get this country moving again…Instead of rejecting good ideas because we didn't think of them first, let's use the best ideas from both sides. Instead of fighting over who gets the credit, let's try sharing it. This amazing country can do anything we put our minds to. I will ask Democrats and independents to serve with me…
"I fight to restore the pride and principles of our party. We were elected to change Washington, and we let Washington change us. We lost the trust of the American people when some Republicans gave in to the temptations of corruption…We lost their trust when we valued our power over our principles. We're going to change that. We're going to recover the people's trust by standing up again for the values Americans admire.
"We believe everyone has something to contribute and deserves the opportunity to reach their God-given potential – from the boy whose descendants arrived on the Mayflower to the Latina daughter of migrant workers. We're all God's children, and we're all Americans…Despite our differences, much more unites us than divides us. We are fellow Americans, an association that means more to me than any other."