Jersey Shore retailers hoping for a big Labor Day weekend after a rainy summer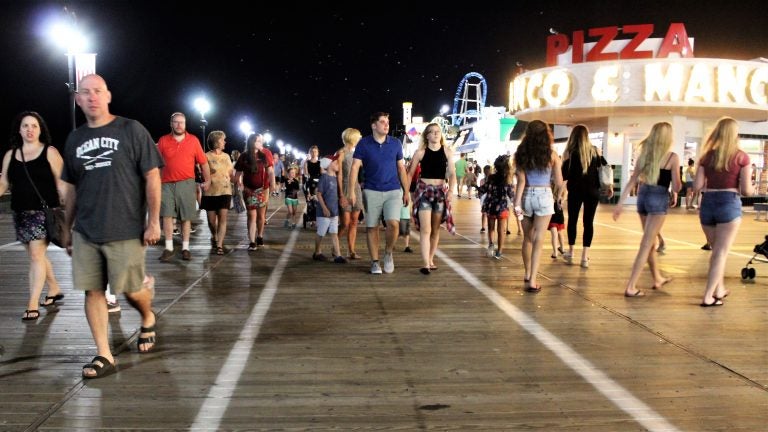 The rainy summer has put a damper on sales for the Jersey Shore giving beach towns even more reasons to build up their off-season attractions.
"The summer of 2018 has mixed reviews," said Michele Gillian, the president of the Ocean City Regional Chamber of Commerce. "One thing is the weather has been very dramatic."
This summer has brought some extraordinary downpours to Ocean City and the rest of the shore, including one that dropped five inches of rain in about an hour, flooding streets in several areas of the resort.
But according to Gillian, a worse blow came from forecasts of extensive rain that never appeared, particularly when those forecasts were heavily played up in the Philadelphia news media market, with numerous stories on television and elsewhere suggesting a long week of heavy rain.
"That led the news on every station. You name it. All the media. It truly was fake news for us," she said.
Those reports discouraged many visitors at the end of July and the beginning of August, typically the busiest time for the beachfront resort. Making it all the worse, she said, Boardwalk merchants were looking out at a sunny beach as those days unfolded, with far fewer visitors than usual.
"I feel bad for all of the small businesses, especially," Gillian said, adding that most of the businesses in Ocean City were family owned. "They don't get to go back and make that money up, that's lost revenue at the end of the year will not help with the bottom line."
According to Gillian, and almost everyone else at the shore, the weather makes or breaks a season. At times, rain in Philadelphia and its nearby suburbs kept people from heading to the beaches, while at the shore there were sunny skies.
Then there were the brief storms that rolled through on several evenings just about when most people were considering heading to the boardwalk for a night on the rides or dinner. The rain didn't last long, Gillian said, but for many, many visitors, it was enough to change plans from pizza and a roller coaster to an evening at the rental watching a movie.
"It's been a challenge," Gillian said.
While the weather is supposed to improve over Labor Day weekend, the forecast has enough rain in it to be more trouble for merchants.  And with schools and colleges starting earlier, the traditional summer finale has not been as big a deal in recent years, especially with Philadelphia schools getting back in session before September.
On the Boardwalk, Becky Juzwiak at Johnson's Popcorn said the store had a great summer, but she couldn't compare it to previous years until all the numbers were in. She said July seemed a little better than August, with good crowds on the seaside walk most days.
Some hotels and motels saw some vacancies when rain was forecast, and some visitors cut their shore time short of a full week.
"None of this is a crisis. It's an alright season, it's just not a season where we're seeing growth," said Gillian.
Doug Bergen, a spokesman for the city of Ocean City, said seasonal and weekly beach tags seem like they held steady compared to other years, with daily beach tag sales down.
"As with everything else in Ocean City, weather makes all the difference," he said. Parking revenue from meters and the city-owned lots near the boardwalk is expected to be a little better than last year. Last year, the city brought in a little over $4 million in beach fees, according to the city's adopted budget for 2018, which also showed $3 million in revenue from parking meters. More detail on this year's revenue is expected in September when city staff has time to go over the final numbers.
OCNJ open for business year-round
Labor Day on Monday will not mark the end of shore fun. Businesses in Ocean City have worked hard to make sure there's plenty to do through the city's New Years Eve celebration. Known as First Night, the alcohol-free event includes music and entertainment at venues throughout town, with a Jan. 1 dip in the ocean the next day for the numb or brave.
The event has become a major draw for the town, while Thanksgiving has also grown in recent years, with many second homeowners coming down with their families for the kickoff of the holiday season at the shore.
"We really have challenged ourselves to make sure that from now until Christmas there are special events every weekend," Gillian said. "It really helps with the bottom line for businesses."
Weekend events pick up immediately after Labor Day, Bergen said, with the Street Rod Weekend Sept. 7 and 8. Ocean City Pops concerts featuring former members of the "Jersey Boys" cast overlap that weekend, with shows Sept. 8 and 9.
The Airport Festival follows Saturday, Sept. 15, with a nighttime parachute pyrotechnic show that night starting at 8 and an aerobatic airshow on Sunday.
"From there, it's still non-stop through First Night," Bergen said.