January 28: How Wolf can help PA cities | Ward politics | Keeping Philly affordable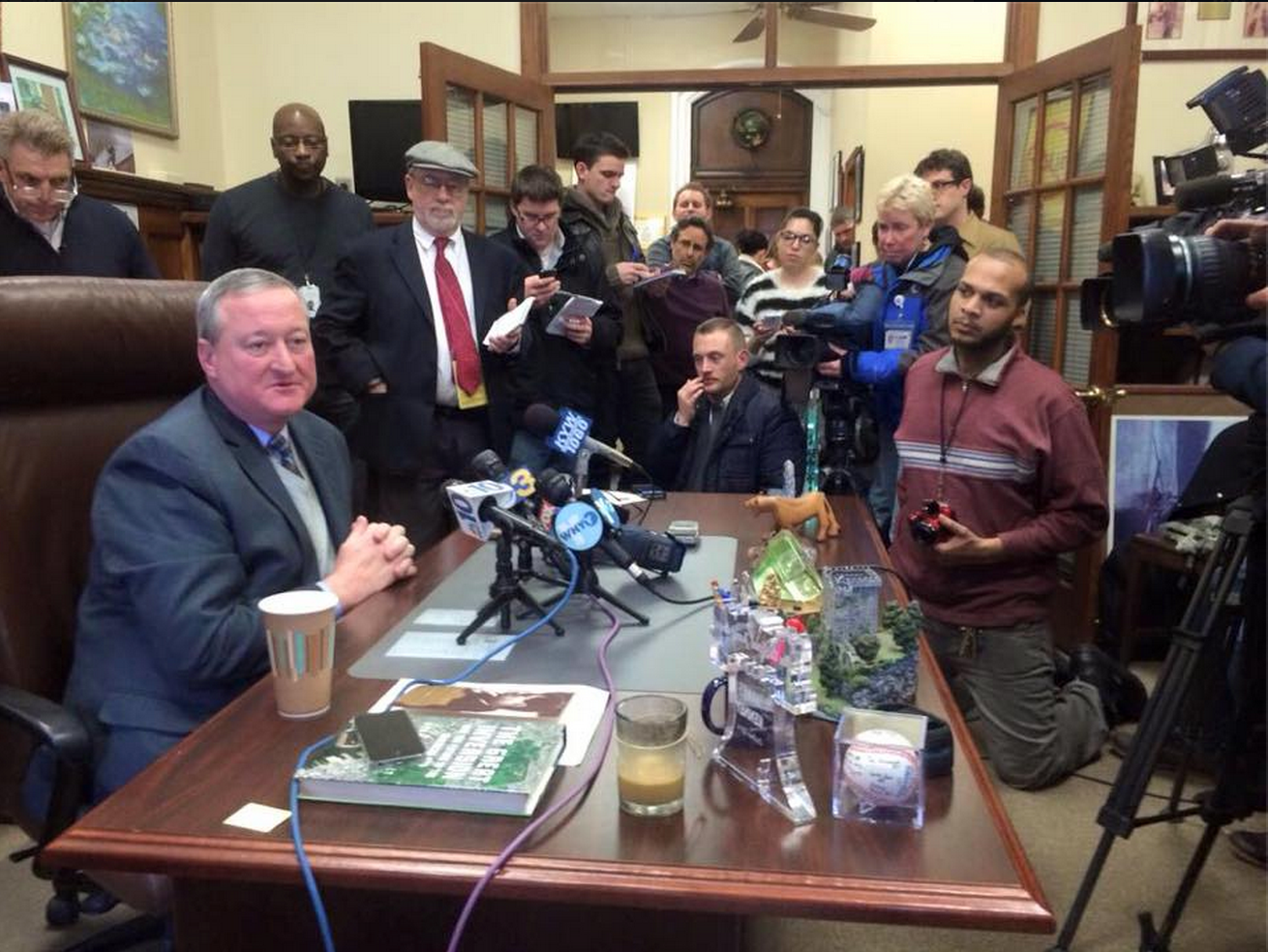 The US DOT is challenging city Mayors to prioritize pedestrian and bike safety. In Philly a lot of those decisions come down to Council members' decisions about right of way on the public streets. In a few weeks we'll be releasing a special project looking at pedestrian crashes in the various City Council districts.
Not-quite-Mayoral-candidate Jim Kenney held forth on a number of issues in a press availability with reporters yesterday where he offered that Council "maybe should have had a hearing" on the Philadelphia Gas Works sale.
On Facebook, David Curtis spied a copy of Alan Ehrenhalt's "The Great Inversion" on Kenney's desk – a book that makes the case that demographic and economic trends favor a return to urban areas.
Emily Previti at Keystone Crossroads sounded out a cross-section of municipal policy wonks on how new Governor Tom Wolf and the legislature can help older core cities. Among the suggestions: changing binding arbitration policies, leaning on municipalities to pass more shared service agreements, consolidating small munis, and allowing cities to levy different types of taxes.
Buried in this Christopher Sawyer post casting doubt on the efficacy of domain squatting is a pretty good primer on Philly ward politics and why they still matter to the business of governing and elections. As some will recall, neighborhood planning was one of the contested issues in the 30th ward fight this past spring.
The claim that Philly is one of the worst cities for young adult renters seems a bit overblown, but this is a reminder that there is an East Coast land premium that Philly is not immune to, even if we are cheaper than New York and Washington. It's also a reminder that retaining our relative affordability edge will need to be an active process. Most of the city's land isn't zoned for apartments, for instance, and our apartment vacancy rate is extremely tight at the moment.