It's Christmas vs. Saturnalia in Pitman, N.J., sign battle
Listen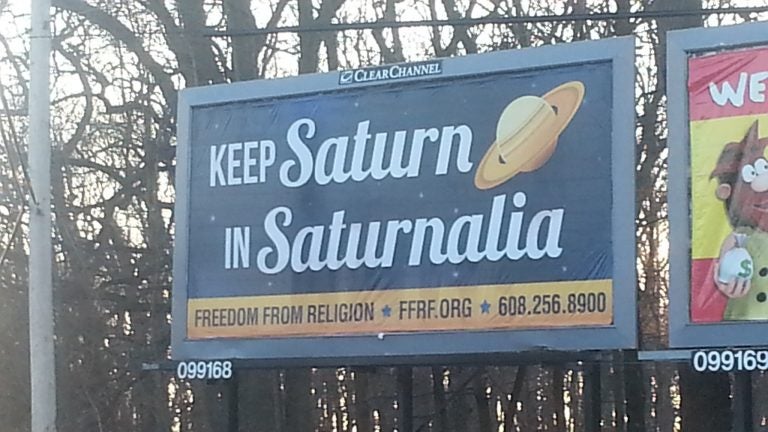 A Christmas message in Pitman New Jersey has spawned a tongue-in-cheek billboard.
The billboard reads, "Keep Saturn in Saturnalia" a direct swipe at the "Keep Christ in Christmas" sign that hangs over Pitman's main street.
Andrew Seidel of the Freedom From Religion Foundation says his group demanded equal space for a secular message and were told there was no room for them in Pitman. Seidel says Christmas wouldn't happen this time of year if it weren't for older, winter celebrations.
"Jesus was born when the shepherds were in the field with their flocks which is sometime in April, possibly May, certainly not December," he said. "Christians chose to have their holiday in December so they could take over the Pagan celebration of the winter solstice and the Roman's celebration of Saturnalia, trying to convert Pagans and Romans to Christianity."
Pitman Mayor Russ Johnson says he did turn away the Foundation when it demanded a spot for a banner.
"My response was 'find your own space and find your own people to hang it it's not my responsibility to find you space for the banner,'" Johnson said.
The mayor says police have been keeping close watch on the billboard, especially after a few attempts to vandalize it.