It wasn't just your polling place — turnout was way up through the region Tuesday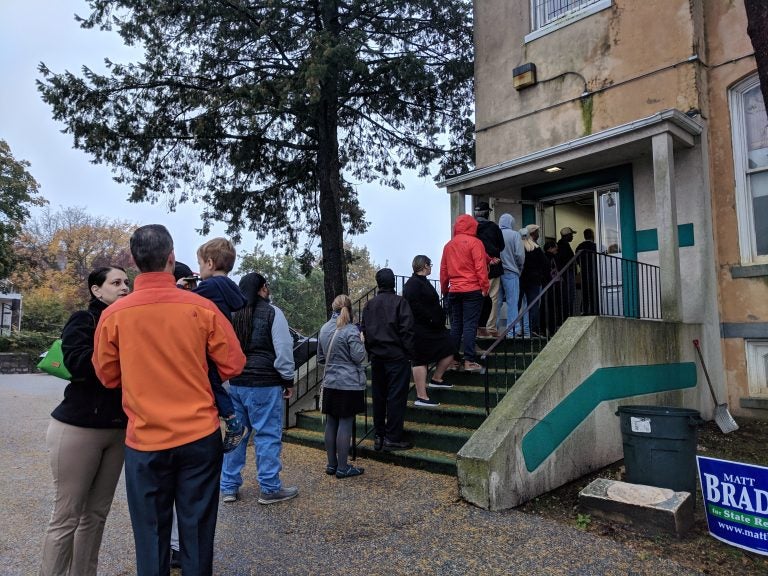 If you had to wait in line to vote, count yourself among friends. Preliminary vote totals from the Philadelphia region show nearly presidential-year levels of voter enthusiasm for the 2018 midterms.
In Philadelphia, voter turnout surpassed 51 percent of registered voters with 97 percent of all machines tallied. That number will keep climbing as provisional and absentee ballots are added.
"I think it's likely we'll go north of 52 percent, which would make this the highest turnout in a few decades," said City Commissioner Al Schmidt. The last two midterm elections when turnout surpassed 52 percent were 1994 and 1986.
Voter enthusiasm was consistently higher around the region, according to preliminary counts from Bucks, Montgomery, Delaware and Chester counties.
In Montgomery County, 383,451 residents voted on Tuesday, a significant jump from the 263,281 (48.3 percent) who voted in 2014, but fewer than the 445,866 (77.4 percent) who voted in the last presidential election.
"We did seem to have a lot of first-time voters, or voters who had not voted in a long time," said Val Arkoosh, chair of the Montgomery County commissioners. "That seemed to contribute to the turnout."
Arkoosh also said various civic groups that sprang out of the 2016 election results — such as the local chapters of Indivisible, created by former Democratic congressional staffers — seemed to keep local interest in politics going well after the presidential election.
Demographic information about who came out to vote and for what reasons is still sparse, and will not be available until all votes are tallied. For now, exit polling hints at what made this year different. Three-quarters of voters said the country is too divided. Meanwhile, women and men continued to split their votes by party in what has been termed the "gender gap," with a lower percentage of women supporting Republican candidates than men.
Bucks County – 64.82 percent turnout
Total votes —
2018: 293,824
2016: 349,791
2014: 200,373
Chester County – 66.22 percent turnout
Total votes —
2018: 236,599
2016: 268,800
2014: 155,798
Delaware County – 59.39 percent turnout
Total votes —
2018: 239,557
2016: 297,634
2014: 182,114
Montgomery County –  67.3 percent turnout
Total votes —
2018: 383,451
 2016: 445,866 
 2014: 263,281 
Philadelphia County* – 51.02 percent turnout
Total votes —
2018: 542,895
2016: 707,631
2014: 378,807
*Only 97 percent of machine ballots cast are included in this number.
A note about these numbers: 2018 vote totals provided by County officials in Bucks and Montgomery Counties. Information from Philadelphia, Chester and Delaware Counties came from their online election portals. Totals from previous election years were drawn from information on the Pennsylvania Department of State's website. 2018 data do not include all provisional, emergency or absentee ballots case.