In Philly suburbs, readers see more 'ghost newspapers' as hedge funds cut costs
After years of newspaper mergers and layoffs across the Philly region, the ripple effects in Montgomery County explain what you may be seeing in your town.
Listen
5:32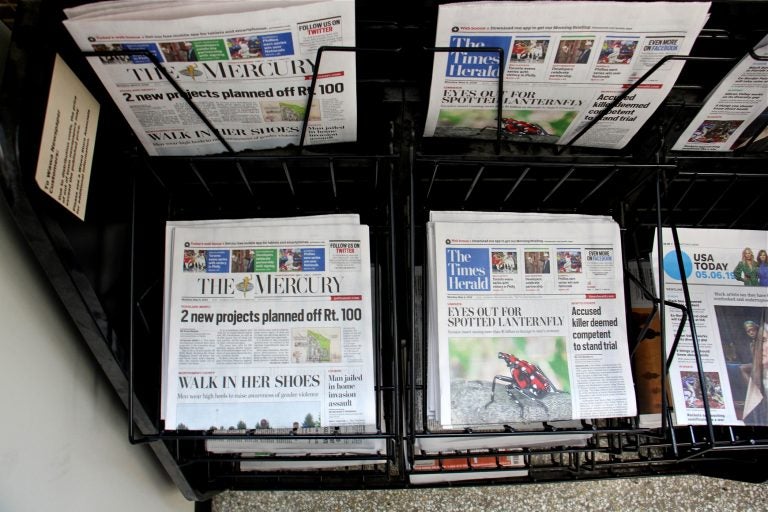 There's been a lot of upheaval lately in the world of local news. Has it affected you? Where do you go for information about your community? Help inform our reporting and let us know here.
—
If you open a community newspaper in the Philadelphia suburbs today, you're likely to see a press release reprinted as a news story, or an article written by someone from the next town — or county — over.
While the decline of print journalism is often talked about in terms of laid-off reporters and shuttered offices, another symptom of the changing local news landscape is what does — and does not — fill the papers that are left.
Hedge fund-backed media companies have brought a slash-and-burn approach to pulling revenue out of papers in Philadelphia's collar counties, reducing coverage of local governments and issues. Studies indicate losing these watchdogs can lead to diminished voter engagement and higher costs of government.
Montgomery County, the third largest in the commonwealth by population and second wealthiest per capita, provides one example for how this trend plays out regionwide.
For the reporters who remain at legacy newspapers, one metric of consolidation is their ballooning responsibilities.
When Pottstown Mercury reporter Evan Brandt, 54, started working there in 1997, he was responsible for covering the Boyertown School District and the municipalities it served.
Now, when asked how many places he monitors, Brandt pulls a crumpled piece of paper scrawled with the tally out of his jeans pocket.
"If you don't count school districts, it's 41. If you do count school districts, it's 50," he says.
Over two decades, the Mercury has gone through bankruptcies and changed hands a few times, shedding staff along the way.
The reporters who are left, like Brandt, now push out more stories to pick up the slack. He writes an average of three stories a day and has found novel ways to try to cover local news — such as creating an online survey for candidates in contested races to fill out to enable the paper to touch on each politician's positions.
He sees his work as trying to maintain the value of the paper.
"If I'm going to sweat like this, and work like this, I don't want it to be for a piece of crap," said Brandt.
Brandt's changing workflow is the result of business decisions happening far from Montgomery County — and of companies that have found a way to squeeze profits from declining industries.
Profiting from 'ghost newspapers'
Across Bucks, Chester, Montgomery, and Delaware counties, MediaNews Group (majority owned by the New York-based hedge fund Alden Global Capital) and GateHouse Media own most of the newspapers.
Buying up more robust daily papers, as well as nearby hyperlocal weeklies, has allowed these companies to easily share content between their outlets.
"What they tend to do is run the main story in the daily and then run the same story in multiple editions across the weeklies and not localize for those local areas," said Penny Muse Abernathy, Knight Chair in Journalism and Digital Media Economics at the University of North Carolina at Chapel Hill.
In Montgomery County, MediaNews Group owns three daily papers and at least 10 weekly publications.
On a recent Monday, stories by Brandt and courts reporter Carl Hessler led the front page of former rival papers, the Pottstown Mercury and Norristown Times Herald.
By sharing stories and reporters, individual newspapers can sell advertising to different local businesses without having to pay for original reporting.
That model is good for business. A 2018 report out of Harvard's Nieman Lab found that Alden's Philadelphia-area newspapers made $18 million in profit in fiscal year 2017, a 30% margin. The local publisher did not respond to multiple requests for comment.
But while content-sharing saves money, Abernathy said, it's one of a number of cost-cutting measures that hurt journalism.
"When you look at those Montgomery News sites, what you see is a 'ghost newspaper' trending towards not covering critical information needs," she said.
A "ghost newspaper," as defined by Abernathy, has a masthead and may resemble journalism, but relies on printing press releases or write-ups of community events to fill space. Local newspapers, uniquely situated to report on the nuts and bolts of municipal government that would not otherwise be covered, wind up investing fewer and fewer resources in accountability journalism.
"[It] may be telling you where an event is, but it may not be telling you about important issues about environment or education or government in your communities," said Abernathy.
What's at stake when local news shrinks
A lot of people don't get their news in print. In the Philadelphia region, the largest number of news consumers report getting local coverage from television news, according to the Pew Research Center. The next largest category was a news website or app.
But there is evidence that the loss of community newspaper coverage makes government less responsible. A 2018 study from the University of Notre Dame and the University of Illinois at Chicago found that the cost of borrowing money goes up when a local newspaper shuts down.
"There's less transparency, to say nothing of the potential corruption that occurs," said Abernathy.
Some government officials say it also makes their jobs harder.
"When news organizations don't cover local politics, local government, then I think people believe local government is not important," said Val Arkoosh, chair of the Montgomery County Commission. "It's kind of a chicken and egg."
For context, Montgomery County government has an annual budget of more than $420 million and responsibilities ranging from foster care services to maintaining roads to running elections.
With less than a week to go until the May primary, Arkoosh said the county has been struggling to get the word out that casting a ballot this time around will look different.
"Every day, more than half the people I talk to say, 'Oh, there's a new voting system?'" she said.
As a result, the county has beefed up its communications staff, creating new positions and trying new ways to get information to the public.
"We started a couple of years ago sending out our press releases in a much more robust way," said Arkoosh. "We basically have a story written, if somebody wants to just cut and paste it, which, sadly, they do."
Papers can run these bulletins alongside reported news because enough people are hungry for local information.
The Pottstown Mercury and Norristown Times Herald have 15,000 and 18,000 Sunday subscribers respectively, per numbers they reported to the direct response advertising company Echo Media.
Every morning, regulars congregate in Upper Merion's public library to peruse the day's news. Librarian Kristine Pennese sits behind the reference desk, where she keeps the copies of the Times Herald and USA Today.
"They're so popular that we keep them behind our desk because people walk off with them," she said.
She points to a stack of disheveled broadsheets, tucked away until the next person asks to see them.
WHYY is your source for fact-based, in-depth journalism and information. As a nonprofit organization, we rely on financial support from readers like you. Please give today.