In Luzerne County, other bellwethers of Pa., voters divided ahead of midterms
Listen
5:54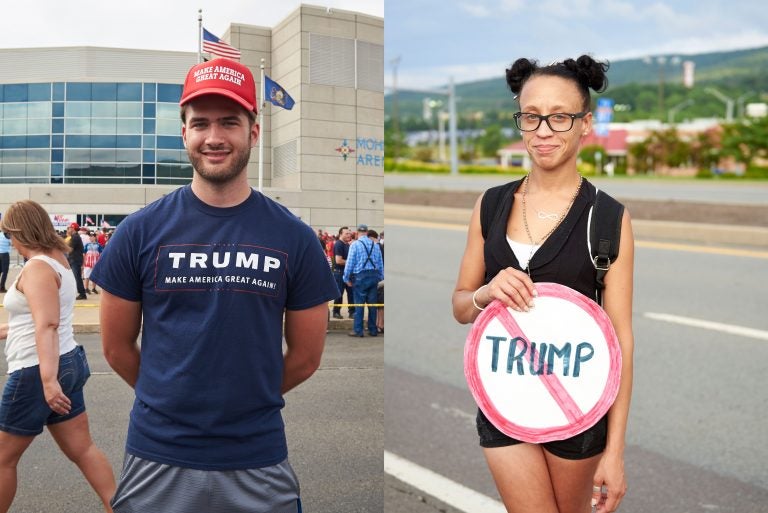 In downtown Wilkes-Barre, a man named Tom is sitting outside at a table watching CNN on his phone. He's mistrustful of what he calls "the liberal media," and doesn't want to give his last name. He's a registered Republican, but has a lot of criticism for the party. He's a firm supporter, though, of President Donald Trump.
"When Trump got involved, I was like, 'This guy is hilarious. He's frank. He keeps it real,'" said Tom. "I registered to vote specifically for Trump."
He had been supportive of President Obama at first, too, though he didn't vote for him. Then, in Obama's second term, Tom soured on the president. The Iran nuclear deal, the Obama administration's directive on bathroom access for transgender people — suddenly Tom didn't like where he thought the country was going.
Now, he's thrilled with Trump. He thinks the Democrats are dangerous, and he's planning to vote in his first midterm election.
"I jumped on the Trump train, not the Republican train," he said.
This November, though, he is planning to vote a straight Republican ticket. So is everyone else in his life.
"I have my beliefs, my girlfriend shares them, and most of my family and friends share them," he said. "It is a bubble."
Luzerne County, of which Wilkes-Barre is the county seat, has become something of a poster child for Pennsylvania swing districts. It's one of a handful of traditionally union-loving, coal-mining, Democratic strongholds that surprised most pollsters by going red in 2016.
Luzerne's swing has spawned countless think pieces, and even a new book that argues it was this very county that delivered President Trump his 2016 victory.
But while the county as a whole gave Trump 60 percent of the vote, in a lot of precincts his margin was just a few dozen votes. That makes Luzerne less lop-sided than other parts of the state, like deep-blue Philadelphia or deep-red rural Western Pennsylvania.
And yet people in Luzerne feel just as cut off from the other side as anyone else.
Five minutes down the street from Tom is Jerry, who also doesn't want to give his last name. "Most media is right of center," he said, "corporate-owned." To Jerry, it's the Republicans who have lost their minds.
"I'm going to vote straight Democratic for these midterms," he says. "It's not only a matter of opposing Trump, but of promoting the best interests of this country. I feel that our democracy is on the line."
Jerry says he doesn't like that the Democratic Party takes money from corporate donors. "I think they need to grow some spines and stop bringing butter knives to a gunfight," he said. Yet, despite criticisms, he's supporting incumbent Democratic Senator Bob Casey. He thinks the stakes are too high not to.
Then a man walks by carrying a sign for Lou Barletta, Casey's Republican challenger, and Jerry coughs. "Here's one of them… Republi-cons."
'I haven't really seen anyone who is in the middle'
An 'us versus them' mentality is evident all around Wilkes-Barre. In the Luzerne County Republican Party headquarters, a busy but spare office filled for the moment with boxes of campaign brochures and posters, volunteers complain that they have to put up lawn signs in the dead of night. "The other side" keeps tearing them down.
Brothers Tom and William Toth walk in to change their registration from Independent to Republican. Tom, wearing camo gear, says he usually leans more conservative anyway. He plans to vote for Republican challenger Scott Wagner for governor and Barletta for Senate. He says he was pushed to change his registration after the recent Brett Kavanaugh hearings, believing the opposition treated the judge unfairly.
"We now know after the debacle at the Supreme Court and the insanity of the Democratic party, we know we'll never vote Democrat again in our lives," he said. "I think those people are nuts."
The Kavanaugh hearings are also motivating Wilkes University sophomore Sarah Weynand — but in the opposite direction.
"Everything with Brett Kavanaugh has been so disturbing to the women on campus and the women in my life, and the men in my life who could not dream of acting how he has acted," she said.
Weynand is sitting at a picnic table on campus, getting ready for an event hosted by the university's gay-straight alliance. Other students are mixing paint with shaving cream in preparation for a very messy game of Twister. The table is strewn with flags representing gay pride and transgender pride. Weynand says, earlier that day, her acting teacher paused class to remind everyone to register to vote.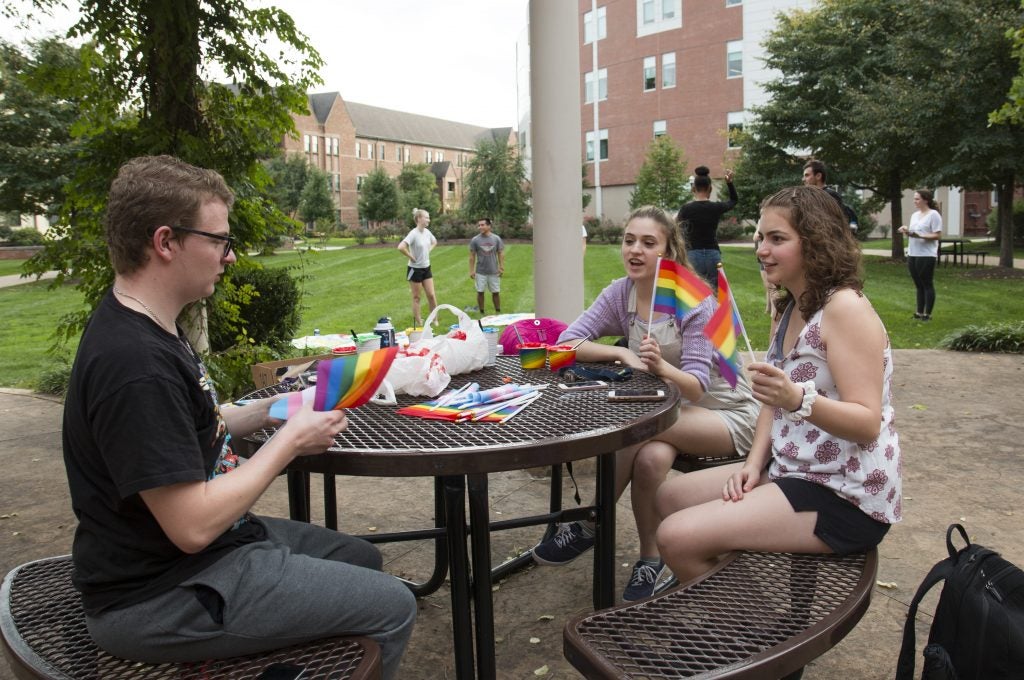 She plans to support Democrats in the midterms, and says she sees the county's split personality among her classmates.
"Especially in classes where current events come up, you can definitely tell there's a big divide between the people who are extremely left and extremely right. I haven't really seen anyone who is in the middle," she said.
'I don't have faith in the system anymore'
Of course, it's not just Luzerne County that was torn in 2016: Trump won Pennsylvania by a margin of less than 45,000 votes. Ahead of the 2018 midterms, people in other bellwether areas in the state seem as divided.
Bucks County, for example, wound up in a dead heat in 2016: 48 percent to 48 percent, with Clinton winning by less than 3,000 votes.
Now, some voters there say they're fed up with both parties, unsure if they'll vote at all.
"I guess I don't have any faith in the system any more," says Justina Hughes of Bensalem.  "I don't know what would have to happen for me to have that faith once again. No one is truthful or honest anymore."
Hughes didn't vote in 2016, and she might not again this year. If she does, "it's probably going to be Republican. I'm more conservative. I'm not for Planned Parenthood or illegal immigration."
Also in Bucks County, Kevin Ballard of Newtown says he'll vote Republican in the midterms too. He's happy with the state of the economy, and wants to support the president's agenda, even if he doesn't always like his rhetoric.
"I like how the country's going, I like the direction we're going in. I just wish Trump wouldn't say as much crap as what he's saying," says Ballard. "I get it, 'people think what he's saying,' but I think there's a much better way to go about saying it."
A small number of people said they're truly split, caught between parties. "I am only a Republican fiscally, nothing else," said Andrea Kamen of Yardley. She strongly dislikes Trump, and says she'll vote for people of both parties in the midterms.
"I'm on both sides, it's tough. There's certain things I believe in, and there's certain things I think we just have to move past. Roe v. Wade, I think that should stay," she said. She's hoping the Democrats take back at least one house of Congress.
In Wilkes-Barre, Beth Vell and Gloria Lombardo Trocki, members of the Wyoming Valley Women's Club, say they're true swing voters too. They're waiting for a ride home from the club's monthly meeting at a hotel in downtown Wilkes-Barre, and they react enthusiastically when asked if they can feel Luzerne County's split personality, how it's wavering between Democrats and Republicans.
"When we're voting, we really want to swing. We don't really know what to do," says Vell, while Lombardo Trocki nods her head and tosses in a supportive, 'Yes.'
Both women like current Democratic Gov. Tom Wolf — "He's polite, very gentleman, very family-oriented," said Lombardo Trocki.
They also like Democratic U.S. Sen. Bob Casey — "Nice family, Casey family."
And at the same time, they support President Trump's agenda — "Oh, support him, yes, support him."
Casey has become an outspoken opponent of  Trump, but that hasn't swayed their vote.
"Bob Casey is taking care of us, our state," said Vell. "But he has the right to have his opinion."
Statewide, the opinions of Pennsylvanians have been flipping a lot lately — they elected a Democratic governor in 2014, a Republican president in 2016.
And this year? It may come down to whichever bubble is more motivated to head to the polls.
—
Laura Benshoff contributed to this report.
WHYY is your source for fact-based, in-depth journalism and information. As a nonprofit organization, we rely on financial support from readers like you. Please give today.