In Bucks County debate, Fitzpatrick and Wallace spar over who's the real centrist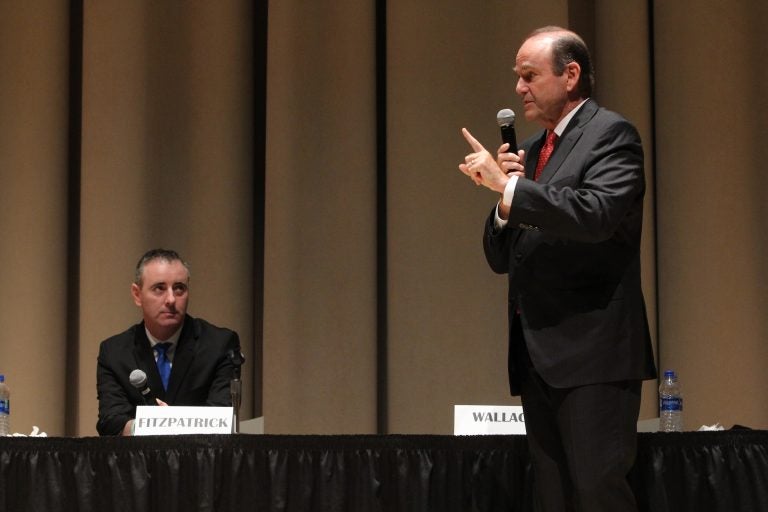 The two candidates in the nationally watched congressional race in Bucks County met for a sharply contested and substantive debate Friday morning in Doylestown.
Republican U.S. Rep. Brian Fitzpatrick and Democratic challenger Scott Wallace both said they're committed to preserving Social Security and ensuring health coverage for people with pre-existing conditions.
They differed sharply on the effect of the Trump tax package, which Fitzpatrick backed and touts on the campaign trail.
Fitzpatrick said it's helping spur economic growth, while Wallace said it was a giveaway to the rich that is driving up deficits.
A key point of difference was whether Fitzpatrick is a true centrist in Congress.
Repeatedly citing his participation in the Problem Solvers Caucus in the U.S. House, Fitzpatrick said he's proved himself in national ratings from the bipartisan Lugar Center
"You have the No. 1 most independent freshman congressman in the nation," he said, "that has managed to get both the AFL-CIO Working Families endorsement and the Chamber of Commerce."
Wallace said on votes that count, Fitzpatrick is a Trump Republican.
"We have someone who says he's a problem solver, but votes with Donald Trump 84, 85 percent of the time," Wallace said.
Fitzpatrick also repeated a challenge he's made in the past — he will release his tax returns if Wallace, who is independently wealthy, does the same.
Wallace reacted with some irritation.
"I'm getting tired of this stunt that he pulls, to challenge the release of tax returns," Wallace said. "He has voted 18 times to prevent the release of Donald Trumps tax returns."
In an interview after the debate, Wallace said if he released his returns, Republicans would pore over every detail of his investments, seeking to raise some controversy to distract voters from the issues in the campaign.
Wallace has invested more than $8 million of his family fortune into his campaign.
Fitzpatrick has benefited from more than $5 million in Republican and conservative super PAC spending.
Polls show the race close in what's regarded as a key swing district in the battle for control of Congress. While the district elected Fitzpatrick in 2016, Bucks County also narrowly voted for Hillary Clinton over Donald Trump.
The debate, sponsored by the Central Bucks Chamber of Commerce and the Bucks County League of Women Voters, took place on the campus of Delaware Valley University.