Improving development through preservation
Nov. 12

By Thomas J. Walsh
For PlanPhilly
If it's true that the death of every gilded age begets a new progressive era, one could argue that was evident in the inauguration earlier this year of a moderate Democrat as president of the United States, and a man of color at that.
But when it comes to a much broader political pitch, such as historic preservation, the adage becomes a trickier question. Are vehicles such as historic tax credits for development, and tax abatements (which have helped preserve many Center City Philadelphia buildings), a part of our last gilded age or promising signs of a new progressive movement for the "built environment"?
Perhaps they are both, current thinking suggests. "Today, restored houses, monuments, and historic parks are regarded as 'natural'; they are as much a part of a modern city's environment as public buildings, clean streets, mass transit, tall buildings, and so on."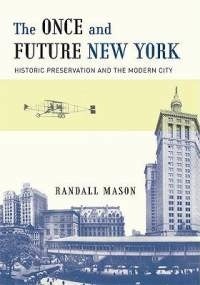 So writes Randall Mason in the conclusion of his book, "The Once and Future New York: Historic Preservation and the Modern City." Mason, an associate professor of historic preservation and city planning at Penn's School of Design, was the guest speaker Wednesday night at the Philadelphia Center for Architecture, discussing his book, published this year by the University of Minnesota Press.
It was the third in the Penn Institute for Urban Research "Fall 2009 Urban Book Talk Series." Previous events featured volumes by Peter Hendee Brown ("America's Waterfront Renewal") and Jon Calame ("Urban Partitions Along Ethnic Lines").
Modern preservationists and developers, though, are "constrained from being as ambitious and as wide-ranging as these characters were at the beginning of the 20th century, partly because there are so many institutional and political and policy barriers," Mason said during his presentation. "It is just materially more difficult to achieve those sort of cross-sector, cross-field connections."
Nonetheless, Mason said that people working in and around the built environment "regard things like rehabilitation tax credits, and tax abatements, and other sorts of financial incentives as some of the most successful that preservationists have done, especially in the past 50 years."
Mason added that tax incentives have also had a big impact on the layman. Doing well by doing good is attractive to "a large group of people who love artful architecture, but they are not scholars of it, they are not purists," Mason said. "But they think it's a good economic opportunity because it has character, it exudes character. So that might be regarded by preservationists with a capital 'P' as a weak argument, but the public regards it as charming. So it's a little bit [considered as] a 'hazard of our success.'"

Preserving through growth
Around the turn of the 20th century, preservation was not merely a hobby of upper-crust bluebloods, Mason writes in the new book. "As with most strains of Progressivism, preservation sought the 'improvement' of cities and citizens and traded on environmental determinism as the mechanism of reform: creating better society and better citizens by creating better environments. … Preservation's most important and forgotten pioneers were the leading city builders and public leaders of the era – as much professionals as well-to-do elites."
Mason's book looks in-depth at three examples of the early era of preservation in New York: one success (City Hall Park), one failure (St. John's Chapel, at the mouth of what is now the Holland Tunnel), and one successful development (the Bronx River Parkway) that destroyed dozens of ethnic enclaves, communities and farms in order to "preserve" the prior natural setting, via the first modern automobile highway.
One theme – that preservation is not, as many see it, a necessarily conservative pursuit ("conservative" in the strict sense of the word, as opposed to the Rovian sense), is woven throughout the book. His concern is that the preservation of important, beautiful or vital structures and landscapes (or all of the above) not be perceived as a kneejerk reaction to change, but rather a catalyst for a more progressive means of change.
"Preservation was part of the same vision that included skyscrapers, extensive subways, a large government, and a newly regulated society, not a reaction against it," Mason wrote in July, on Rorotoko, a somewhat highbrow Web site featuring articles from authors at nonfiction and scholarly presses. "This calls forth some very interesting and important characters in New York's history, otherwise lost to our memory…"
In that loss, there's an irony, he argues. Mason remarks that, "Historic preservationists have a surprising lack of curiosity about the history of their own practice and field" – yet another reason for his writing the book. "They lack the self-critical gene," he said Wednesday night.
The real city of neighborhoods?
Two Philadelphians who know plenty about preservation here seemed to agree. And while both (along with Mason) acknowledge it's difficult to compare New York City with Philadelphia in this vein, there are undeniable divisions, they say.
"I work a lot with the Historic Districts Council in New York, and there seems to be a very strong interest in neighborhood groups using preservation as a tool," said John Gallery, executive director of the Preservation Alliance for Greater Philadelphia, in a conversation before Mason's presentation.
"There are a lot of neighborhood historic districts in New York that are organized on their own, completely separate from the major preservation organizations, and they seem very effective," Gallery said. "We haven't had the same neighborhood understanding."
Mark Alan Hughes, Penn School of Design senior fellow and former city deputy mayor for sustainability, had a theory on that.
"Part of what makes Philadelphia special is you've got a bunch of individual nondescript buildings that, together, create amazing streets and neighborhoods," Hughes said. "Making the preservation argument at that scale is a lot harder to do, because it doesn't align who owns individual buildings with who values whole neighborhoods."
Another difference is among the moneyed classes in each city, Gallery said.
"The New York Landmarks Conservancy is a very social, arts-and-culture type of organization, like being on the [Philadelphia] Orchestra board here," Gallery said. "Their concern has generally been … the big, individual important things that you can really rally people around.
"Most of our interest in preservation really has more of a real estate orientation to it. Preservation in Philadelphia doesn't have that arts-and-culture pizzazz that it does in New York. But the big real estate developers all understand the value of preservation."
Added Hughes: "Philadelphians have a hard time seeing the value of preservation because they are so completely surrounded by historical fabric. It seems so familiar, and because of the much lower level of development activity here, generally, it's a lot easier to kind of think the highest good is always going to be the new construction – or what might be [developed] on a site, rather than what is there now."
The memory infrastructure
"Memory" is an enormous part of the framework of "The Once and Future New York." Mason posits that memory, in fact, has a veritable "infrastructure" that informed the early days of New York's preservation movement (the book spans the 30-year period from 1890 through 1920), and his first chapter is entitled, "Memory Sites: Buildings, Parks, Events."
The "early-twentieth-century legacy of historical consciousness, preserved places, and preservation was a signal contribution to city building," Mason writes in the book's introduction. "It brought balance to the modernizing city."
That legacy made possible the preservation movement concerning New York's Penn Station when it was threatened with the wrecking ball in the early 1960s. The subsequent destruction of that landmark is an important reason this book exists. The notion that the modern preservation movement can trace its roots only back to 1963 and the outcry over the Penn Station's destruction is patently false, Mason argues, convincingly.
Mason takes the infrastructure metaphor further by comparing his subject to an actual element – a kind of fiber, or "alloy." Again, writing on Rorotoko: "Preservation doesn't give the city its overriding shape and tenor; it's not a driving force. But the few places stewarded and created by preservationists work as an alloy for modern cities: adding a minor ingredient, they make cities stronger and more robust."
Though he does not mention it in his book, his point here is perhaps well made by the building of the Beaux-Arts Grand Central Station, which took place in the midst of the period that Mason writes about. (Grand Central is not mentioned in the index; I did not read the entire text.) The original, Victorian style Grand Central headhouse and station were demolished in 1901. The new terminal, completed in 1913, was given landmark status in the aftermath of the Penn Station demolition.

In his elegant insistence on preservation as memory "infrastructure" and "the modern city as a cultural construction as well as a built environment," Mason's book is well timed. His argument that preservation is one of several means of properly ensuring future development is articulated at a time when city living and urban consolidation – by fashion and by necessity – are burgeoning. From the McMansions of a decade ago and their suburban tract predecessors have emerged a generation arguably more interested in living in a converted Center City factory or warehouse than on a cul-de-sac accessible only by the interstate.
"The Once and Future New York" also comes at a time when architecture, development, design, city planning and zoning professionals are communicating in concert as never before. This is true if only out of a shared interest in the environment and the preservation of capital (land, currency, intellectual) and the promise of a genuine return on investment (hip kids want to live in green buildings, ergo, developers build green buildings).
Examples abound, but who would've thought that the topside of an old, forgotten rail line, in the midst of a worn East Side neighborhood of Manhattan, would become one of the sexiest spots in town in 2009?
The wrecking balls of the world will continue with their work, but hopefully not often in a manner that renders a site, or a town, "barren of historic character," with "all familiar connections … gone," as John Guinther wrote in his 1996 book, "Direction of Cities" (with a foreward by the late Ed Bacon).
"This is not to say that buildings should be saved solely because they are old and familiar," Guinther wrote in a chapter entitled "The Architecture of Connection." "A city's physical plant needs changes as the needs of the citizens, of commerce, of government, change."
Mason is also the co-author of "Giving Preservation a History" (published in 2004). He has worked at the Getty Conservation Institute, University of Maryland, and Rhode Island School of Design.
With his new book, Mason has identified and chronicled only one defined time and place for the origins of historic urban preservation, but it is a fine place to start a study of the converging pathways that are shaping urban preservation and development in 21st century cities.

Contact the reporter at thomaswalsh1@gmail or www.thomasjwalsh.info.
ON THE WEB:
Nov. 12 (tonight) event, "Eastern State Penitentiary – An Introduction to Preservation for Working Professionals," sponsored by Drexel University's new Leading Edge Historic Preservation Network: http://www.planphilly.com/event/eastern-state
Dec. 8 Preservation Alliance event, "The Past is Our Future: Historic Preservation and Sustainability": http://www.planphilly.com/past-our-future-historic-preservation-and-sustainability
Mason's Rorotoko essay: http://www.rorotoko.com/index.php/article/randall_mason_book_once_future_new_york_historic_preservation_modern_city/
More on PlanPhilly: Search for "Preservation Row" and the new "Look Up" features (http://www.planphilly.com/look-modernist-trove-northeast-philly)