Sewing skills help HomeFront clients build new lives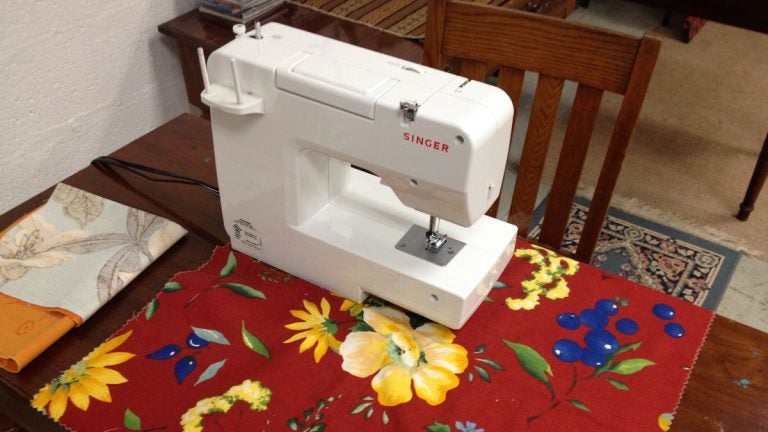 Remember sewing?
It used to be a required course for girls. Then, somehow, during gender equalization in education, sewing got dropped.
Most of the clothing we wear is sewn overseas, and hemming and button sewing is often sent to the tailor as sewing becomes a lost skill. A generation of sewers has been giving away old Singers, Kenmores, Brothers and Berninas.
This represents an opportunity for HomeFront, the nonprofit organization based in Lawrence Township that helps provide shelter, job training and life skills to help homeless people get back on their feet.
When a section of HomeFront's facility near the Brunswick circle became available this year, Ruthann Traylor, who runs an art program for HomeFront, jumped at the chance.
SewingSpace is in the same building as HomeFront's "free store." Trucks deliver donated goods that staff and volunteers sort into bins. During a recent visit, trucks were unloading home furnishings. The meticulously organized warehouse looked like an antiques store with tables and chairs, beds, shelves of kitchen appliances, dishes and more. HomeFront clients "shop" at the free store to furnish their new homes.
"We take the furniture no one wants and use it for SewingSpace," said Traylor. "Stuff that may look ugly at first, we'll paint it and make it fun. We're teaching them to be creative and recycle. The goal is to create a homey feel."
Among the many donations have been sewing machines, some in finely wrought mahogany cabinets, and sewing notions – thousands of zippers and snaps, spools of thread and pin cushions. "It's like the museum of sewing," said Traylor.
On November 15, SewingSpace will host an open house. Visitors are invited to tour the facility, where handmade items will be for sale. Some of the clients will model clothing they have made, and artists will talk about their work. There will be light refreshments and jazz.
"It's empowering for our clients to have nice things they've created," said Traylor. "We're trying to teach life skills, focus, problem solving, math and money management skills. It's nice to see them build self-esteem as they build amazing products. They are making money and learning the business aspect, and they can take away a skill, be it to make a hem or children's clothes. Volunteers help to set up their apartment, and work with colors and paint and measure their windows for curtains. We teach them that you don't need a studio, your creative space can be at the kitchen table."
JoAnn, a woman with a blond pageboy, lost her home to fire. She and her 15-year-old daughter moved to a garden apartment with her parents, but when JoAnn's mother had to be put in a nursing home, the family could not afford the rent and the nursing home and JoAnn and her daughter moved to HomeFront's residential facility.
She is about to start a temp job at ETS, doing data entry and phones. She and her daughter have moved into a one-bedroom apartment. JoAnn is learning to sew, practicing on the machine, and starting to make bags. "Just do it," she says is the best advice she was given.
The women who come here to sew make purses, pouches and curtains for their kitchens. They make pillows, tablecloths, runners, and reupholster stools. Some are learning to make diaper bags and changing table pads.
Inkyung Yi of Princeton volunteers two to three times a week. Having majored in home economics with a concentration in textiles at Ewha Women's University in Seoul, South Korea, Yi is creating practice sheets on graph paper that can be sewn onto muslin. The clients' personalities are interesting to watch as they interact with the machine, says Yi. "Some prefer working on crochet so they don't have to deal with a machine. I try not to pressure them – whatever they feel good about."
Carine Fram, a native of South Africa, ran a similar sewing program in her home country. A computer scientist by training, she is a long-time HomeFront volunteer. "I have always made my own clothes because our parents were so poor," said Fram, who is making aprons from donated fabric.
A file box includes instructions on how to make a belt, machine stitches, metric conversion and fittings. "We have a big need for people to service the machines that are donated," Fram said. "To fix the tension or replace belts."
Senior citizens from Trenton come to hone their skills. Anyone is welcome to join the volunteer community, and there are no borders between teachers and students, volunteers and clients – all are welcome.
Kim, for example, started as a client but has learned to sew so well, she helps teach others. She is able to design what she wants and measure it on a dressmaker's form. Each fabric tells her what it wants to be, and she helps other clients learn to choose the right fabric for the right project.
Ada, a retired state worker, used to run a vintage clothing and jewelry shop with her sister in their Mount Holly home, and taught herself to sew a year ago. She takes out an iPad to show glamorous evening attire she has made for herself and family members. "I love fashion," she said. "I just set the fabric on the floor and make a suit."
An ordained minister, Ada learned about SewingSpace from her daughter who had been a client. "It's like a sewing paradise here," she says. "My problem is zippers. I want to learn to make zippers." Both her grandmother and great grandmother sewed. She flips to a photo of a white lacy outfit she made for a pastor's wife.
"If a mother learns to sew here, and if she sticks with it, we will give her a sewing machine to take home and continue her success," said Traylor.
SewingSpace will hold an open house at its facility at 1880 Princeton Avenue, Lawrence (near the Brunswick Circle), Nov. 15, 10 a.m. to 3 p.m. Handmade items will be for sale, and sewers will model their creations. There will be light refreshments and jazz. HomeFront needs volunteers to help repair donated sewing machines. http://www.homefrontnj.org/
_____________________________________
The Artful Blogger is written by Ilene Dube and offers a look inside the art world of the greater Princeton area. Ilene Dube is an award-winning arts writer and editor, as well as an artist, curator and activist for the arts.