How South Street West became a bike-ped haven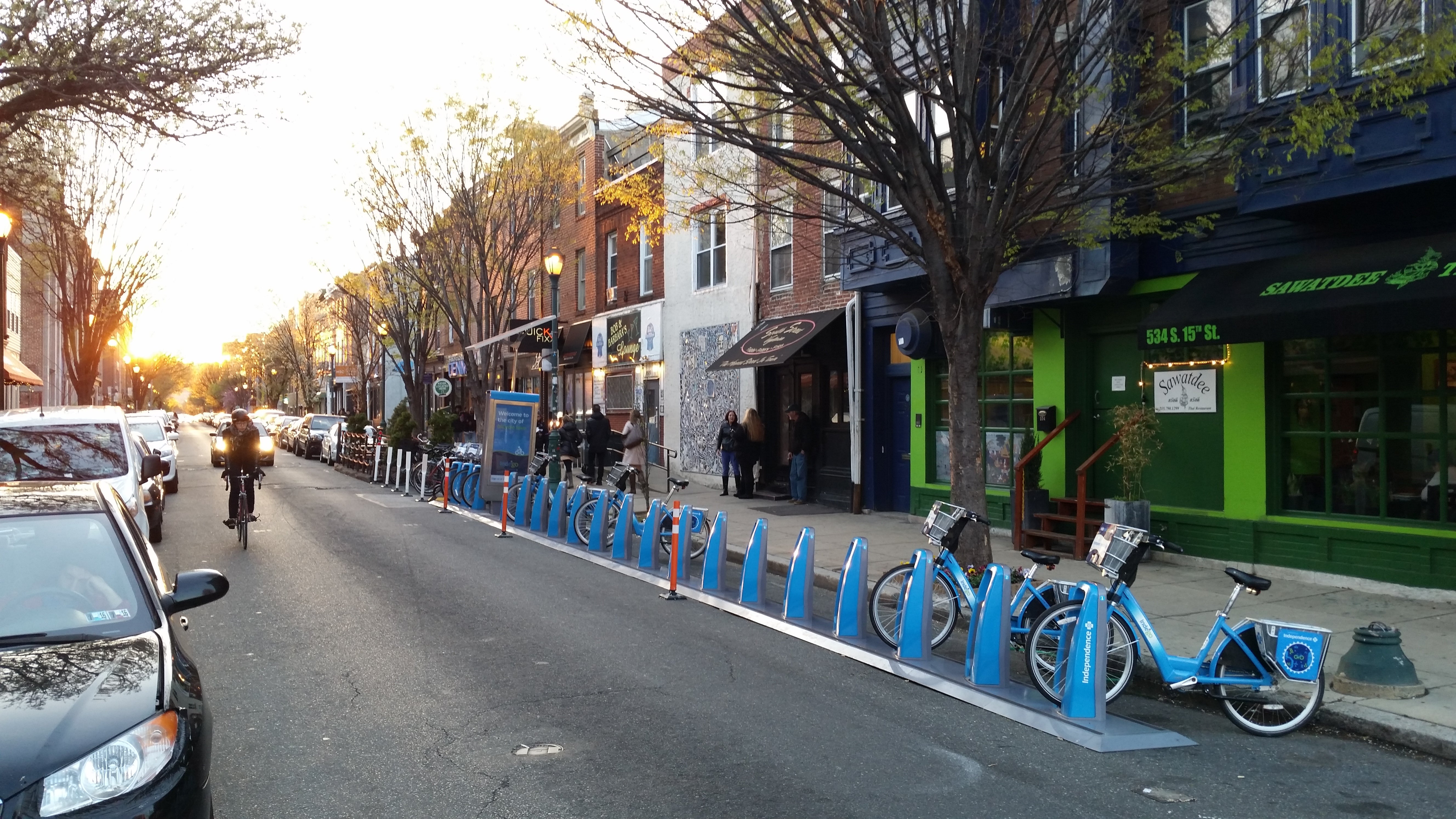 A handful of in-street parking spaces on South Street West have been converted to support bike and pedestrian amenities instead of cars. Community Contributor Marcus Ferreira of the South Street West Business Association explains how the 1500 block of South Street became a showcase for these projects and why businesses support the change.
Friday, with the introduction of a 19-pod Indego bike share station, South Street West now boasts a trifecta of on-street bicycle and pedestrian facilities, possibly unmatched anywhere else on the streets in this city of brotherly parking.
Behold!
South Street West's bike/ped trifecta: Parklet, bike corral, Indego station | Marcus Ferreira

(Marcus Ferreira)
Now joining the seasonal pedestrian parklet at The Quick Fixx (reinstalled earlier this week) and the recently completed six rack custom bicycle corral at Bob & Barbara's, is an Indego bicycle share station—all in exchange for five on-street parking spots.
Repeat, a parklet, bike share station, and bike corral all in exchange for five parking spots.
How did we beat the narrative that streets are for cars? Folks, this did not happen overnight.
I have served on the steering committee of the South Street West Business Association (SSWBA) since 2012, during which time we have supported the fruition of The Quick Fixx Parklet (Matt Levinson, the proprietor, is also a board member). We have also played a role in the creation of The Plaza at The Grays Ferry Triangle (located at the intersection of 23rd Street, South Street and Grays Ferry Avenue), the Bob & Barbara's Bicycle Corral, and providing support for The PHS Pop UP Garden on the 1400 block of South Street).
In the years predating my tenure on the board, SSWBA advocated for the conversion of permit parking spaces along most commercialized blocks of the corridor to metered parking spaces to encourage higher turnover of the parking spaces to accommodate the customers of our businesses. Not only does this make sense facially, it also laid the groundwork for converting five of those spaces on the 1500 block of South Street into a bike-ped haven. Nearby residents do not have the same sense of "ownership" over those metered spaces and therefore do no protest quite as hard when those spaces are converted to non-vehicular uses.
In 2012, when the first iteration of the parklet was installed on the 1600 block of South Street, in front of Pumpkin Market—thanks in large part to the efforts of our allies at South of South Neighborhood Association and the then-Mayor's Office of Transportation and Utilities (MOTU, now OTIS)—it provided an exemplar to our neighboring businesses that not only does on-street pedestrian infrastructure help the business that it is directly appurtenant to, the entire block becomes a magnet for customers.
A similar lesson was learned during the conversion of the Grays Ferry Triangle from an underutilized axis off of South Street, which provided even more evidence to businesses along the corridor that increasing pedestrian space is beneficial. When an Indego bike share station was introduced there in 2015 (removing three parking spaces) the plaza became even more successful with the activity generated by 26,000+ trips at that station since its inception. Businesses took notice.
Jack Prince, who owns Bob & Barbara's (1507-09 South Street) did not need any convincing to replace a single car parking spot for a six rack bicycle corral in front of his establishment, where the front railing was often the scene of bicycle pile ups due to overwhelming thirst from a bicycle riding clientele in demand of "The Special" (can of PBR and a shot of Jim Beam).
Recognizing the need, I began the process of preparing and submitting the required paperwork to install a bike corral, but for various reasons it took several years for the process to unfold. The core portions of the corral were finally installed in January 2016. Since then, taking a cue from the music note bike racks found at The Curtis Institute, through the creative use of some unused Neighborhood Transformation Initiative funding coordinated through Councilman Kenyatta Johnson's office, we installed jazzy music note bike racks to serve as decorative end caps within the corral to celebrate the musical heritage of South Street West—with Bob & Barbara's Lounge continuing the tradition.
(Jim Saksa/PlanPhilly)

The Quick Fixx parklet, 1511 South Street
The new Indego Bike Share station was just installed, ahead of schedule, joining the bicycle corral and parklet—completing the alternative transportation infrastructure trio.
Initially, Tony Inchote, the proprietor of Sawatdee Thai Restaurant hesitated when presented with the idea in January 2016, because the proposal would eliminate the remaining three parking spaces on the north side of the South Street towards 15th Street—along Sawatdee's entire frontage, making loading access challenging.
SSWBA attempted to address this concern by offering to help sponsor a loading zone on his 15th Street frontage, which he agreed to within ten days. Ultimately though, over cordial beers with Matt Levinson of The Quick Fixx, Mr. Inchoate agreed that with or without loading, the Indego station and its many thousands of future users will be good for business. So he dropped even the loading zone condition, leading the way towards fast tracking the project, thanks to amazing work by Streets, OTIS and Indego.
Now that we've built it, will you come?
Please help prove these forward thinking business owners right that 19 Indego bike share pods, six bicycle corral racks and a parklet are of far greater benefit than five vehicular parking spots.
WHYY is your source for fact-based, in-depth journalism and information. As a nonprofit organization, we rely on financial support from readers like you. Please give today.