Holy Family students celebrate Pi Day with pie-eating contest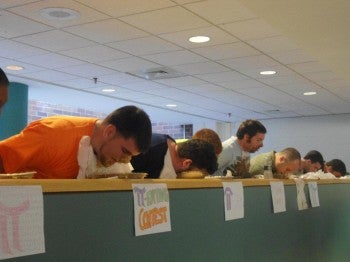 What better way to celebrate Pi Day, than diving head-first into delicious pudding pies? That is exactly what math enthusiasts from Holy Family University did March 14 (National Pi Day), to share their love for the history of the mathematical symbol .
Pi, the symbol for the ratio of the circumference of a circle to its diameter (3.14), was recognized as a national holiday by the House of Representatives in 2009, and has been celebrated annually ever since.
Using this day as a chance to explore the fun side of math and science, teachers and students across the United States hold different activities. The Pigers, Holy Family's Math Club; and Kappa Mu Epsilon, the Math Honor Society, hold a pie-eating contest every year to celebrate Pi Day. This year, 10 Holy Family students participated in the contest, with a $25 Wawa gift card as the prize.
Winning for the third time in four years, Bear O'Driscoll beat nine other students for the title of Pi Day champion. O'Driscoll ate his pudding pie first, before anyone else, and was awarded with the gift card. The Holy Family Pi Day pie eating contest is a student favorite.
"This is my third time I've competed in the pie eating contest and everytime it's been a blast. Thanks to the Holy Family Math club for putting together another successful Pi Day celebration," O'Driscoll said.
Michelle Green, Pigers secretary and event organizer, said she hopes that more people will celebrate the holiday.
"I don't think too many people, besides math nerds, know that this day exists," Green said. "But everybody learns basic algebra, so everyone has the potential to make this holiday bigger next year."
Matthew Flowers is a student reporting for Philadelphia Neighborhoods, the publication of Temple University's Multimedia Urban Reporting Lab.