Holme Circle business owner helps keep Pennypack Park beautiful
Last Saturday, the Friends of Pennypack Park and neighbors from Holme Circle presented a Certificate of Appreciation to Andrew Ungaro, owner of Bel Air Automobile at 3301 Welsh Rd.
For the past several years, Andy has generously maintained a beautiful flora display across from his business at the entrance of Pennypack Park, Welsh Road and Cresco Avenue.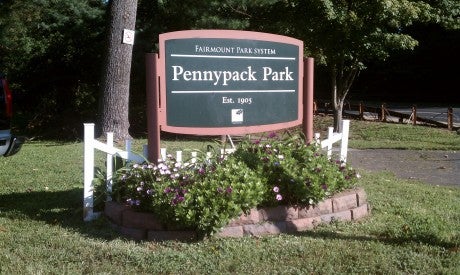 Friends of Pennypack Park often recognizes residents who go out of their way to keep their neighborhoods looking beautiful. Last month, the group honored Joe Little of Mower Street in Holme Circle. Little spends much of his time cleaning up the litter in the neighborhood's slice of Pennypack Park.
FOPP clean-up and recycling events can be found on NEast Philly's calendar under the Community Meetings category.
Elsie Stevens lives in Holme Circle and is a member of the 8th Police District Advisory Council, Holme Circle Civic Association, Friends of Lower Dublin Academy and Friends of Holmesburg Library. You can see all her NEast Philly contributions here.