Historic Delaware tall ship won't be sailing into Lewes this year
Listen
1:48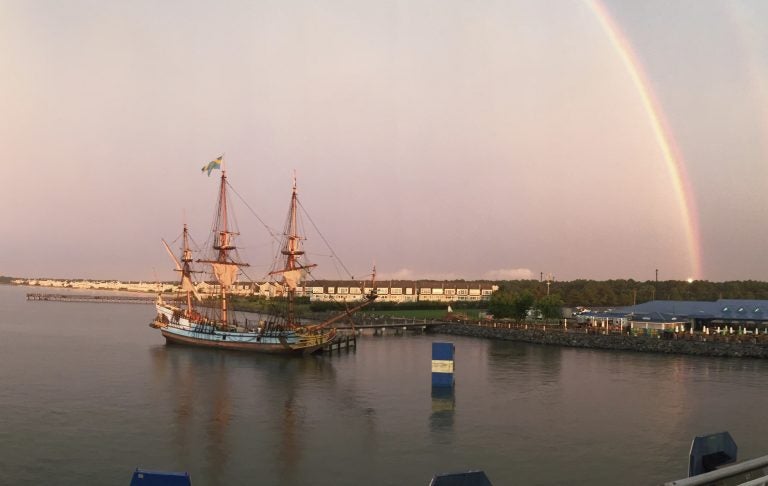 Delaware's Kalmar Nyckel tall ship has been a summer attraction in Lewes for almost two decades.
Thousands of Lewes residents and tourists sail on the tall ship each summer. Hundreds more admire the soaring sails as they pass the replica of the ship that brought Swedish settlers to the area in 1638.
"It's adventurous, too, to be on a ship like this," said Cathy Parsells, executive director of the nonprofit Kalmar Nyckel Foundation. "You can help haul a sail and sing some sea shanties."
But the "floating classroom" can no longer sail into Lewes, thanks to Mother Nature.
Accumulating silt deposits — a combination of organic or inorganic particles — again will prevent the ship from berthing at the public dock, which is mostly used by private boats.
Chris Sommerfield, a professor of oceanography at the University of Delaware, said silt is common at harbors or docks. In estuaries, the moving tide creates turbulence, suspending silt particles, and propelling them to the calmer shoreline waters.
Dredging is the only solution to bring the tall ship back to the Lewes dock.
But neither the foundation nor the Delaware River and Bay Authority say they can afford the $3 million to undertake that effort, Parsells said. Unless another funding option becomes available, another Lewes sail is not likely.
Public sails still are available in Wilmington and Historic New Castle said Parsells, removing Lewes as a port of call is disappointing.
"We're all disappointed because we like to be in that strong tourist market in the state of Delaware, and we know we add a lot of value to that tourist piece," she said.