Delaware updates sea level rise planning scenarios
The First State is at greater risk for sea level rise because of its low-lying topography. The state now has new metrics to project the impacts of climate change.
The First State is at greater risk for sea level rise because of its low-lying topography. The state has new metrics used to project the impacts of climate change in the state.
At the mouth of the Delaware Bay, the town of Lewes stands on the front lines of Delaware's battle with sea level rise. Since 1900, the Lewes tide gauge has recorded a nearly 16-inch increase in sea level according to the Delaware Geological Survey. That's about twice the rate of the global mean sea level rise.
As state leaders plan for how that rising water will impact infrastructure in beach towns like Lewes, they're also trying to ensure they have access to the most accurate predictions for how far the water will rise, and at what speed.
On Monday, the Delaware Geological Survey presented newly updated sea level rise planning scenarios at a summit in Dover. "The numbers in the end result really didn't change that much from what the previous report presented, they're in the general ballpark," said David Wunsch, DGS director. "It's a methodology that's more widely accepted."
The new planning methodology provides a more complete assessment of potential sea level rise through the year 2100. The new approach also assigns the likelihood of various scenarios as low, intermediate or high, allowing planners to plan for minimum impact and worst case outcomes.
Delaware could see a five foot increase in sea level under the high scenario using the new methodology. The low scenario predicts a 1.7 foot increase, and the intermediate scenario shows a 3.25 foot rise.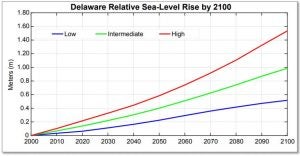 In 2013, then-Governor Jack Markell signed an executive order establishing a cabinet level committee to focus on climate change and resiliency. That committee created the Climate Framework for Delaware, which was made up of 155 actions state agencies could take to prepare.
A progress report was issued in 2016 highlighting the state's progress on reducing emissions and making the state's infrastructure more ready to deal with rising sea levels. That progress includes things like more water rescue training for the aviation unit of Delaware State Police and helping beach towns develop plans to handle higher sea level.
This video shows the highlights of the updated sea-level rise planning scenarios from Delaware Geological Survey and Delaware Department of Natural Resources and Environmental Control.
WHYY is your source for fact-based, in-depth journalism and information. As a nonprofit organization, we rely on financial support from readers like you. Please give today.