At Hershel's East Side Deli, record-breaking breakfasts and longtime traditions
Reading Terminal Market is a ghost town at 5 a.m., but Jhovani "G" Posada has already been prepping for a half an hour for a big day at Hershel's East Side Deli.
Posada usually arrives around 6 a.m., but on March 3—the first day of the Philadelphia Flower Show—there is much more to be done. On a typical day, the Kosher-style deli will go through 300 to 500 pounds of meat, but on this special Saturday, co-owner and head chef of Hershel's, Andy Wash, has prepared more than 1,200 pounds of meat.
This includes 500 pounds of pastrami, 500 pounds of corned beef, 140 pounds of brisket, and 110 pounds of turkey. The first batch goes into the oven at 3 p.m. Friday and includes 100 pounds of corned beef and 10 pieces of pastrami, each weighing 4 to 9 pounds.
"That's just for breakfast," Wash says as he loads the store's ovens in the back of the market. "I'm looking to do a record breaking day, and next Saturday I want to beat that record."
Around 6 a.m., the rest of the Hershel's crew shows up, and that's when the rest of the store gets prepped for the influx of orders, which starts at precisely 8 a.m. But before the rush begins, the six-man crew sits down for breakfast.
"Saturday is our busiest day, we like to sit down and have a family breakfast. This is our last break until 7:30 p.m.," Wash explains as he finishes up his scrambled eggs. He's not exaggerating.
The morning is steady as customers come through and order breakfast sandwiches. The crew finishes wrapping up pickles or slicing cheese. By 11 a.m., a steady line starts to form.
"This place is amazing; there's so many options," one overhears as patrons wait for their turn to order. By noon the line wraps around the deli and curves around their counter space, which also has a line for people wishing to sit down and eat at the old-fashioned counter top.
Vincent and Dianna Deeney, of Phoenixville, find space to sit at the counter. It's their first time at Hershel's. The couple came into the market for some breakfast before heading into the Philadelphia Flower Show. When he saw brisket on the menu, Vincent turned to his wife and said "yup, we're eating here." He sees himself as a sort of brisket connoisseur and never gives up an opportunity to try someone else's recipe. He was not disappointed, "it's excellent, top notch. And it's hitting right where I need it."
Wash and co-owner Steve Safern went through hundreds of pounds of meat before landing on the right meat rub. They were able to take cues and lessons from the famous Katz Deli in Manhattan where the deli's namesake, Safern's uncle Hershel, worked as a chef for more than 40 years. Steve decided he wanted to honor his uncle and his heritage and open his own Jewish-style deli in his hometown of Philadelphia.
But not just any location would work. He wanted space in the famous Reading Terminal Market. In the mid 1990's he proposed the idea to his former Temple University college roommate, Wash, and they got started.
Wash grew up in the restaurant business, beginning at age 12 working at Nathan's Hot Dogs on Coney Island and eventually owning restaurants of his own. Together they worked on the recipes they would bring to their deli, using recipes that had been passed down from each of their families and lots of trial and error.
Finally in 2005, a space opened up inside the market and the pair set up shop. Their deli quickly became a go-to spot for meat lovers from all over.
"Being able to share the foods you grew up with and see and hear the responses of reactions, it's never boring. We're thankful and lucky," Safern says as he looks around his space. "If I reach one person's soul in a day, whether it be food or mind, that's a successful day. We do mitzvahs every day."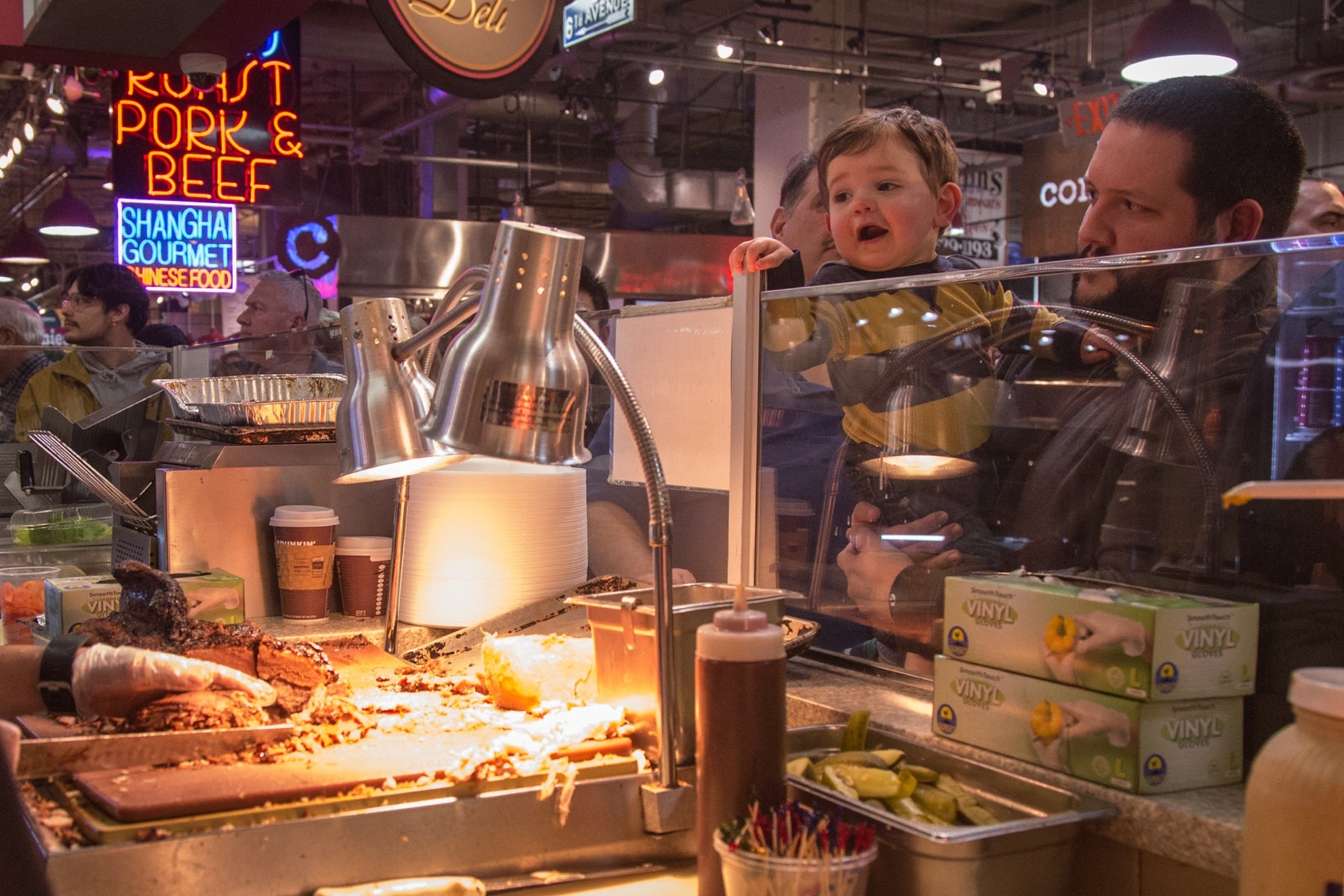 After 3 p.m., the line begins to dissipate and the rush dies down, giving the deli workers a breather before the dinner rush.
"I'm always ready for these days," Posada explains as he preps a sandwich. By the end of the day, the deli has gone through nearly 1,500 pounds of meat, meaning meat was prepped on the fly as the demand exceeded Wash's doubled preparations.
The shop closes at 7 p.m., an hour later than a typical Saturday. The crew goes out for some well-deserved drinks and then home to bed to prepare for another 6 a.m. call time.
Scroll through the gallery below for more mouthwatering photos.
Patrons line up to pay as their sandwiches are readied. (Emily Cohen for WHYY)

Ian McClendon, 23, finishes up a sandwich as two patrons look on longingly at their lunch. (Emily Cohen for WHYY)

A time list hangs in the deli to keep track of the cooking times of each of the store's meats throughout the day. (Emily Cohen for WHYY)

Head chef, Andy Wash, prepares some omelets as Ian McClendon, 23, sneaks in behind to refresh his cheese supply. (Emily Cohen for WHYY)

Russell Grasso, 23, arrives at 6am with some much needed coffees in hand for each of the deli workers. (Emily Cohen for WHYY)

The soups are made each morning, chicken noodle is a deli staple. Like everything else, the soups are also doubled in preparation for the anticipated influx of customers coming from the first day of the Philadelphia Flower Show. (Emily Cohen for WHYY)

G pours out some of the juices from the Pastrami which has been in the oven since 3pm the day before. (Emily Cohen for WHYY)

70 loaves of bread join the oven fresh meats on the counter of Hershel's as the morning prep continues. (Emily Cohen for WHYY)

It's 5am and Jhovani "G" Posada, 37, removes the cooked meat from their ovens to prep them for the morning rush. (Emily Cohen for WHYY)

Pans of Pastrami sit on the countertop waiting to be placed into an oven. In anticipation for an influx of customers from the Flower Show, Hershel's East Side Deli has doubled their meat preparation. (Emily Cohen for WHYY)

A market patron watches as Andy Wash, right, brings up six double pans and four single pans of Pastrami which has been cured in-house in the market basement, as Nate Ventura, behind, follows behind with an extra oven which will be placed inside the deli to help accommodate the demand in preparation for the anticipated influx of customers coming from the first day of the Philadelphia Flower Show the next day. (Emily Cohen for WHYY)

Andy Wash, center, brings up six double pans and four single pans of Pastrami which has been cured in-house in the market basement, as Nate Ventura, left, follows behind with an extra oven which will be placed inside the deli to help accommodate the demand in preparation for the anticipated influx of customers coming from the first day of the Philadelphia Flower Show the next day. (Emily Cohen for WHYY)