Heart Conditions: Gaining understanding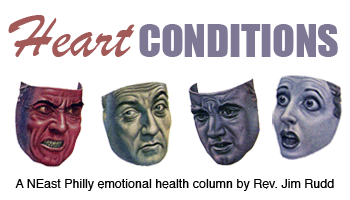 This will be Rev. Jim Rudd's final column for NEast Philly. We wish him all the best as he focuses his attention on his True Vine Church Community in Wissinoming.
Have you ever met a person who has opinions on every topic under the sun, whether they are informed or not? Or maybe a person who dominated every conversation so that no one else could get a word in?
Have you ever had to settle conflict with a person who seemed more interested in being heard than listening? Have you ever been that person? I have.
There is an old Jewish proverb that says, "A fool takes no pleasure in understanding, but only in expressing his opinion."
According to this proverb, I have known many fools and at times have played the role of the fool. One of the reasons that people fall into this kind of foolishness is because we all have a desire to be known, or understood. We share our thoughts, opinions, desires and dreams with people because we all have a longing to be understood by others. This a legitimate need that every person has – it has to do with a need for intimacy. However, we can get out of balance when our desire to be understood is not coupled with a desire to understand and know other people.
The primary solution to this imbalance is to be a person who seeks understanding. Try asking questions before making statements. Try to gain clarity on a matter before making a judgement.
I have found that asking questions and seeking clarity on an issue is a huge help when trying to resolve conflict. Most of the time the two parties in conflict are closer in opinion than they think. This practice also helps us to understand a person's motives behind their actions. Even if we may not agree with a person's actions, sometimes we can still appreciate their motives.
Rev. Jim Rudd is the Lead Pastor of True Vine Church Community in Wissinoming. You can visit the church website or friend-request Jim on Facebook. His column, Heart Conditions, appears on NEast Philly the third Thursday of every month.